News > Washington Voices
Artist, teacher, advocate honors animals through her work
Thu., Dec. 23, 2010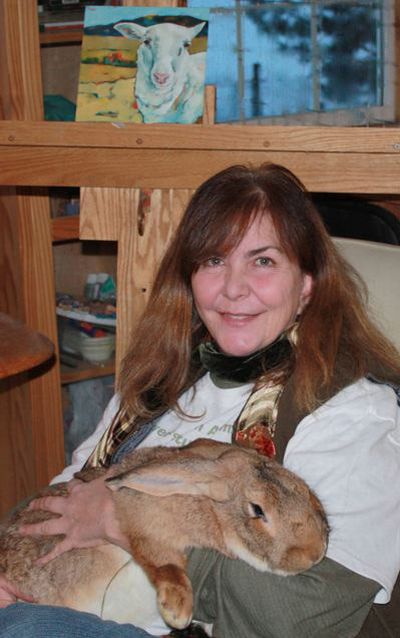 Kathleen "Kit" Jagoda is an artist who uses brush strokes and color to speak and give voices to animals and children. She rescues animals and she paints them. She also teaches art in elementary schools for Spokane Public Schools.
Regarding animals, she said, "Their voice is so often unheard, yet they have the right to be heard." Regarding children, she said, "It's important for kids to not get caught up in peer pressures or societal demands but to learn about their voice, to listen to their voice, and to follow it. Are they going to find their voice from others or from within – and how do they relate to the world, the environment and others? These are questions that the arts provide a path. The visual arts can offer a means for children to learn to feel safe with their own voice."
Jagoda was born in Spokane. Under her senior picture in the Ferris High School yearbook, it was written that she was most likely to end up "working with animals and having a tree farm," two things she adds to her list of life's fundamentals which also includes creating art and teaching.
After high school, she took art classes at Spokane Falls Community College and then worked in an archaeology lab doing scientific illustration on the Olympic Peninsula at the Hoko River archeological site.
In 1987, she earned a bachelor's degree in art education from Eastern Washington University and then a master's in educational administration from Northern Arizona University. In 2005, she received a National Board of Professional Teachers Certification in early and middle childhood art education.
Fast forward to now – she works with animals and lives on 65 acres covered with trees and pastures in the Seven Mile area. There, she resides with her husband, artist Peter Jagoda, and a considerable number of rabbits, goats, horses, dogs, cats, a variety of feathered friends, and two pigs who were rescued.
She became involved in pet rescue in 1995 and, in 2004, her efforts were incorporated as a 501(c)3 nonprofit organization called River's Wish Animal Sanctuary.
She paints in a loft above the bunny barn where a Flemish giant named Albrecht bounces about. Her paintings are stunning and touching portraits of the animals she cares for.
"Beneath each brush stroke I am thinking and wondering how to best evoke the feeling of empathy for that being that I'm painting," she said. "Every horse, goat, pig, chicken, turkey, dog, cat, rabbit and goose at River's Wish has a story. In my paintings I try to tell my interpretation of their story, their very essence, their being, and their soul."
In the past few years she's been doing paintings by commission, with the proceeds going into the rescue operation. To her, helping those without a voice is fundamental as well as rewarding.
"Working with animals and children allows me to help them while at the same time learn from them," she said. "Each animal and child is individual and significant and that speaks to the most basic fundamental essence of having a voice."
The Verve is a weekly feature celebrating the arts. If you know an artist, dancer, actor, musician, photographer, band or singer, contact correspondent Jennifer LaRue by e-mail jlarue99@hotmail.com.
Local journalism is essential.
Give directly to The Spokesman-Review's Northwest Passages community forums series -- which helps to offset the costs of several reporter and editor positions at the newspaper -- by using the easy options below. Gifts processed in this system are not tax deductible, but are predominately used to help meet the local financial requirements needed to receive national matching-grant funds.
Subscribe now to get breaking news alerts in your email inbox
Get breaking news delivered to your inbox as it happens.
---