Sports
Jenks deserves recognition from White Sox
Fri., Dec. 24, 2010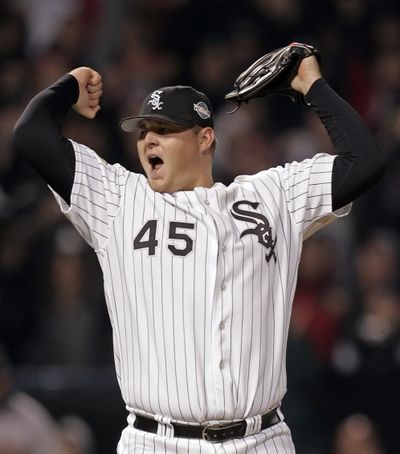 CHICAGO – Bobby Jenks wasn't perfect. He even blew a save in the World Series.
But big moments with Jenks never left lasting scars. Even his Game 2 hiccup turned out well, with Scott Podsednik sending White Sox fans home delirious about 10 minutes later.
Maybe there are other pitchers for whom you can argue, including 2005 White Sox stud Jose Contreras. But for my money, nothing will top what Jenks delivered with the ball in his hand in big situations.
He did it in 2005, throwing the final pitch to Houston's Orlando Palmeiro before the wild World Series celebration in the middle of the field at Minute Maid Park. He did it when he had a chance in 2008 against Tampa Bay.
It's a shame the Sox didn't give him more than one postseason save opportunity in his last five seasons in Chicago, because the guy who arrived from nowhere – Ken Williams claimed him on waivers for $20,000 – was tougher than the CPA exam when chips were piled high in the middle of the table.
No, Jenks, from Spirit Lake, Idaho, wasn't exactly a workout fiend. His fastball had retreated from the high 90s to the mid-90s. His body had begun to fail him in recent years when his escalating salary increased the level of scrutiny. It was time for him to go, as his save total had dropped four years in a row. But dang, didn't Jenks come through when it mattered the most?
He probably won't get a statue at U.S. Cellular Field, and there will be no discussion of retiring his No. 45. But the White Sox need to do something very, very special for Jenks when he comes to town with the Boston Red Sox next July.
There was a lot of talk about the Cubs and Kerry Wood a week ago, and rightfully so. But the bigger transaction was Jenks signing a two-year, $12 million deal with the Red Sox, ending what had been one of the most productive relationships in the history of Chicago baseball.
At 24, with only half a year's experience when the playoffs rolled around in 2005, Jenks was poised for a failure that didn't happen.
"I didn't think he could throw enough strikes," Philadelphia Phillies scout Gordon Lakey said during those playoffs.
No kidding. Everyone associated with the White Sox held their breath – except maybe Ozzie Guillen and pitching coach Don Cooper – but there was no ugly explosion.
Jenks was 5 for 6 in postseason saves, but the better number is 7-0. That was the White Sox's record in the postseason games in which Jenks pitched. And it doesn't consider what he did in the biggest pressure game he pitched – the 2008 tiebreaker against Minnesota.
Following John Danks into the 1-0 victory, Jenks worked a 1-2-3, eight-pitch ninth inning, retiring Jason Kubel, Denard Span and Alexi Casilla to give the Sox a division title.
That's an 8-0 record by the White Sox in the biggest games in which Jenks pitched. Compare it to a 10-17 record in postseason games not including Jenks since the Black Sox threw the 1919 Series. And then consider the string of late-inning disasters that have befallen teams in the playoffs.
The White Sox never had any of those – not even one – with Jenks on the mound. Ask a Cleveland fan how much he would have liked saying that about Jose Mesa, or a Cubs fan about Mark Prior, or a Minnesota fan about Joe Nathan or a Red Sox fan about Jonathan Papelbon. Even a Yankees fan about Mariano Rivera.
Jenks, second all-time for the White Sox with 173 career saves, finally had a big meltdown in October. But he's leaving town with an almost perfect record, picked up by Neal Cotts and Scott Pods the one time he left the 8-ball on the table.
Jenks had dry hands when other guys dripped sweat. He drew internal strength from rising above teenage years in which he practically raised himself. He met his wife, Adele, at a Seattle restaurant at exactly the right time to realize his value as a person first and pitcher second. He's a lucky, lucky guy.
White Sox fans were never happier than after he slammed the door.
Who was the last Chicago player with a better legacy than Big Bobby?
Local journalism is essential.
Give directly to The Spokesman-Review's Northwest Passages community forums series -- which helps to offset the costs of several reporter and editor positions at the newspaper -- by using the easy options below. Gifts processed in this system are not tax deductible, but are predominately used to help meet the local financial requirements needed to receive national matching-grant funds.
Subscribe to the sports newsletter
Get the day's top sports headlines and breaking news delivered to your inbox by subscribing here.
---