News > Features
Bach's B Minor Mass a major job
Task falls on Gunther Schuller to conduct difficult piece
Fri., Feb. 5, 2010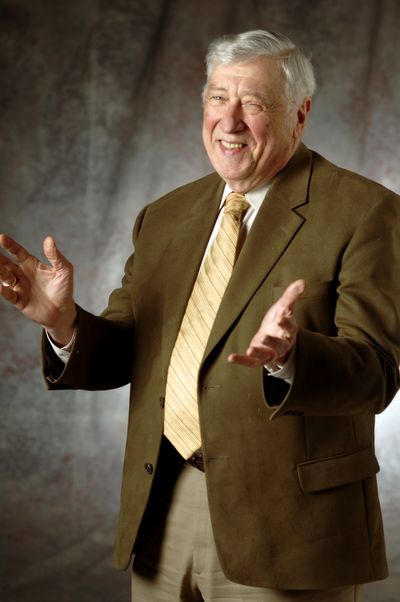 Job applications, successful or not, eventually end up in the wastebasket. But J.S. Bach's 1733 application to be appointed court composer of Augustus III, elector of Saxony, survives.
And the first part of Bach's Mass in B Minor that went along with that application is performed and admired as his greatest achievement 277 years later.
Gunther Schuller will conduct a performance of the Mass in B Minor tonight at St. John's Cathedral as part of the 32nd Northwest Bach Festival. The Bach Festival Chorus and Orchestra will be joined by soloists Janet Brown, Katherine Growdon, Rockland Osgood and Donald Wilkinson.
Schuller, the festival's artistic director since 1993, last conducted the Mass in B minor in Spokane 10 years ago.
"Everybody always says, 'Oh, the B minor Mass! We'd love to hear that,' or 'We'd love to do that,' " he says. "What most people don't know is that it is not only a very beautiful and a fantastically great piece but that it has special problems that make it enormously difficult.
"It is really two separate works written 10 or maybe 15 years apart – nobody really knows for sure – and the second part is significantly different in conception and in the vocal and orchestral writing from the first part. That makes even choosing the soloists problematical."
Both soprano Janet Brown and tenor Rockland Osgood were soloists in Schuller's last Spokane performance of the Mass and have performed regularly in other Bach Festival works.
Brown teaches voice at Syracuse University and has sung with Boston's Handel and Haydn Society and the Cantata Singers of Boston, as well as with several ensembles which specialize in performing new music.
Osgood's career has included performances in opera, oratorio and recitals throughout the United States" in works as varied as Handel's "Ode to St. Cecilia," Verdi's Requiem, Kurt Weill's "The Prophets" and Berg's "Wozzeck." He lives and teaches near Boston.
Bass Donald Wilkinson, who teaches voice at Harvard and at MIT, made his Bach Festival debut in the Christmas Oratorio performance of 2003.
Mezzo soprano Katherine Growdon is new to the Northwest Bach Festival's roster of soloists. A graduate of the San Francisco Conservatory, she has sung with the American Bach Soloists, San Francisco Lyric Opera and Boston's Emmanuel Music and is a regular vocal performer with the Mark Morris Dance Group.
The Northwest Bach Festival will end on Valentine's Day with an organ recital by John Bodinger at St. Augustine Church.
"We know it puts an awkward space of time between our last two performances," says Gertrude Harvey, the festival's executive director. "But we didn't want to put one of our concerts on top of concerts by other groups, and you never, ever want to conflict with Super Bowl Sunday, so Valentine's Day it is."
Bodinger is director of music at Manito Presbyterian Church and member of the adjunct music faculty at Whitworth University.
His recital includes Bach's Preludes and Fugues in C major and E minor (BWV 545 and 548), Buxtehude's Variations on "La Capricciosa" and works by the early 20th-century French organ composer Louis Vierne.
Local journalism is essential.
Give directly to The Spokesman-Review's Northwest Passages community forums series -- which helps to offset the costs of several reporter and editor positions at the newspaper -- by using the easy options below. Gifts processed in this system are not tax deductible, but are predominately used to help meet the local financial requirements needed to receive national matching-grant funds.
Subscribe to the Coronavirus newsletter
Get the day's latest Coronavirus news delivered to your inbox by subscribing to our newsletter.
---