News > Idaho
Scourge of Hatred
Sun., Feb. 7, 2010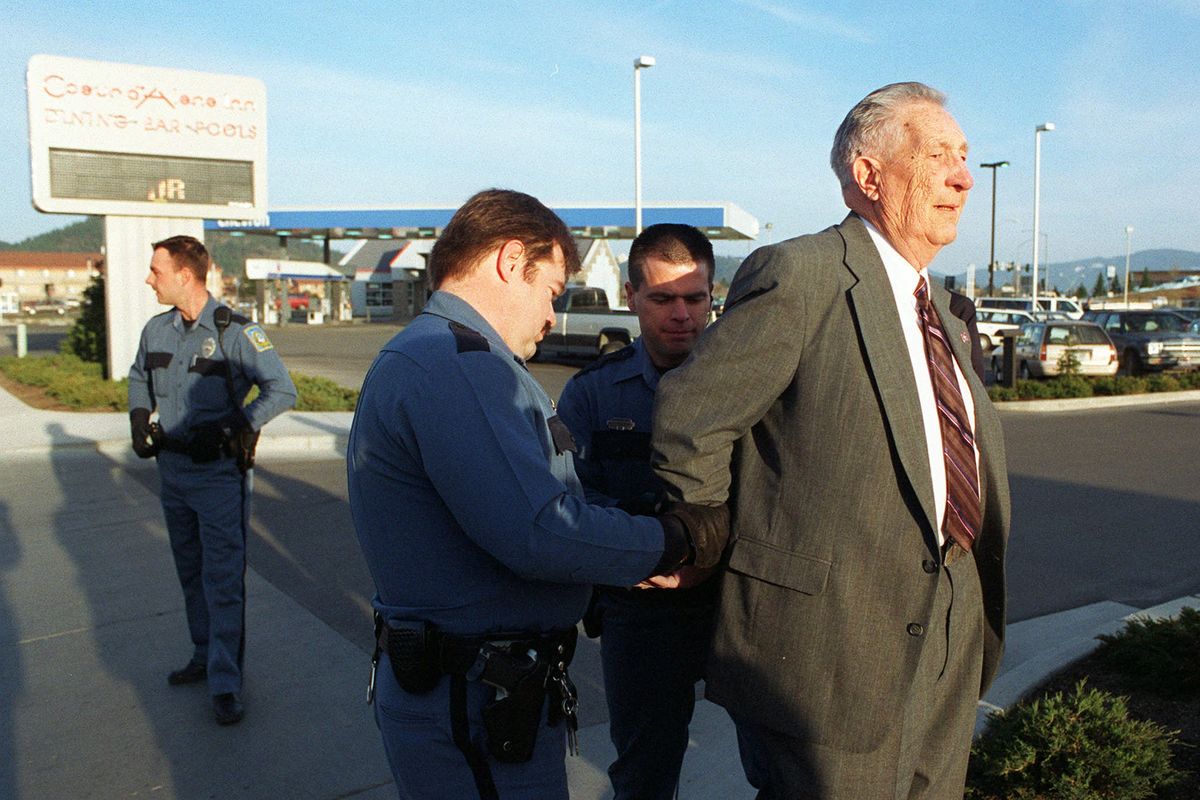 Coeur d'Alene police officers arrest Aryan Nation leader Richard Butler on Saturday, April 12, 1997, for trespassing at the Coeur d'Alene Inn. (Photo Archive / The Spokesman-Review)
In a small house in Coeur d'Alene, 89-year-old Sid Rosen lives out his sunset years going through his life's mementos.  ■  Tucked away in a box, the World War II veteran finds two small, dog-eared photographs of anti-Semitic graffiti sprayed on his Coeur d'Alene restaurant in 1980.  ■  The vandalism – which still angers Rosen, his son says – was one of the first in a series of incidents that led to creation of the Kootenai County Task Force on Human Relations.
Today, as the nationally recognized group prepares to celebrate its 30th anniversary, other racist, anti-Semitic graffiti and literature have been turning up not far from Rosen's home.
There's also been a spike in racist activity and hate crimes in Spokane and other Pacific Northwest communities – indeed, almost everywhere in the United States.
Racist graffiti, acts of malicious harassment and distribution of hate literature in 1980 marked the emergence of the Aryan Nations in North Idaho, recalls Marshall Mend, a founding member of the human relations task force.
For nearly three decades, the Aryans and their splinter-group associates were responsible for a series of crimes, including murders and bombings, throughout the United States. The Aryan Nations held annual gatherings of hatemongers, burned KKK crosses and even got permits for disruptive parades down Sherman Avenue in Coeur d'Alene, all of which severely tarnished the region's image.
Most local hate activity disappeared with a multimillion-dollar court verdict in 2000 that bankrupted the Aryan Nations. Four years later, Aryan founder Richard Butler died, and some wishfully thought hate, too, had disappeared in this region.
Now, though, there are two new self-proclaimed Aryan leaders in North Idaho – Gerald O'Brien and Paul Mullet – who are fighting each other for power. There are two competing Aryan Web sites. Another splinter faction, the Aryan Nations Revival, based in New York state, dissolved last week and, according to a Web posting, threw its support to O'Brien's faction.
Meanwhile, almost a dozen hate crimes have been reported in the past 14 months to authorities in Kootenai and Spokane counties.
The region's spike in hate crimes follows a national trend that started after the country elected its first black president in 2008. Besides more hate groups, experts say they also are seeing an increase in secretive, anti-government militia activity.
So what does the new uptick in racist activity mean for this region, still trying to improve its Aryan-tarnished image?
Some similarities, more differences
There are some similarities between what occurred in the region in 1980 and what's occurring now. Most observers agree, however, there are even more differences.
In 1980, most local, state and federal law enforcement agencies lacked special units monitoring hate groups. Police weren't trained to spot hate crimes, much less tabulate or track trends.
That has changed, prompted by the deadly 1995 bombing of the Alfred P. Murrah Federal Building in Oklahoma City and the terrorist attacks of Sept. 11, 2001.
In 2002, the Rand Corp. delivered a congressional report that called the Aryan Nations the "first truly nationwide terrorist network in this country."
Now, anything that points to domestic or international terrorism – even something as seemingly insignificant as graffiti – is flagged to the attention of special federal task forces.
"This trend is on the rise," Spokane-based Assistant U.S. Attorney Earl A. Hicks said of recent hate crimes in the region. "What I would tell you is, it's a bunch of thugs, and they're dangerous individuals.
"The difference today is this activity is domestic terrorism," Hicks said, "and the FBI pays attention to this kind of thing more than it did in the late 1970s, early '80s."
The Inland Northwest Joint Terrorism Task Force not only monitors domestic and international terrorism-related activity in this region; its federal and local officers also attempt to quietly disrupt such activity. Success stories don't always reach the public's eyes and ears.
"Hate, certainly in its violent manner, will always be around, unfortunately," said FBI supervisory senior resident agent Frank Harrill. "Here, in this region, it's been acute in the past."
But, Harrill added, "We are committed to making sure these groups don't re-emerge."
Compound provided aid and comfort
There were only a couple of FBI agents stationed in Coeur d'Alene when Butler moved to rural Kootenai County in 1973. Four years later, he hung up the Aryan Nations sign on Rimrock Road – an emblem of a racist philosophy and lifestyle that would trigger criminal cases for dozens of FBI and ATF agents in the years to come.
The Aryan Nations headquarters were on a 20-acre compound – an old farmhouse and adjoining pasture Butler bought on a tree-lined hilltop north of Hayden Lake. The former aeronautical engineer from California provided his followers a bunkhouse or camping accommodations, warm meals and a racist encampment perhaps like no other in the United States.
As is the case with racist leaders today, Butler faced rivalry from other racists, and his compound was bombed in 1981.
He forged ahead, using his retirement savings to build his Church of Jesus Christ Christian, overseen by a guard tower draped with Nazi flags. There was an adjoining print shop that churned out thousands of racist and anti-Semitic pamphlets, books, fliers and even shooting targets – silhouettes of African-Americans. By the 1990s, the Aryan Nations had one of the first hate Web sites.
For a time, Butler even operated a school on his compound where his followers' children could learn reading, writing and the proper way to salute a fellow Nazi.
But the landmark compound and its contents were burned and bulldozed into a peace park after the lawsuit brought by the Southern Poverty Law Center bankrupted the Aryans in 2000.
"Back in Butler's days, the 'compound' was their life," said Kootenai County Sheriff Rocky Watson.
"Now all that's gone," Watson said, explaining that racists now keep a much lower profile. "If a guy's an Aryan today in this area, you still have to find a place to eat and live."
Prisons are recruiting grounds
Many of those now professing affiliations with Aryans, skinheads, neo-Nazis or Odinists – followers of the neo-pagan, race-separation beliefs of a Norse god – have criminal records, including those recruited into racist ranks while in crowded prisons, the ripest of recruiting grounds.
There were, of course, several ex-cons in the early 1980s who made a beeline for the Aryan Nations compound once they got out of various prisons.
Watson said many current prison inmates believe affiliating with the Aryan Brotherhood or other white supremacy gangs will provide protection inside prison walls, although they're still in the minority of the general prison population.
Many Aryan cons take their racist beliefs with them when they leave prison and join white supremacy groups on the outside. Experts say drug use and sales are common among today's white supremacists – something seldom seen among racists in the early 1980s.
"Some of the other Aryan gang members we're seeing here now are hardworking laborers, construction-type guys," Watson said. "Most people wouldn't even know their beliefs."
Although Butler sometimes mumbled and was known for his less-than-articulate speeches, he nonetheless became a nationally known, iconic leader – a racist celebrity of sorts. He also became an ecumenical racist, reaching out to other hate groups and inviting them to his annual Aryan World Congress gatherings each July, which attracted hundreds of racists and international media attention over the years.
None of his would-be replacements is even close to gaining such notoriety, according to experts who track the scene.
What's more, said former Kootenai County Prosecutor Glen Walker, people Butler recruited to racist ranks in the 1980s "had a potential for digging in and becoming rooted here. I don't sense that now."
The Rev. Rick Morse, who was a Coeur d'Alene minister in 1980 and remembers the impact of the graffiti sprayed on Rosen's restaurant, is now a senior official with the Disciples of Christ at the church's national office in Indianapolis. He travels frequently and has visited 42 states, still mindful of racism.
"It's not reflective of Kootenai County or Coeur d'Alene, but the racism I saw in North Idaho was probably some of the worst stuff I've seen anywhere," Morse said. The area's lack of diversity still makes it an inviting environment for racists, he said.
"I don't think you can allow that and call yourself a 'civilized society,' " Morse said.
Tony Stewart, a retired political science professor and founding member of the Kootenai County Task Force on Human Relations, said while he's concerned about recent hate activity, many things have changed, mostly for the better.
"They don't have a compound to operate out of anymore," Stewart said, "and it's not the same level of resolve that we saw and experienced in the 1970s and '80s.
"Today I do not see – and I hope I'm right – the potential to create a compound operation with the kind of resources and organization Richard Butler had," Stewart said. "Today, they're operating out of a P.O. box, and that's a lot different than having a compound where you can feed and preach to recruits."
Internet becomes the new meeting place
While the Aryan compound provided the common ground for hate in past decades, the Internet has become the new meeting place.
Skinheads, Aryans and Odinists now find like-minded racists on Web sites that provide discussion forums and event listings. One new Aryan Web site has video of Butler's sermons, including his last, and clips of Aryan parades through downtown Coeur d'Alene.
A case in U.S. District Court in Spokane last month underscored how the Internet has become the new favorite tool for racists.
Keegan Van Tuyl, the 28-year-old son of former Central American missionaries, faced revocation of his federal parole for being a felon in possession of an illegal firearm. Out on parole after serving three years in prison and living in east Spokane last year, Van Tuyl was to have no contact with white supremacists and was not to leave the state of Washington.
Instead, acting on white supremacy beliefs he reportedly learned while in federal prison, Van Tuyl became the co-founder of two Odinist-skinhead groups, Vangard Kindred and Valhalla-Bound Skinheads, Hicks, the assistant U.S. attorney, told the court.
The two racist groups operated with little public notice in the Inland Northwest, and Van Tuyl recruited members while he was in prison, court documents show.
At one meeting last summer, 40 members and potential recruits were in attendance, according to witness accounts that couldn't be otherwise confirmed.
Van Tuyl and other members of the groups were involved in several racist acts in 2008 and 2009 in the Spokane area and North Idaho, the federal prosecutor said.
Another member of the group, Jacob Wilson, of Coeur d'Alene, was persuaded to testify against Van Tuyl at his parole revocation hearing last month in Spokane. Although details weren't divulged in court, it's not unusual for prosecution witnesses to avoid charges themselves by testifying.
Pitting racists against each other in the courtroom is one way federal and state authorities disrupt such activity.
Wilson testified that he and Van Tuyl and other skinheads would "go coon hunting" – looking to maliciously harass or assault African-Americans. Such attacks allow skinheads to "earn red laces" to wear in their boots.
In the parking lot of Bottoms Up bar in Spokane Valley in November 2008, Wilson testified he and Van Tuyl "made monkey noises" when they saw two black men in a truck. Van Tuyl later punched one of the men in the face; the black men drove off, promising to return with a gun, but didn't, Wilson testified.
On other outings, Wilson said he and other skinheads sprayed graffiti on an Interstate 90 overpass at Flora Road in Spokane Valley, including "VBX88" – a reference to Valhalla-Bound Skinheads and the 88 standing for "HH," or "Heil Hitler."
Facebook-style Web site for racists
But it was the Internet, not graffiti, that the two racist groups primarily used to recruit.
Jason Shawn O'Dwyer heard about Vangard Kindred through a Facebook-style Web site that allows racists to meet like-minded friends.
"I knew it was a skinhead group," O'Dwyer testified. "I wanted to learn more about Odinism."
The 24-year-old testified that he took a few vacation days and drove last July to a Spirit Lake, Idaho, home where Van Tuyl and other skins hosted an Odinist "rote."
Although billed as an Odinist religious ceremony, the daylong event turned out to be filled with beer-drinking, racist videos and music, a trip to a Spokane Valley motorcycle shop, getting tattooed and more drinking around a fire pit at the Spirit Lake home, O'Dwyer testified.
At sundown, as the half-dozen racists continued swilling beer, O'Dwyer was asked to recite and remember the "14 Words" of the late David Lane: "We must secure the existence of our people and a future for white children."
Lane, an Odinist and former Klansman, was a confidant of Butler before becoming a founding member in 1983 of a splinter group known as The Order – labeled a domestic terrorist organization by the FBI.
"I started getting hit because I wasn't reciting the '14 Words' correctly," O'Dwyer testified.
The skinhead-wannabe was punched and kicked by at least three men, one of whom had brass knuckles. At one point, a knife was held to his throat and his glasses were knocked from his face, smashed and kicked into the fire pit.
His skinhead assailants continued kicking him as he lay on the ground, and one urinated on him, O'Dwyer testified. He staggered to his pickup to get away, where the attackers spotted O'Dwyer's diabetic syringes and called him a "doper," renewing the assault and demanding $50 for a tattoo, he testified.
"I pulled my money out and threw it at them," O'Dwyer said.
With two blackened eyes, a skull laceration and the onset of a diabetic seizure, O'Dwyer drove away, stopping at a gas station where he called police.
He told officers he had been assaulted "by a carload of Mexicans," because, he testified, he feared retaliation from the skinheads whose group he had wanted to join.
O'Dwyer was at a Coeur d'Alene medical center getting treatment when an FBI agent assigned to the terrorism task force showed up after getting a phone tip about the assault. When the agent challenged O'Dwyer's claim that he was assaulted by Hispanics, the beating victim confessed he had lied and said his attackers were skinheads.
Then the FBI agent used his cell phone to show O'Dwyer various photos of known white supremacists, leading to the identity of Van Tuyl and others involved in the assault.
Soon thereafter, Van Tuyl was back in jail. His federal parole revocation was referred to Hicks, a federal prosecutor who prosecuted similar Aryan cases in the 1980s.
Rosen still worried, son says
Van Tuyl, who has an Odinist tattoo on the back of his shaved head, told the court he was "just an ordained Odinist minister" whose acts were misinterpreted and exaggerated by the FBI.
U.S. District Court Judge Lonny Suko didn't buy that.
The judge followed the prosecutor's recommendation that Van Tuyl be sent back to federal prison for 24 months, to be followed by 180 days in a halfway house and one year of parole. While under that supervision, Van Tuyl will be ordered to have no contact with white supremacists.
Hicks said he would write to the U.S. Bureau of Prisons, recommending that Van Tuyl be put in maximum security, limiting his contact with others "so he can't recruit."
"It's all we can do," Hicks said, "because he basically has said he won't stop."
That case and other racist acts in the region still worry Sid Rosen, who has lived in Idaho since the war against Nazi Germany ended more than 60 years ago, said his son, Joe.
"He just can't believe that it's still going on," Joe Rosen said of his father, who is battling health issues. "He can't understand why we all can't get along and why some people are just so ignorant."
Bill Morlin is a former reporter for The Spokesman-Review who spent 30 years covering the Aryan Nations and extremist groups. He can be reached at
bmorlin@gmail.com
.
Local journalism is essential.
Give directly to The Spokesman-Review's Northwest Passages community forums series -- which helps to offset the costs of several reporter and editor positions at the newspaper -- by using the easy options below. Gifts processed in this system are not tax deductible, but are predominately used to help meet the local financial requirements needed to receive national matching-grant funds.
Subscribe now to get breaking news alerts in your email inbox
Get breaking news delivered to your inbox as it happens.
---