News > Spokane
Chief keeps eye on Seattle job
Kirkpatrick, who still has house there, called a top candidate
Thu., Feb. 11, 2010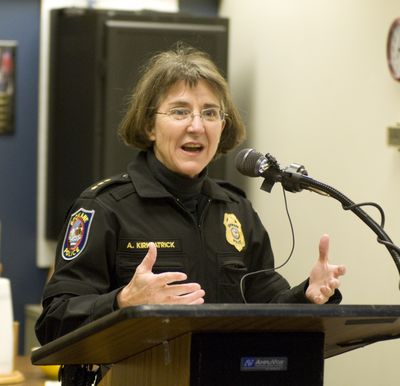 Spokane Police Chief Anne Kirkpatrick told the Seattle Times that she is closely monitoring the search for a new Seattle chief but avoided saying if she plans to apply for the open job.
Last year Kirkpatrick applied for the top job in San Francisco's police department but downplayed the action and argued that as a woman leading a large department, she's often recruited.
On Wednesday, the Times reported that Kirkpatrick and interim Seattle Police Chief John Diaz are considered top candidates for the job. Even so, applications haven't been accepted yet and finalists aren't expected to be selected until May, the newspaper reported.
The position opened last year after President Barack Obama picked Seattle Police Chief Gil Kerlikowske as his administration's drug czar.
When asked if she plans to pursue the Seattle job, Kirkpatrick told the Times, "right now I serve Spokane," adding that Spokane has her "complete devotion."
She also noted, however, that she is paying close attention to the search process because she was a longtime Seattle resident and still has a house in the city.
It's that tie to Seattle that worries Spokane City Councilwoman Nancy McLaughlin.
"I would hate, hate to lose her," McLaughlin said. "This one concerns me a little bit because she has roots on the other side of the state."
Attempts to reach Kirkpatrick Wednesday were unsuccessful.
While support for the chief has been mixed on the police force, Kirkpatrick enjoys broad support from city leaders, who credit her with making officers more accountable and improving ties to the community.
"We feel Chief Kirkpatrick has done a remarkable job," said City Administrator Ted Danek. "We're aware of what her career goals are. We hope we can retain her."
City Council President Joe Shogan, who leads the council's Public Safety Committee, said he continues to have confidence in Kirkpatrick's leadership.
"I felt bad the first time she applied" for another job, Shogan said. "Now it appears that she has her own career objectives in mind and they don't involve staying in Spokane."
Even so, Shogan said that he doesn't believe the department has been hurt by rumors circulating about Kirkpatrick's future in Spokane.
"I would hate to see her go," Shogan said. "But this department is more than one person."
McLaughlin said that the chief should have the right to consider other jobs.
"I believe she can still serve Spokane 100 percent and still keep her feelers out there," McLaughlin said.
Before becoming chief in Spokane, Kirkpatrick led the police forces in Federal Way and Ellensburg.
After Spokane's Center for Justice last year reported that Kirkpatrick applied for the San Francisco job, the chief e-mailed a memo to the department. In it, she argued that as a woman, recruiters often target her for chief positions.
"San Francisco is a world-class city, it has 3,000 employees in the department, and the salary was around $280,000," Kirkpatrick wrote. "I was honored to be recruited and so, yes, I applied."
Local journalism is essential.
Give directly to The Spokesman-Review's Northwest Passages community forums series -- which helps to offset the costs of several reporter and editor positions at the newspaper -- by using the easy options below. Gifts processed in this system are not tax deductible, but are predominately used to help meet the local financial requirements needed to receive national matching-grant funds.
Subscribe to the Coronavirus newsletter
Get the day's latest Coronavirus news delivered to your inbox by subscribing to our newsletter.
---
Subscribe and log in to the Spokesman-Review to read and comment on this story