Sweep aside the jokes: Curling boasts big following in Canada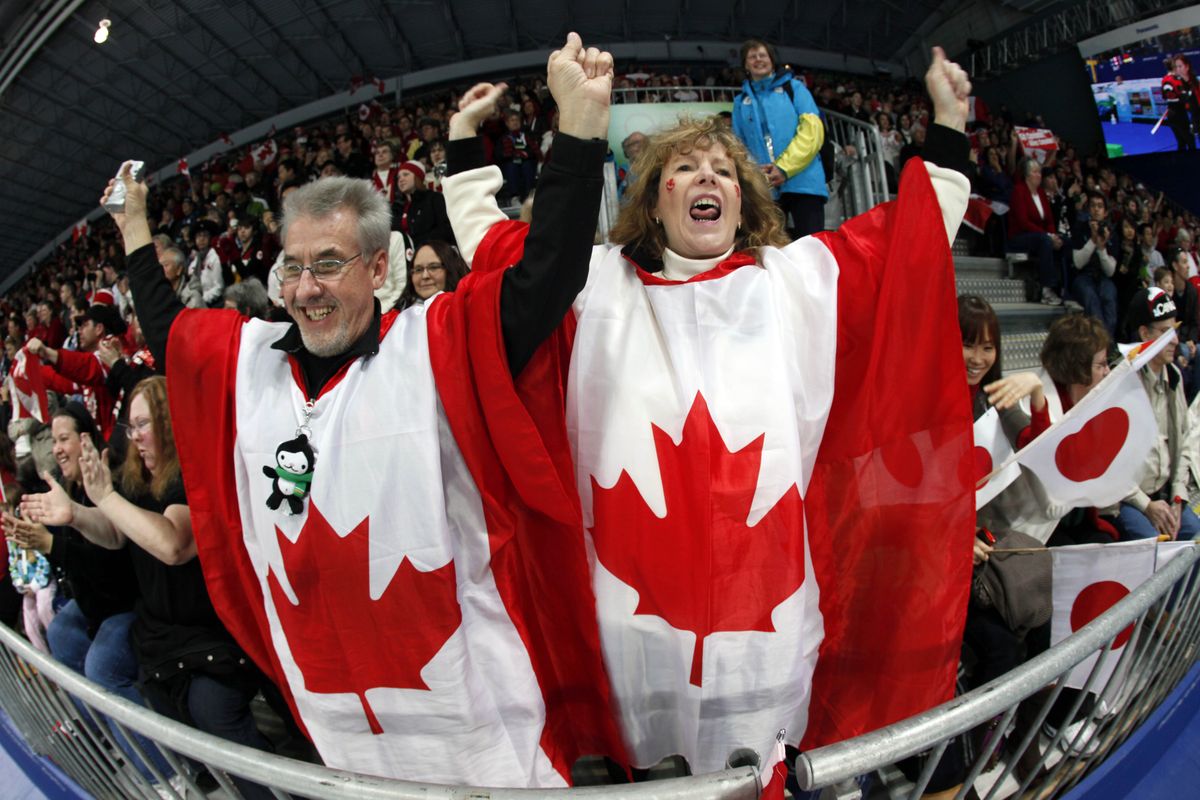 VANCOUVER, B.C. – When your Olympic sport involves balding, pudgy middle-aged men in diamond-print stretch pants – and a woman who is five months pregnant – pushing brooms on ice and sliding 44-pound granite stones to the shouts of "Hurry! Hurry! Hard! Hard!" you learn to be self-deprecating.
You also welcome most any kind of publicity. Chances are, you'll never make the cover of Sports Illustrated or get a Nike endorsement, so you are thrilled when Homer and Marge Simpson, TV's famous animated couple, show up at the Winter Olympics to try their hand at curling, as they did on this past Sunday's episode. The U.S. curling team got together and threw a watch party, chuckling along with the rest of America at the quirks of their centuries-old sport.
Google, always up on the coolest trends, made its Tuesday doodle a pair of red curling rocks.
But don't snicker about curling around these parts. Lord, no. Curling is nearly as popular as hockey in Canada with 1.3 million participants (the U.S., by comparison, has 16,000) and their top skip, Kevin Martin, a 43-year-old father of three who looks like the accountant down the street, is as well-known here as NHL star Sidney Crosby. They call him "The Old Bear" and "K-Mart."
Thousands of Canadian fans, many in knitted red mittens and every form of maple leaf hat, disembarked at the King Edward train station Tuesday morning and giddily headed a few blocks to the curling venue. For many sports fans in this country, the Olympics began in earnest on Tuesday with the drop of the puck in men's hockey and the first rolling stones of the curling competition.
The 5,600-seat Vancouver Olympic Centre was packed for the opening day of the tournament, and the gold medal matches on Feb. 26 and 27 have been sold out for months. Media have been advised that because of the high volume of interest, special tickets will be required to cover those matches.
Canada won its opening match against Norway in an extra "end," 7-6. It was televised live Tuesday morning, and commentators had much to say about Norway's red, white and blue diamond-checked pants, which they ordered online from a golf outfitter. One commentator, reacting to a poor Norwegian shot, said: "I have no idea why they weren't brushing. They should have been brushing there."
And who could argue?
The sport is basically shuffleboard on ice, and the object is to slide the granite stones to the target (aka "house"), and get it as close to the bull's-eye ("button") as possible. Like bowling, a match consists of 10 "ends," or frames. Each team consists of a skip (think quarterback), a vice-skip, a lead and a second. They wear a Teflon-soled sliding shoe on one foot and a rougher sole on the other for traction.
One team member pushes off from the "hack" (like a starter's block in track and field), and two others are instructed on how aggressively to sweep the ice to best guide the curling stone to its final resting place. The more they sweep, the more the ice melts, thus reducing the friction of the stone on the surface.
The earliest record of the sport was in the early 1600s, in Scotland, and to this day, the best stones are said to be made of Ailsite granite, which comes from the Ailsa Craig quarry off the Scottish coast. The price of an elite-level stone can run as much as $1,500.
Curling was a medal sport at the 1924 Olympics, but then discontinued until 1998.
The U.S. curling team, which lost its opening game 7-5 to Germany, includes a bartender (John Shuster), a schoolteacher (Jeff Isaacson), and a 22-year-old budding musician (Chris Plys), who has developed a cult following. One of their main sponsors is the Mall of America in Minneapolis. The women's team alternate is Kristie Moore, who is five months pregnant, and showing. They are thrilled to be playing in a place where fans are knowledgeable and passionate, and where bonspiels (tournaments) typically sell out.
Jason Smith, a U.S. team member, said he was floored when he first played a tournament in Canada. "They had someone waiting for us at the airport, and they had a shuttle for us to the hotel," he said. "We don't usually get that kind of treatment. We usually drive ourselves, take taxis, and pack four to a room. It's really first class when you curl in Canada."
For the most part, it remains a niche sport. And when the games are over, don't be surprised to see players from competing teams knocking down beers together. It's called "Broom Stacking." Winner buys.
No wonder Homer Simpson is a fan.
---