Sports
Coach has Bone to pick with Cougs
Fri., Feb. 19, 2010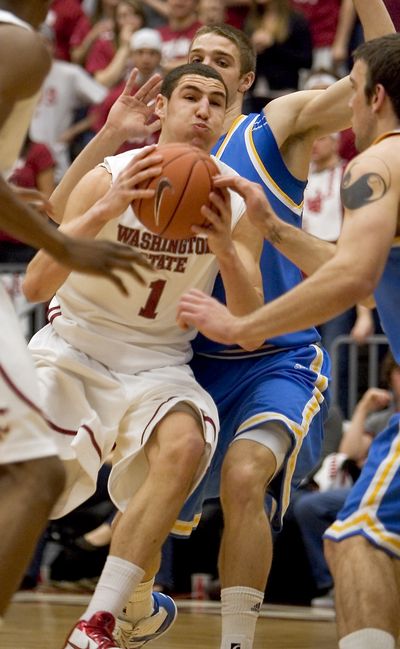 PULL- MAN – If this sports gig is all about taking them one game at a time – and we know that to be The Gospel – then there is no choice but to draw conclusions one game at a time.
Today's conclusion: Washington State has given up on this basketball season.
Is that nothing but the truth? Probably not. Perhaps the Cougars will have refilled their give-a-damn tank by the 2 p.m. tipoff for Saturday's meeting with USC at Friel Court, and surely when they slap leather with rival Washington next weekend there will be some fire in the belly, or some other cavity.
But there wasn't any Thursday night in a 71-51 loss to UCLA – not from the Cougs and not from a crowd of 6,566, many of them students who apparently wandered over from the library seeking peace and quiet.
Has everybody been so spoiled by the 69 victories of the three previous years that a 15-10 record calls for packing it in?
Or did they look at the record book and see that the Cougars had lost the last 16 times to UCLA at Friel and figure, "What's the use?"
The most telling statistic of the night wasn't necessarily the 66 percent the Bruins shot against Wazzu's indifferent defense, or Klay Thompson's 2-of-9/6 turnover line or even the number of stitches (14) that UCLA bruiser Reeves Nelson took after a showboatish dunk when he broke his fall with his face. It was the number of minutes (30) WSU coach Ken Bone kept his players sequestered in the locker room after the game for a come-to-the-deity-of- your-choice session.
You wouldn't call it a cooling off period.
Senior Nik Koprivica emerged and called the evening's effort "unacceptable" and acknowledged "to get embarrassed at home is not a pleasant feeling."
Teammate DeAngelo Casto was even more worked up.
"It just comes down at any given point to heart and passion," he said. "You have to have heart to play this game, you have to care about the game, you have to care about your teammates, have to care about the fans – you have to care about what's going on every single play."
The nail left unhammered being that the Cougs didn't, and that it was hard to pinpoint the plays when they did.
On the debit side were the six times UCLA sailed in for dunks – and two other times the Bruins missed – and any number of lay-ups where Cougar resistence parted like guests at a wedding reception when the groom's frat buddies head for the open bar.
This would be one thing if these were your father's Bruins – or even the Bruins that made three Final Fours between 2006 and 2008. But this UCLA team came in 11-13 – the worst record the Bruins have ever brought to the Palouse – and when you find them that vulnerable, you'd better put forth the effort to take advantage of it because it just happens too seldom.
And it was UCLA that seemed to have a cause Thursday night and the Cougars who seemed to be sending their regrets to the NIT, the CBI, the dotcom tourney and any other postseason wingding for which they might have aspirations.
In one nook after the game, UCLA coach Ben Howland was talking about having to chase freshman Tyler Honeycutt out of Pauley Pavilion at 1 a.m. the other day because he'd sneaked in to work on his shot after the intramurals at the run of the joint. In another, Bone was decrying a mystifying lack of energy by a team that should be just as hungry as the Bruins.
"It doesn't matter if there's anybody in the building," Bone said, referencing the lack of buzz.
It is odd how the UCLA game – the one that used to be circled on the Cougar calendar – has become such a middling draw. This was only the sixth-best crowd all season, as it was for three of the Bruins' four previous visits. Maybe it's a good sign that the fans no longer pick their spots according to the opponent – which used to be a Coug tradition – but sometimes they need to rise to the occasion, too.
Bone, however, has a bigger problem.
"It's happened too often," he said of his team's drifting, "to where I'm starting to anticipate it. And yet they're great guys, a really good group of kids. They seem like a very sensitive group. They're young, but in their own way I think they're trying. Maybe it's me. Maybe it's I haven't gotten in their face more and challenged them."
Maybe. But he shouldn't have to challenge them to show up.
Local journalism is essential.
Give directly to The Spokesman-Review's Northwest Passages community forums series -- which helps to offset the costs of several reporter and editor positions at the newspaper -- by using the easy options below. Gifts processed in this system are not tax deductible, but are predominately used to help meet the local financial requirements needed to receive national matching-grant funds.
Subscribe to the sports newsletter
Get the day's top sports headlines and breaking news delivered to your inbox by subscribing here.
---