News > Features
Everclear's new look offers familiar sounds
Fri., Feb. 19, 2010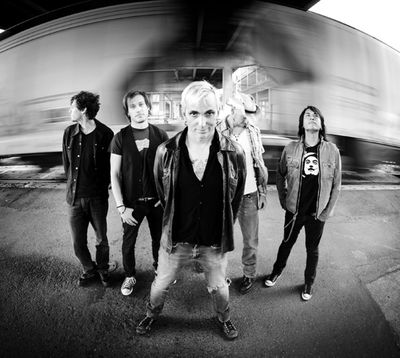 The new Everclear is a lot like the old Everclear. Of course, there is the one constant in the Everclear universe: Art Alexakis.
Then there are the constant changes to the band's lineup. And yes, Alexakis is still singing songs about divorce, abandonment and substance abuse.
In fact, they are the very same songs that made the Portland rockers popular during the grunge heyday in the mid-'90s. "Santa Monica," "I Will Buy You A New Life," "Father of Mine" and "Wonderful" – they're all on Everclear's "new album."
Released last October on 429 Records, "In A Different Light" is an Everclear album of … Everclear covers.
After rebuilding the band with an entirely new lineup, Alexakis released an album of stripped-down versions of Everclear hits.
"In A Different Light" follows 2008's "The Vegas Years," an album of Everclear covers of songs by other artists, from Cheap Trick to Neil Young.
What's even wackier, a month before the release of "In A Different Light," the entire new lineup – save, of course, for Alexakis – quit the band for various, undisclosed reasons.
On Everclear's MySpace blog in September, Alexakis wrote: "Without getting into specifics, it had run its course. Some guys left because I wanted them to, some guys left because they wanted to. It is what is. You all know that this is and has always been my band."
Alexakis put together a group of hired guns to tour "In A Different Light." Two months in, another announcement came via MySpace of yet more changes to the lineup, which now consists of Davey French on guitar, Sasha Smith on keyboards, Jordan Plosky on drums and former Exies bassist Freddy Herrera.
In the same post, Alexakis said this lineup will be recording a new album to be released on 429 Records this spring.
The re-imagined songs on "In A Different Light" are more acoustic-based, with acoustic guitars, keyboards and piano carrying most of the instrumental load.
There are also two new tracks on the album, the single "At the End of the Day" and "Here Comes the Darkness."
Local journalism is essential.
Give directly to The Spokesman-Review's Northwest Passages community forums series -- which helps to offset the costs of several reporter and editor positions at the newspaper -- by using the easy options below. Gifts processed in this system are not tax deductible, but are predominately used to help meet the local financial requirements needed to receive national matching-grant funds.
Subscribe to the Coronavirus newsletter
Get the day's latest Coronavirus news delivered to your inbox by subscribing to our newsletter.
---
Subscribe and log in to the Spokesman-Review to read and comment on this story