Sports
In brief: Boilermakers hammer on Mountaineers
Sat., Jan. 2, 2010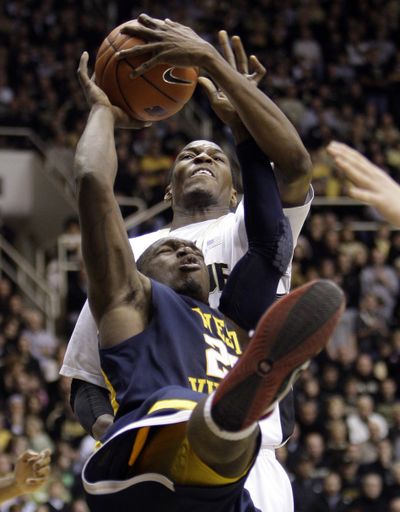 Men's college basketball: Purdue center JaJuan Johnson single-handedly negated West Virginia's overall size advantage and turned a showdown between unbeatens into a blowout.
Johnson had 25 points and 10 rebounds, and No. 4 Purdue beat sixth-ranked West Virginia 77-62 in West Lafayette, Ind.
Purdue coach Matt Painter was concerned heading into the game because West Virginia's (11-1) starters all stand between 6-foot-7 and 6-9. The 6-10 Johnson stood the tallest, making 8 of 14 field goals and blocking two shots.
Johnson was more focused on the team effort and the perfect non-conference season than his individual statistics.
"We came ready to play," he said. "Once we get things clicking on offense, we're very dangerous."
Robbie Hummel scored 18 points and E'Twaun Moore added 15 for the Boilermakers (13-0), whose largest lead was 26 points.
•Red Raiders rally to avoid upset: Mike Singletary made two free throws with 18.4 seconds left and finished with 27 points, helping No. 20 Texas Tech rally for a 76-75 victory over McNeese State in Lubbock, Texas.
The Red Raiders (11-2) trailed by nine in the second half but rallied to take a 74-73 lead on Nick Okorie's three-point play.
P.J. Alawoya got the lead back for McNeese State (5-8) but couldn't convert a three-point play.
•New Mexico narrowly escapes Dayton: Dairese Gary scored seven of his 18 points in the final two minutes to help No. 19 New Mexico beat Dayton 68-66 in Albuquerque, N.M.
Darington Hobson added 15 points, eight rebounds, and seven assists for New Mexico, while Roman Martinez added 17 points and six rebounds.
Gary hit seven free throws down the stretch as the Flyers (10-3) tried to get back in the game by fouling the Lobos (14-1).
Robinson leads Knicks past Hawks
NBA: Nate Robinson scored 11 of his 41 points in overtime in a dramatic return to New York's lineup, and the Knicks beat the Hawks 112-108 for their second win in Atlanta this season.
Playing for the first time since Dec. 1, Robinson entered the game with 3:01 remaining in the opening period. He made 18 of 24 shots from the field, came within four points of his career high and had eight assists.
•Bryant's late 3-pointer lifts Lakers: Kobe Bryant hit yet another buzzer-beating 3-pointer and finished with 39 points as the Los Angeles Lakers overcame a 20-point deficit to beat the Sacramento Kings 109-108 at home.
Lamar Odom had a season-high 20 points and grabbed 10 rebounds for the NBA-leading Lakers (26-6). Pau Gasol had 17 points, 16 rebounds and four assists – one of which set up Bryant's clutch basket from in front of the Sacramento bench.
Spencer Hawes had a career-high 30 points and grabbed 11 rebounds for the Kings.
USC rallies to upset Arizona State
Women's college basketball: Briana Gilbreath scored 16 points and Heather Oliver added 14 to help Southern California overcome a nine-point deficit in the final 3:14 for a 60-56 victory over No. 19 Arizona State in a Pac-10 opener in Tempe, Ariz.
Gilbreath's layup gave USC its first lead, 57-56, with 51.2 seconds remaining, and Ashley Corral hit three free throws in the final 22.4 seconds as the Trojans broke a five-game losing streak at Wells Fargo Arena.
Roy scores in OT lifting Sabres
NHL: A crazy bounce off the glass allowed Derek Roy to score into an unattended net 4:02 into overtime, and the Buffalo Sabres overcame a three-goal deficit for the second straight outing and beat the Atlanta Thrashers 4-3 at home.
Ryan Miller stopped 32 shots on the day he was selected to the U.S. Olympic team.
Buffalo was coming off a 4-3 win over Pittsburgh on Tuesday night in which it also erased a 3-0 deficit.
Nadal wins, Federer loses in Abu Dhabi
Miscellany: Rafael Nadal won and Roger Federer lost in the semifinals of the season-opening Capitala exhibition tennis tournament in Abu Dhabi, United Arab Emirates.
Nadal beat Spanish Davis Cup teammate David Ferrer 7-6 (7-3), 6-3 to secure a place in the final against Robin Soderling, who earlier dispatched the top-ranked Federer 6-7 (6-8), 7-6 (7-1), 6-2. The players held serve in the first two sets before Soderling broke Federer in the third and seventh games of the third set to earn his first victory over the Swiss in 13 matches.
•Shootout goal lifts Canada: Jayna Hefford scored the lone shootout goal to give Canada a 3-2 victory over the United States in the women's teams' final exhibition meeting before the Vancouver Olympics.
Charline Labonte, who took over for starter Kim St. Pierre midway through the game, stopped all three American shootout attempts in front of 16,347 fans at Scotiabank Place in Ottawa.
•Gomez wins national money title: Garrett Gomez rode Cenizo to a 11/4-length victory at Santa Anita on Thursday, giving the jockey his fourth consecutive national purse earnings title in Arcadia, Calif.
Gomez overtook Julien Leparoux by $10,606 to join Laffit Pincay Jr. (1974-77) and Braulio Baeza (1965-68) as riders with four straight money titles.
Local journalism is essential.
Give directly to The Spokesman-Review's Northwest Passages community forums series -- which helps to offset the costs of several reporter and editor positions at the newspaper -- by using the easy options below. Gifts processed in this system are not tax deductible, but are predominately used to help meet the local financial requirements needed to receive national matching-grant funds.
Subscribe to the sports newsletter
Get the day's top sports headlines and breaking news delivered to your inbox by subscribing here.
---