Sports > Gonzaga basketball
No more winters of discontent
Sat., Jan. 2, 2010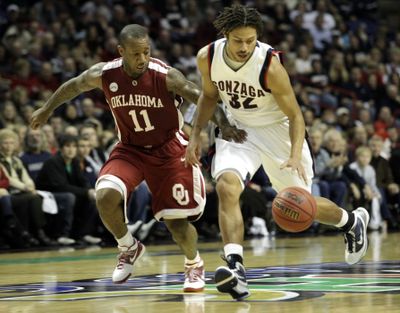 First Night Spokane is a hell of a deal, but it could line up acts from Sunset Hill to Stateline and not have the entertainment snap, crackle and pop of the Gonzaga Bulldogs and Tiny Gallon.
A near-flawless wipeout of Oklahoma on New Year's Eve put a proper bow on the decade-long surprise package that has been Zags basketball, and the snapshot of the Gallon of glass all over the Spokane Arena floor – courtesy of the Sooners' man-child bringing down the rim – will be Spokane's cellphone wallpaper of choice for the next week.
Just how long ago does that Duke debacle seem now?
Don't ask Steven Gray.
"I was talking to someone the other day about that," said Gonzaga's junior guard. "That game – I couldn't tell you what happened. Really, I cannot relate to you the experience of playing in Madison Square Garden because I've never played there.
"I can tell you more about the days we had there, random stuff, the blizzard. But the game, you just put it behind you completely and take a step forward."
Not that it works for everyone. The resiliency of youth ebbs with every acquired wrinkle. That 35-point humbling the Zags endured in New York – and on CBS – is not so easily dismissed for those who had to perform triage.
"As a coach, it still haunts you," admitted Mark Few. "It's in the back of your mind. I guess that's why I don't get too high with the Maui championships and not too low, because I've seen it all in practice – I've seen the best and the worst of this team."
The Zags made that leap in 12 days, just another reminder of the endearing unpredictability of college basketball and the folly of the fan who just can't bring himself to grasp anything but the notion of optimum performance every night.
It might seem silly to suggest it, but Oklahoma might have been just the tonic the Zags needed. The Sooners have some remarkable physical specimens and good players. But at the moment, the Sooners may be a bit too reliant on DNA – in other words, they're the type of team the Zags have made their bones against for a decade now. They are young – though not appreciably younger than Gonzaga – and showed no appreciable inclination to guard. They tried it for a few minutes after the broken-glass intermission and got the GU lead down to 13, but lost interest after a pretty Matt Bouldin-to-Gray fast break.
Naturally, some of this was Gonzaga's doing.
"We're good when we move the ball and share it, especially early in the clock," said Few. "When we hold it and wait for the screen to come to us or throw it into the post and just stand, we're pretty easy to guard. And it helps when you make shots."
There were other happy signs to send out 2009. Fouls once again kept center Robert Sacre mostly invisible for a half, but his energy and production were central to those crucial minutes right after halftime. And Bol Kong continued his steady progression as an impact player – not just from the 3-point line, but on the offensive glass and graceful moves to the hoop.
"It's nice to be able to bring somebody like that off the bench," Few said. "In the Duke game, he came out trying to blend in. I told him, 'When you see us struggling on offense, you need to come in and change it – assert yourself. That's your role.' Some guys come in to play defense and rebound; his role is to score."
In recovering from the Duke debacle, the schedule was Gonzaga's friend – the team immediately split up for Christmas ("If we'd had practice the next day, I don't think it would have been quite so good," Few said) and then some unfettered practice to work on its warts.
Whether it's the ramp-up to and the taking of finals, the adrenaline drain from winning those early tournaments in Maui or Orlando or bigger-name opponents stacking up – and it's likely all three – the Zags have become accustomed to end-of-December issues. A year ago, they lost three of four games in the last two weeks of the month. In 2008, it was three of six, with one of the wins an ugly escape against Utah. The 2007 team, saddled with impossible travel, lost five of six between Dec. 5 and Jan. 3.
These Zags could congratulate themselves on pulling out of that funk early – except for the 36-hour turnaround before playing at Illinois today doesn't give them time.
First night or last night, in the end it's only one night.
Local journalism is essential.
Give directly to The Spokesman-Review's Northwest Passages community forums series -- which helps to offset the costs of several reporter and editor positions at the newspaper -- by using the easy options below. Gifts processed in this system are not tax deductible, but are predominately used to help meet the local financial requirements needed to receive national matching-grant funds.
Follow along with the Zags
Subscribe to our Gonzaga Basketball newsletter to stay up with the latest news.
---