News > Features
Hawking a new genre
Sun., Jan. 10, 2010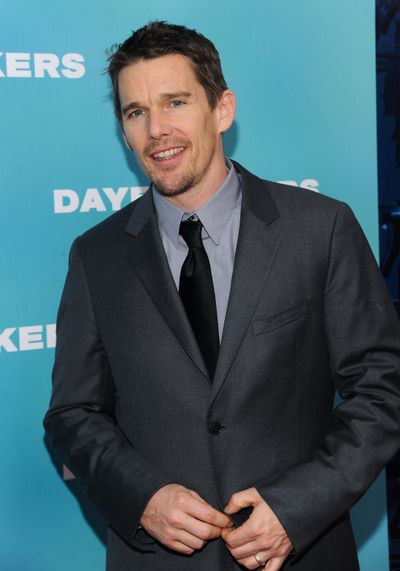 No actor wants to look foolish, especially if there are a couple of Oscar nominations and a Tony nomination on his resume.
And the time you worry about that, says Ethan Hawke, is "when you're sitting there, covered in fake blood, or somebody's handing you a bottle of blood that they're treating like a vintage wine."
During filming for "Daybreakers," which had him wearing fangs and playing a vampire hematologist, Hawke couldn't help having his moment of doubt.
He remembers thinking, " 'God, I hope this movie's good. If this is bad, not only is it embarrassing, it's disgusting.' "
In the film, which opened Friday, a virus has allowed vampires to take over the world, hunting the last remaining humans, farming their blood.
Hawke's character is a vampire who wants to save the human race by developing artificial blood or a cure for vampirism.
"This whole story – a world where vampires have taken over and vampires are destroying the last of their human blood supply – that's a metaphor for the human race today. That elevates the whole movie."
Hawke, 39, has spent the last couple of years living up to a label The Washington Post once gave him, "a middle-aged actor who rarely stops working."
He signed on for "Daybreakers" while performing a nine-hour trilogy of Tom Stoppard plays, "The Coast of Utopia." He's about to direct Sam Shepard's "A Lie of the Mind" on the New York stage.
Then there's the TV project he just finished – a "Moby Dick" adaptation in which he plays Starbuck.
"The fact that Herman Melville was writing this book about how pursuit of oil and greed for oil was going to corrupt and destroy us, a book about hunting whales in the 19th century, is amazing," he says. "It's like reading a newspaper from today – different kind of oil, still pursuing it. It still corrupts us."
His guiding principle, Hawke says, is trying to mix up the work – doing less lucrative plays for his craft, indie films for his art and commercial fare such as "Daybreakers" and the 1997 sci-fi thriller "Gattaca" so "you can keep working and stay relevant.
"I'd be lying if I said I had confidence in every choice I've made, that I have faith in every film I do on every shot. Doing genre films is fun because I have so little experience with, you know, vampires.
"If I was Christopher Lee and had done a hundred of these, it wouldn't be new and fun."
The birthday bunch
Singer Frank Sinatra Jr. is 66. Singer Rod Stewart is 65. Singer-keyboardist Donald Fagen (Steely Dan) is 62. Singer Pat Benatar is 57.
Local journalism is essential.
Give directly to The Spokesman-Review's Northwest Passages community forums series -- which helps to offset the costs of several reporter and editor positions at the newspaper -- by using the easy options below. Gifts processed in this system are not tax deductible, but are predominately used to help meet the local financial requirements needed to receive national matching-grant funds.
Subscribe to the Coronavirus newsletter
Get the day's latest Coronavirus news delivered to your inbox by subscribing to our newsletter.
---