News > Features
'Bad Lieutenant: Port of Call New Orleans'
Fri., Jan. 15, 2010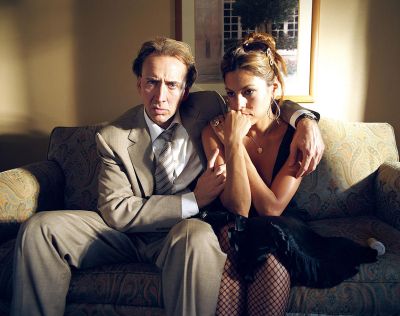 Cold-blooded reptiles are lurking everywhere in the slick new noir "Bad Lieutenant: Port of Call New Orleans," with snakes, iguanas, gators – and, especially, Nicolas Cage – at their slithering and cynical best.
Director Werner Herzog opens the film with the snake, just so we're clear that he will be exposing the seductive and duplicitous underbelly of things. It's a beautiful shot, dark and silvery, with a water moccasin moving inland through the rising black tide of Hurricane Katrina.
Enter Cage's detective Terence McDonagh, part of the debris kicked up by the storm. There's a jail cell, a forgotten prisoner struggling to keep his head above water as Terence and his partner, Stevie (Val Kilmer), look on, making bets on how long he'll last.
A last-minute rescue earns Terence a medal of honor, a promotion, a serious back injury and a cocaine habit to ease the pain.
So we have the setup and the bad cop that Herzog will push into the deep bayou muck, human and otherwise, that Katrina leaves behind. You can almost see the director smile as Terence descends into a netherworld of drugs and gambling and murder investigations, the stakes getting higher, the risks greater, the world crazier.
The story involves the murder of a family of five – illegal immigrants dealing heroin without cutting in the local drug lord.
Although you can see it coming, watching Terence get handed the case comes with a certain perverse pleasure, mostly of the train-wreck variety. By now the drugs are working their voodoo on the once good cop, making him fearless, ruthless and ridiculously sloppy.
Cage so disappears inside the increasingly unhinged cop that given the actor's reported financial meltdown (decorative shrunken heads? pet king cobras?), it's tempting to forget that he is not Terence. That would be unfair though, and diminish the sheer ferocity of his performance.
Herzog has done well by noir too, giving us exactly what he should – crime, corruption, sarcasm, sex, sleaze and shadows all through the glass darkly.
"Bad Lieutenant: Port of Call New Orleans" is playing at the Magic Lantern Theatre.
Local journalism is essential.
Give directly to The Spokesman-Review's Northwest Passages community forums series -- which helps to offset the costs of several reporter and editor positions at the newspaper -- by using the easy options below. Gifts processed in this system are not tax deductible, but are predominately used to help meet the local financial requirements needed to receive national matching-grant funds.
Subscribe to the Coronavirus newsletter
Get the day's latest Coronavirus news delivered to your inbox by subscribing to our newsletter.
---