Sports
Czisny's revival builds momentum
Fri., Jan. 15, 2010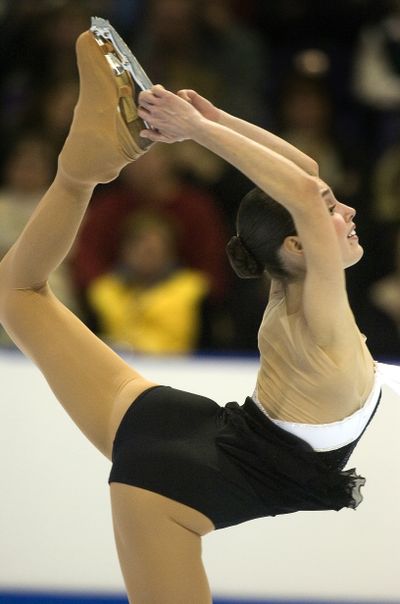 Weather permitting, Alissa Czisny might consider visiting a local bike shop this week to borrow some wheels for a spin on the Centennial Trail.
Bicycle rides have contributed to Czisny's revival from the time she finished third at the 2007 U.S. Figure Skating Championships in Spokane to her arrival this week as the defending U.S. champion.
Between thoughts of retirement were more prominent goals: a top-two finish and a spot on the U.S. Olympic team for next month's games in Vancouver.
"It came to a point where I almost decided to quit skating, having had plenty of disappointments and not knowing if that's what I wanted to do," Czisny said of her eighth-place finish at the 2008 nationals. "I really thought long and hard about what I wanted to do and realized I loved skating so much that it was something I wanted to do the rest of my life.
"From there, things really turned around. I guess you could say I took skating more seriously and thought of it as my career and really brought the joy back into my skating. It was something that no one else could help me with, something I had to figure out on my own. I think that rediscovering my love of skating is the biggest obstacle I had to overcome."
Before last year's breakthrough she had only the Spokane bronze to show for seven years of skating at the senior level.
In addition to all the on-ice work it took to become the national champion, the Ohio native who skates for Detroit SC, Inc., found a release on the trails near her home.
"Biking is sort of a repetitive motion so you don't have to think about it," she explained of her up to 45-mile excursions. "Being outside in the sunshine, it just helps me clear my mind, forget about the other things going on and just ride. It definitely helps me stay in shape. That's not why I ride but riding so many miles helps my stamina."
What Czisny, 22, had to learn was putting together two good programs in competition. She was known for having either a spectacular short or long program, but rarely both.
"It was frustrating to me because I didn't know what it was that made me skate one really well and one not so well," the two-time collegiate champion for Bowling Green said. "I had to relearn how to compete. Since then I was able to put out more consistent programs at competitions."
Landing jumps cleanly in competition after nailing them in practice is a point of emphasis with coach Julianne Berlin. Czisny has also worked with former champion Brian Boitano and his coach, Linda Lever, on mental preparation.
And if it gets to be too much, there's always the bike riding release.
Local journalism is essential.
Give directly to The Spokesman-Review's Northwest Passages community forums series -- which helps to offset the costs of several reporter and editor positions at the newspaper -- by using the easy options below. Gifts processed in this system are not tax deductible, but are predominately used to help meet the local financial requirements needed to receive national matching-grant funds.
Subscribe to the sports newsletter
Get the day's top sports headlines and breaking news delivered to your inbox by subscribing here.
---