Sports
In brief: Bjorklund saves No. 4 Lady Vols
Fri., Jan. 15, 2010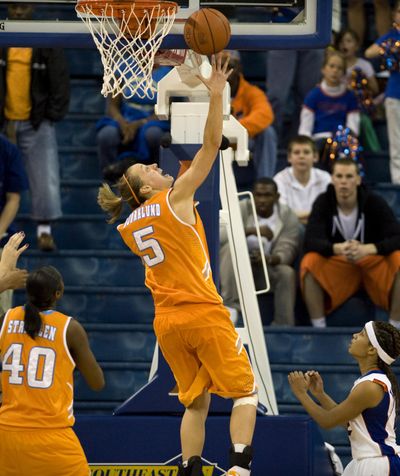 College basketball: Angie Bjorklund's reverse layup with 2.3 seconds remaining lifted No. 4 Tennessee to a 66-64 victory over Florida on Thursday night.
"It's one of those situations where the offense breaks down, you've got to create," Tennessee coach Pat Summitt said. "That was the most creative shot of the night for her."
"Of my career," Bjorklund added.
The University High School graduate missed her first seven shots and was scoreless until she hit a huge 3-pointer with about 9 minutes to play. She added another one a few possessions later, cutting into an eight-point lead and sparking a comeback. She finished with eight points.
Bjorklund's late surge helped the Lady Vols (15-1, 3-0 SEC) win despite one of their worst games of the season. Tennessee had a season-high 25 turnovers, just three steals and no blocked shots. Florida is 9-8, 2-2.
In other games, Tiffany Clarke scored 14 points and Vanderbilt (13-4, 2-2) handed Georgia (16-1, 3-1 SEC) its first loss of the season in Nashville, Tenn., 66-44, while in Blacksburg, Va., Virginia Tech defeated 10th-ranked North Carolina 79-64 behind Lindsay Biggs' 19 points, as the Hokies (11-5, 1-1 ACC) got their first win over the Tar Heels (13-3, 1-1) in 25 years.
•NCAA votes to restrict hiring: The NCAA has taken a first step to clean up basketball recruiting. The Division I Legislative Council voted Thursday to prohibit schools from hiring anyone associated with a basketball recruit for a two-year period before or after the player enrolls at the school.
Arenas charged with felony
NBA: Gilbert Arenas has a court date and an apparent plea deal is in place, signaling a possible quick resolution to at least one side of a guns-in-the-locker-room confrontation that stained the NBA and jeopardized the career of the three-time All-Star.
Arenas was charged Thursday with felony gun possession – one count of carrying a pistol without a license – a crime that carries a maximum penalty of five years in prison.
Arenas has acknowledged storing four unloaded guns in his locker at the Verizon Center, saying he wanted to keep them away from his young children and didn't know it was a violation of the city's strict gun laws. He says he took them out of the locker Dec. 21 in a "misguided effort to play a joke" on a teammate.
The criminal charge came on the same day that the teammate, Javaris Crittenton, had his northern Virginia apartment searched by police looking for a handgun. The search warrant indicated police were investigating crimes that include brandishing a weapon. No evidence was seized, according to court documents, and Crittenton has not been charged.
Sounders draft UCLA's Estrada
Soccer: The Seattle Sounders have selected UCLA forward David Estrada with their first pick in the MLS SuperDraft. Estrada was taken with the 11th overall pick in Thursday's draft in Philadelphia.
Estrada scored 22 goals and had 14 assists in his career with the Bruins.
In the second round, Seattle selected forward/midfielder Mike Seamon from Villanova, and in the fourth round the Sounders took midfielder Jamel Wallace from San Diego State.
The league's newest franchise, the Philadelphia Union, selected Oregon State forward Danny Mwanga with the first overall selection.
Chris Johnson unanimous All-Pro
NFL: Chris Johnson, the 2,000-yard rusher from the Tennessee Titans was the only unanimous choice for the All-Pro squad. He's joined in the backfield by Colts quarterback Peyton Manning, who won an unprecedented fourth Most Valuable Player Award last week, when only quarterbacks received votes.
The Seattle Seahawks had no All-Pros.
•Cable's status unclear: Tom Cable arrived at Oakland Raiders headquarters Thursday as the team's head coach. He exited the building just after 7 p.m. with a backpack slung over his right shoulder, jumped in his truck and drove past reporters without commenting on whether he remains coach.
Cable was supposed to meet with managing general partner Al Davis to discuss the direction of the Raiders for next season and beyond, including whether Cable will be around in any capacity.
By Thursday evening, senior executive John Herrera said he was unable to confirm whether the meeting took place.
Several phone calls to Cable went unanswered.
Serena, Venus in same half of draw
Tennis: The Williams sisters are on one side of the Australian Open draw. Most of the early intrigue is on the other side, with Kim Clijsters and Justine Henin.
Defending champion Serena Williams can't meet her sister, sixth-seeded Venus, until the semifinals of the tournament, which starts Monday.
Roger Federer is on top of the men's draw, in the same half as No. 3 Novak Djokovic. The other leading contenders, including defending champion Rafael Nadal, are on the other side.
BSU's Petersen wins award again
College football: Boise State's Chris Petersen has won the Paul "Bear" Bryant Award, the second time in four years he's earned the honor recognizing the nation's best coach. He also won it in 2006.
Prugh shoots 74 in debut at Honolulu
Golf: Spokane native Alex Prugh shot a 74 in his debut as a PGA Tour professional at the Sony Open in Honolulu.
Six golfers were tied for the lead at 5-under 65 including rookie Troy Merritt.
Local journalism is essential.
Give directly to The Spokesman-Review's Northwest Passages community forums series -- which helps to offset the costs of several reporter and editor positions at the newspaper -- by using the easy options below. Gifts processed in this system are not tax deductible, but are predominately used to help meet the local financial requirements needed to receive national matching-grant funds.
Subscribe to the sports newsletter
Get the day's top sports headlines and breaking news delivered to your inbox by subscribing here.
---