News > Nation/World
Obama joins Kennedys in fight for seat
Republican close in Massachusetts race
Fri., Jan. 15, 2010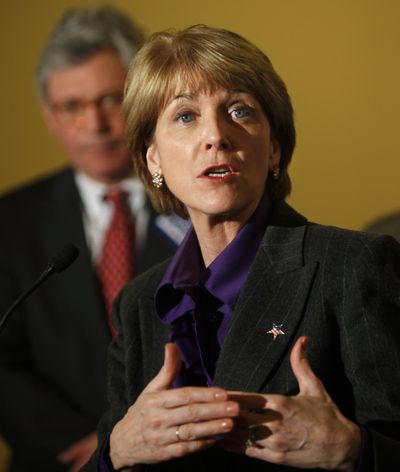 BOSTON – President Barack Obama and the family of Edward M. Kennedy on Thursday pushed to keep a Democrat in the late senator's seat and protect a 60th vote needed to pass the health care bill that would be Kennedy's legacy.
The stepped-up involvement of two Democratic powerhouses reflected the degree to which Obama's party worried about a Massachusetts contest that just a week ago looked like a lock for Democrat Martha Coakley.
A Suffolk University poll released Thursday night had Republican Scott Brown at 50 percent and Coakley at 46 percent, within the survey's 4.4 percentage point margin of error. The poll differed sharply from a Boston Globe survey released Sunday showing Coakley with a 15-point lead.
Stopping short of a visit to the state, Obama made his first foray into the race, asking his political backers in an e-mailed video to support Coakley in what's become a competitive race.
Republicans cite recent polls in claiming momentum before Tuesday's special election, and Democrats fear a loss could not only cost them the health care bill but the rest of the president's legislative agenda heading into critical midterm elections this fall.
"They believe that by defeating Martha, and replacing Ted Kennedy with her Republican opponent, they'll be in a position to tie up the Senate and prevent a vote on health insurance reform, financial reform and other issues so important to working families in Massachusetts and the nation," Obama said. "The outcome of these fights will probably rest on one vote in the Senate."
Senate Democrats also invoked their late colleague, releasing a video tribute to his nearly 47-year career and his pursuit of a health care overhaul.
The senator's widow, Vicki Kennedy, taped a last-minute television ad on behalf of Coakley. Earlier this week, Kennedy made a fundraising appeal that brought in more than $800,000.
The senator's son, Edward Jr., made his own plea Thursday, and Coakley aides would not rule out more appearances by the two Kennedys before Tuesday's election.
Local journalism is essential.
Give directly to The Spokesman-Review's Northwest Passages community forums series -- which helps to offset the costs of several reporter and editor positions at the newspaper -- by using the easy options below. Gifts processed in this system are not tax deductible, but are predominately used to help meet the local financial requirements needed to receive national matching-grant funds.
Subscribe to the Coronavirus newsletter
Get the day's latest Coronavirus news delivered to your inbox by subscribing to our newsletter.
---