News > Features
Some big stars span the Globes
Fri., Jan. 15, 2010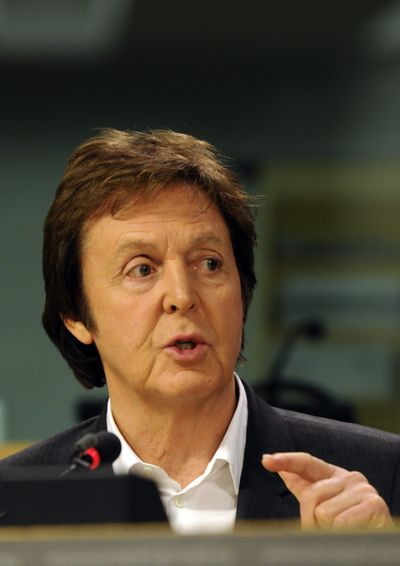 The Golden Globes' guest list includes a former Beatle, an Oscar winner and Indiana Jones.
The Hollywood Foreign Press Association says Paul McCartney, Reese Witherspoon and Harrison Ford will be presenters at Sunday's show.
Ricky Gervais will host the 67th annual awards show, which airs at 8 p.m. on NBC.
Other presenters include Olivia Wilde, Mickey Rourke, Christina Aguilera, Neil Patrick Harris, Julia Roberts, Leonardo DiCaprio, Jodie Foster, Mel Gibson, Sophia Loren and Cher.
Alec really rocks
Alec Baldwin, who'll co-host this year's Academy Awards with Steve Martin, is the featured guest at next month's Boulder International Film Festival.
Howie in, Hoff out
Howie Mandel is replacing David Hasselhoff as a judge on NBC's "America's Got Talent."
Mandel, who has been host of the network's "Deal or No Deal," will be teamed with returning hosts Sharon Osbourne and Piers Morgan.
One flew the coop?
Two members of the Dixie Chicks – minus lead singer Natalie Maines – are preparing to release a new album this year.
According to CMT.com, sisters Martie Maguire and Emily Robison are working on a project for Columbia Records.
However, Lloyd Maines, Natalie's father, says the trio is "definitely still an entity."
He says the sisters are "cutting some demos" and that Natalie recorded "a little something with them" about a year ago.
The birthday bunch
Actress Margaret O'Brien ("Meet Me in St. Louis") is 73. Singer Captain Beefheart is 69. Actress Andrea Martin is 63. Actor-director Mario Van Peebles is 53. Actor James Nesbitt ("Waking Ned Devine") is 45. Singer Lisa Lisa (Lisa Lisa and the Cult Jam) is 43. Actor Chad Lowe is 42. Actress Regina King is 39.
Local journalism is essential.
Give directly to The Spokesman-Review's Northwest Passages community forums series -- which helps to offset the costs of several reporter and editor positions at the newspaper -- by using the easy options below. Gifts processed in this system are not tax deductible, but are predominately used to help meet the local financial requirements needed to receive national matching-grant funds.
Subscribe to the Coronavirus newsletter
Get the day's latest Coronavirus news delivered to your inbox by subscribing to our newsletter.
---