News > Features
Winter TV replacements on the way
Fri., Jan. 15, 2010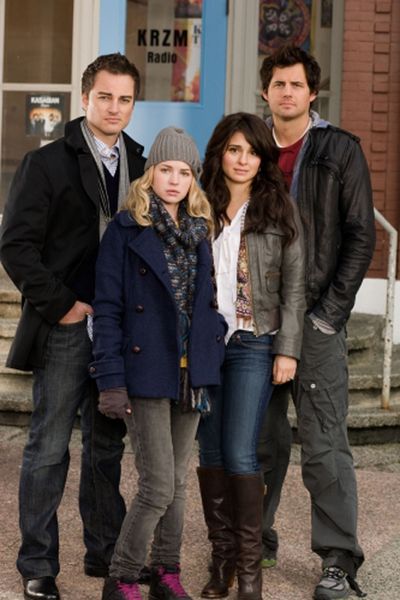 It's a new year and traditionally the time when television's dead are carried from the field and their replacements sent in.
The latest midseason additions include a few new shows about parenting (joining "Modern Family"), a couple featuring comic-book action heroes (one actually a cartoon, the other based on a comic) and the usual sprinkling of lawyers, doctors and lawmen.
They include:
"Archer" (FX, premiered Thursday): H. Jon Benjamin, the Olivier of deadpan cartoon voice-overs, plays the titular secret agent with Jessica Walter as his mother and boss in this ironically banal super-spy cartoon-cum-workplace comedy.
"Human Target" (Fox, Sunday): Charming Mark Valley stars as a mysterious and expensive roving bodyguard. Chi McBride and Jackie Earle Haley lend a hand.
"Life Unexpected" (The CW, Monday): Spunky teen Brittany Robertson, out to emancipate herself from a life of bad foster homes, hunts up still-young birth parents Shiri Appleby and Kristoffer Polaha. They will form some new kind of family, despite themselves and other odds. Smarter than it is sappy.
"The Deep End" (ABC, Jan. 21): "Grey's Anatomy" in a law office, as first-year attorneys deal with the pressure and get busy when not too busy to get busy.
"Caprica" (Syfy, Jan. 22): "Battlestar Galactica" prequel set 58 years earlier, when not everyone lived on a spaceship and Cylons were barely a glint in an electric eye. Esai Morales plays the future father of a character who will one day be played by Edward James Olmos, alongside Eric Stoltz and Polly Walker
"Spartacus: Blood and Sand" (Starz, Jan. 22): And more blood. Sam Raimi is one of the producers of this sword-and-sandal epic, set in CGI. It's the old Kirk Douglas classic but with bad language, soft porn interludes and a smorgasbord of severed body parts. Plus Lucy Lawless.
"LA LA Land" (Showtime, Jan. 25): "Borat"-style high jinks from British comedian Marc Wootton, who dupes Hollywood professionals into acts of real-life improv, in the guise of an actor, a psychic and a director whose goal is to be "the first right-wing Michael Moore."
"Undercover Boss" (CBS, Feb. 7): Corporate bigwigs go incognito as their own underlings to discover how their business really runs, and other things they should have known before reality TV came knocking.
"Past Life" (Fox, Feb. 11): Really cold cases. Reincarnated unquiet souls settle old business with the help of the supernaturally sympathetic. Teary closure is their reward, and yours.
"Parenthood" (NBC, March 1): Delayed from the fall on account of Maura Tierney's breast cancer, with Lauren Graham in for Tierney alongside Craig T. Nelson, Bonnie Bedelia, Peter Krause and Monica Potter. Based on the Ron Howard movie.
"Fly Girls" (CW, March 10): Reality miniseries follows Virgin America flight attendants (no snickering please), aloft and on the ground.
"The Marriage Ref" (NBC, March 14): Executive producer Jerry Seinfeld transfers the essence of his old sitcom – the hell that is other people's little annoying habits – into a reality series in which bickering couples have their cases decided by "celebrities, comedians and sports stars."
"Sons of Tucson" (Fox, March 14): Majestically disheveled Tyler Labine ("Reaper") is paid by three little kids to impersonate their currently imprisoned father in this series from Todd ("Wonderfalls") Holland.
"The Pacific" (HBO, March 14): Executive producers Steven Speilberg and Tom Hanks' Pacific theater sequel to "Band of Brothers" rides along with the Marines for a front-line view. Battle scenes and idle conversations are rendered with equally loving naturalism.
Local journalism is essential.
Give directly to The Spokesman-Review's Northwest Passages community forums series -- which helps to offset the costs of several reporter and editor positions at the newspaper -- by using the easy options below. Gifts processed in this system are not tax deductible, but are predominately used to help meet the local financial requirements needed to receive national matching-grant funds.
Subscribe to the Coronavirus newsletter
Get the day's latest Coronavirus news delivered to your inbox by subscribing to our newsletter.
---