News > Features
'Hit List' brings Gooding, Slater back to Spokane
Sun., Jan. 17, 2010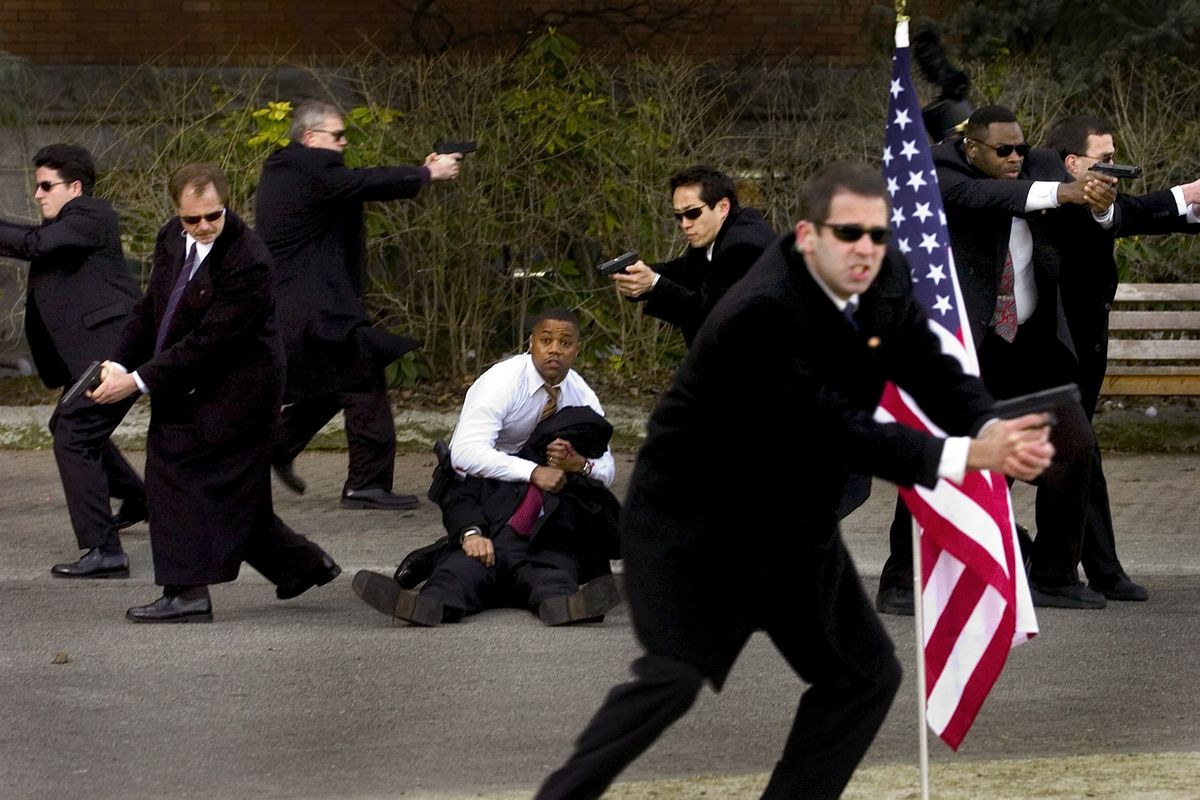 Cuba Gooding Jr. during filming of "End Game" in Spokane in 2005. (File)
Cuba Gooding Jr. and Christian Slater will be coming back to Spokane in February to film another North by Northwest movie, "The Hit List," an action thriller.
They already know their way around town from previous projects. Both co-starred in "Lies & Illusions" (previously titled "White Lies" and "Alicia's Book), which was filmed here in spring 2008 and released recently on DVD.
Gooding is especially familiar with Spokane; his films "End Game" (2006) and "Wrong Turn at Tahoe" (2009) were also shot here.
One more big name may still be forthcoming for the "The Hit List," but it's too early to say.
The director will be William Kaufman and the writers are Chad and Evan Law.
It's about a disgruntled man who gets drunk one night and – while in the company of a stranger – makes out a hit list of his enemies. Later, the people on the list begin to die, and the man has to race to save the rest of the people on his misbegotten list.
Here's hoping it turns out better than "Lies & Illusions," which has a 3.6 rating out of 10 on the Internet Movie Database and a 2 rating out of 5 on Netflix.
Interplayers fund campaign
"Love Letters," scheduled for Jan. 29 and 30 at the Interplayers Professional Theatre, is noteworthy not only because it's a beloved play by A.R. Gurney, and not only because it is performed by two longtime Hollywood pros, Jack Bannon and Ellen Travolta.
It's noteworthy because this is the keystone event of a monthlong fundraising drive by Interplayers, called the 30th Anniversary Campaign.
Next year will be Interplayers' 30th year. To make it to that milestone, the struggling theater needs all of the support it can get.
Selling out all three performances of "Love Letters," Jan. 29 at 7:30 and Jan. 30 at 2 and 7:30 p.m., would go a long way toward achieving that goal.
Tickets are $25, available by calling (509) 455-7529 or TicketsWest outlets (800-325-SEAT, www.ticketswest.com).
Bubbilicious
Jarom Watts, Spokane's own "bubbillusionist" – i.e., soap bubble-blower extraordinaire – sends news that he set two new Guinness world records on New Year's Eve.
He says that he set a record for the world's largest soap bubble blown by hand (3,053 cubic inches, or the size of 200 baseballs) and the most bubbles blown in 60 seconds with a single wand (707).
Try to top that at home.
This brings Watts' Guinness record tally to four. He accomplished his latest feats at the Spokane Convention Center as part of the First Night Spokane festivities.
Jazz legend alerts
Here are a couple of reminders about some big jazz names coming to our region:
• Eddie Palmieri, a nine-time Grammy winner, and his Latin Jazz Band will be featured at the Spokane Falls Community College Jazz and Diversity Festival, Feb. 5 at 8 p.m. at the Martin Woldson Theater at The Fox.
Up-and-coming jazz drummer Terri Lyne Carrington will bring her quintet to The Fox on Feb. 4, 8 p.m., also as part of the SFCC festival. Tickets are available through TicketsWest outlets.
• Tickets are on sale for the Lionel Hampton International Jazz Festival at the University of Idaho in Moscow.
Among the big names are Taj Mahal (Feb. 26), Dee Daniels (Feb. 26 and 27), Cyrus Chestnut (Feb. 26), the Clayton Brothers Quintet (Feb. 25), the Pizzarelli Family (Feb. 25) and an All-Star Quartet of John Nelson, Kevin Kanner, David Wong and Graham Dechter (Feb. 24).
Call (888)-8-UIDAHO or go to www.uitickets.com.
'In the Mood'
"In the Mood," the touring 1940s swing musical revue, is on its way to Coeur d'Alene on Jan. 29, 7:30 p.m. at North Idaho College's Schuler Auditorium.
This is the same show that played to large and happy crowds at the Martin Woldson Theater at The Fox last October.
Expect to hear plenty of music by Glenn Miller, Artie Shaw and Benny Goodman. The 19-person cast includes an orchestra, vocalists and swing dancers.
Tickets are $35, $33 and $25, available by calling (800) 4-CDATIX or through www.cdasummertheatre.com.
Ballet pros
Two professional dancers from the Oregon Ballet Theater, Grace Shibley and Lucas Threefoot, have been in Spokane rehearsing the Spokane Youth Ballet's upcoming show, "The Dancing Princesses."
They'll play the pivotal roles in this story, which is about the Captain of the Palace Guard, who solves the mystery of the worn dancing shoes and wins the Princess's hand in marriage.
"The Dancing Princesses" is scheduled for Feb. 6, 7:30 p.m. at the Central Valley Performing Arts Center. Kristen Potts and Phaedra Jarrett are the co-artistic directors.
Tickets are $12 for adults, $10 for children 12 and under, through TicketsWest.
Local journalism is essential.
Give directly to The Spokesman-Review's Northwest Passages community forums series -- which helps to offset the costs of several reporter and editor positions at the newspaper -- by using the easy options below. Gifts processed in this system are not tax deductible, but are predominately used to help meet the local financial requirements needed to receive national matching-grant funds.
Subscribe now to get breaking news alerts in your email inbox
Get breaking news delivered to your inbox as it happens.
---