News > Spokane
Cascade wolf sightings increase
Range extending west from Eastern Oregon
Mon., Jan. 18, 2010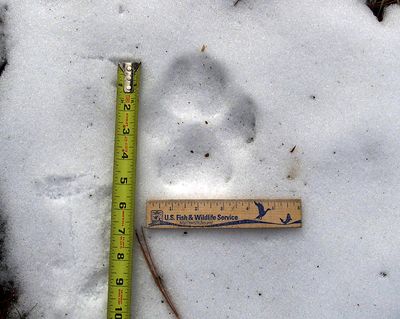 GRANTS PASS, Ore. – Wolves that have moved into Oregon from Idaho appear to be extending their range west, with recent sightings in the southern Cascades and the Ochoco Mountains.
U.S. Fish and Wildlife Service biologist John Stephenson said the reports of sightings and tracks have been growing since last January, when a photo was taken of an animal that looked like a wolf along U.S. Highway 20 east of Sisters.
In December, tracks were spotted in the southern Ochoco Mountains and near Wickiup Reservoir in the Cascades, Stephenson said.
Stephenson said it was not confirmed these are wolves, but he said he followed the tracks through the snow and they tend to go in straight lines the way wolves travel, not meandering the way dogs run.
"At this point, we are not sure whether we actually have wolves occupying the Cascades or single dispersing animals wandering through," he said.
Wolves were hunted out of existence in Oregon in the early 20th century but have moved back into the state from Idaho, where packs were re-established in the 1990s. The last Oregon wolf was killed in 1946 on the west side of the Cascade Range in the Umpqua National Forest.
They are federally protected as an endangered species in the western two-thirds of the state and listed as a state endangered species. The state wolf management plan calls for establishing four breeding pairs east of U.S. Highway 97 and four breeding pairs west of the highway.
Russ Morgan, wolf coordinator for the Oregon Department of Fish and Wildlife, said they had expected wolves to fill up the habitat in Eastern Oregon before moving into the Cascades, so their appearance is a surprise. Two known packs are established in northeastern Oregon, and 15 to 20 are thought to be in the state.
"One thing that is absolutely sure about wolves throughout the efforts to recover them is that they always surprise us," said Steve Pedery, conservation director for Oregon Wild, a conservation group.
"They don't need a lot from humans other than habitat and not shooting them. Even with these sightings and the documented packs we've got in Eastern Oregon, we still have a very long way to go before wolves are recovered."
Cottage Grove rancher Bill Hoyt, the new president of the Oregon Cattlemen's Association, said he had no immediate fear wolves could start attacking livestock in Western Oregon but expected that would become inevitable as wolf numbers increase.
Government hunters recently killed two wolves that were attacking livestock in Baker County.
Duane Dungannon, state coordinator for the Oregon Hunters Association, said they were not looking forward to increasing numbers of wolves, but that the sooner wolf numbers hit repopulation goals, the sooner wildlife authorities could start controlling them.
Spencer Lennard of Big Wild, a conservation group, said several studies have found that when wolves move into an area, deer and elk become more wary and are less likely to overgraze willows and trees along streams, helping to preserve fish habitat.
Local journalism is essential.
Give directly to The Spokesman-Review's Northwest Passages community forums series -- which helps to offset the costs of several reporter and editor positions at the newspaper -- by using the easy options below. Gifts processed in this system are not tax deductible, but are predominately used to help meet the local financial requirements needed to receive national matching-grant funds.
Subscribe now to get breaking news alerts in your email inbox
Get breaking news delivered to your inbox as it happens.
---