Sports
Former GU coach Fitzgerald dies
He laid the foundation for hoops program's rise
Wed., Jan. 20, 2010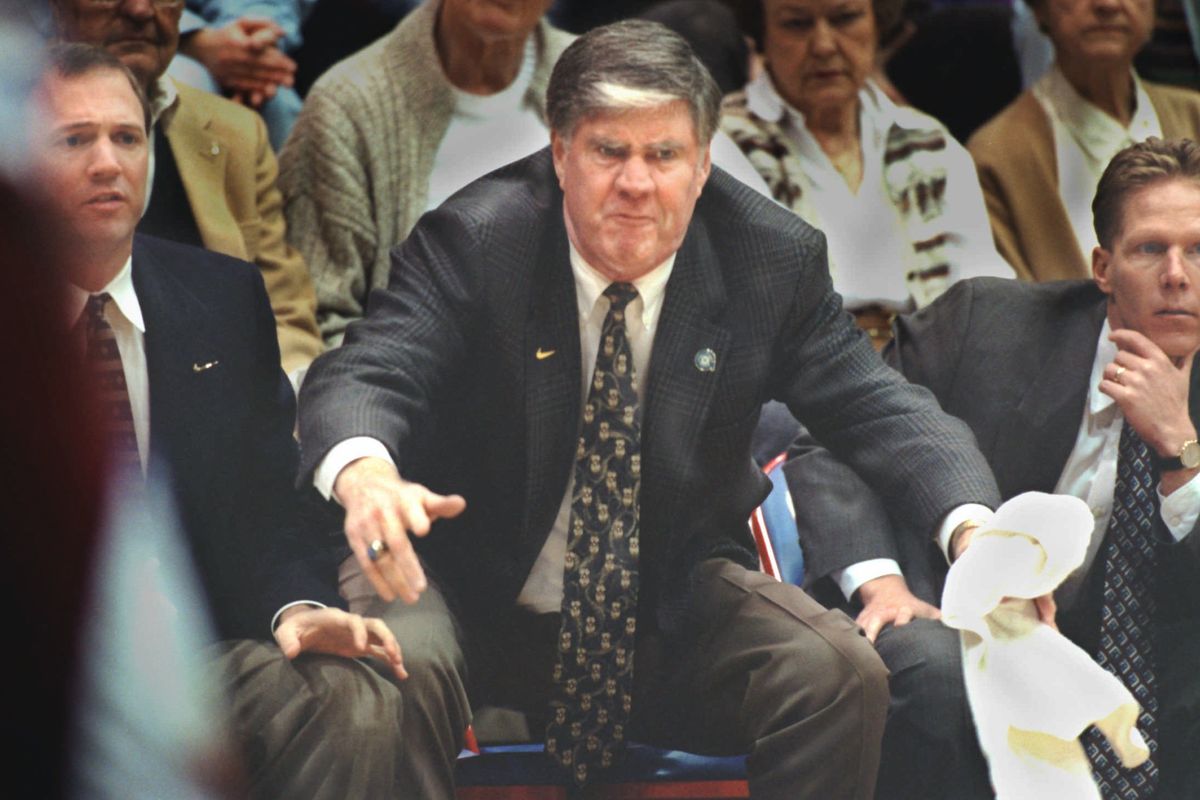 At the point of eruption, Gonzaga coach Dan Fitzgerald launches from his seat in response to the court action during a game at Martin Center in 1996. (Christopher Anderson / The Spokesman-Review)
He was the godfather not only of Gonzaga University's remarkable and unprecedented rise as a college basketball power, but of the game itself in Spokane – and a friend to virtually everyone who ever played, coached or watched it.
Now Dan Fitzgerald – not only a basketball coach but one of Spokane's most irrepressible personalities – is gone, dead at the age of 67, after collapsing at an Airway Heights restaurant on Tuesday evening.
A registered nurse on the scene performed CPR until paramedics arrived and were able to get a low pulse. He was taken to Deaconess Medical Center but was pronounced dead after 40 minutes. The cause of death is presumed to be a heart attack, his wife said.
"How do you sum up Fitz in a few words?" asked John Stockton, the Basketball Hall of Fame guard whom Fitzgerald recruited to Gonzaga in 1980 and coached his first college season.
"He was an unforgettable personality. He was loyal – incredibly loyal – above all. He was there for anything and everything I've ever needed, ever asked for. And he's just a guy I never thought I'd have to be talking about right now because I thought he'd survive us all.
"He's been a special man in my life, and in the lives of a lot of people."
Fitzgerald had been working in private industry since leaving Gonzaga in 1999, first at Buffalo Inc. and for the past several years at Northern Quest Casino as director of community relations. But he continued to be a vital contributor on the Spokane sports scene on a number of levels – not the least of which was his involvement in Spokane's AAU basketball community.
But he will be forever remembered here for building Gonzaga's basketball program from a middling Big Sky Conference member and eventually taking the Bulldogs to their first NCAA Tournament appearance in 1995.
In the process, he also assembled the staff that would succeed him at Gonzaga – Dan Monson, Mark Few and Bill Grier – and lift the Bulldogs into national prominence as a basketball power.
"It's simple – I wouldn't be here if it wasn't for Fitz," said Mark Few, who is within three victories of passing Fitzgerald on the Gonzaga list of coaching wins, behind all-time leader Hank Anderson. "He's had a huge impact on how we still run the program, how we work, how we prepare. What we do and what we achieve now has Fitz's imprint all over it."
Fitzgerald's first brush with Gonzaga was as an assistant to Adrian Buoncristiani in the 1970s. He left to return as an assistant at Santa Clara, where his college coaching career had begun, but was hired to succeed Buoncristiani at GU in 1978.
That launched a 15-year stint as the Zags' head coach, interrupted by a four-year stretch in the 1980s when he turned the program over to Jay Hillock to concentrate on his duties as athletic director and oversee the renovation of Kennedy Pavilion into the Martin Centre – or what eventually became known as the "The Kennel."
When he assumed the head coaching reins again in 1985, it began the most successful stretch of basketball in the school's history – although the real launching pad for the program's growth came with an 8-20 season suffered in 1990 when several prominent Gonzaga recruits redshirted.
After that, it was a steady rise: three consecutive 20-win seasons for the first time in school history from 1994-96, including the somewhat improbable NCAA appearance after the Zags had opened the 1995 season with six straight losses in West Coast Conference play.
Before he stepped down in 1997 with a record of 252-171, he set in motion the plan for Monson to succeed him as head coach – and it was in Monson's second season that the Bulldogs fired up the rocket to national prominence they still enjoy.
"I'll always remember Fitz," said Monson, whose father, Don, led Idaho to back-to-back NCAA Tournament appearances in the early 1980s. "He's not my dad, but as far as basketball goes, he brought me up. I always said my dad taught me what it is to be a basketball coach, but Fitz taught me how to coach."
Now the head coach at Long Beach State, Monson said he doesn't believe "Fitz will ever get the credit he deserves for what Gonzaga is today.
"He put down the foundation for all of us. Without him, Mark, Billy and I would never have come to Gonzaga. When you talk about the 'Zag way,' the tradition, the Kennel Club, the way Gonzaga acts and plays, he was the foundation of all that. He was the cornerstone of Gonzaga basketball. He'll always be the founding father."
And his impact was noted nationally, as well.
"He was such a colorful personality," Few said. "Everywhere I'd go I'd run into a guy who'd ask me, 'Hey, what's Fitz doing?' That's just kind of how it was. I wouldn't limit his reach to just town here – he was a basketball figure nationally."
Fitzgerald is survived by his wife, Darleen, and his daughter Kelli in Spokane, and by his brother Jim, of San Jose, Calif. Memorial service details have not been finalized.
Local journalism is essential.
Give directly to The Spokesman-Review's Northwest Passages community forums series -- which helps to offset the costs of several reporter and editor positions at the newspaper -- by using the easy options below. Gifts processed in this system are not tax deductible, but are predominately used to help meet the local financial requirements needed to receive national matching-grant funds.
Subscribe to the sports newsletter
Get the day's top sports headlines and breaking news delivered to your inbox by subscribing here.
---