News > Idaho
Liquor tastings would boost economy, Idaho lawmaker says
Wed., Jan. 20, 2010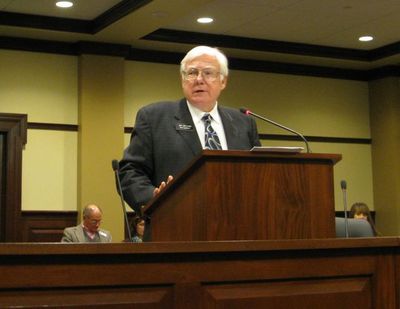 BOISE - Hayden Lake Rep. Jim Clark has a proposal for an "economic development tool" for the state: Allow samplings of distilled spirits, just as Idaho now authorizes wine tastings. "I am here today because I have a constituent in North Idaho who would like to build a distillery for distilled spirits beverages, i.e. gin," Clark told a House committee Wednesday. "In his business plan, he would like to add in that they can go do gin sample tastings within his operation." Clark said his bill would benefit not only that planned project, but existing Idaho distilleries like Bardenay, which has three locations including one in Coeur d'Alene for its distillery/bar/restaurant. Though Idaho lawmakers have historically been loath to authorize any expansions in liquor availability, the House State Affairs Committee agreed to introduce Clark's bill with just one dissenting vote. "It's a good idea - if the wine people can do it, why can't the distilled spirits people do it?" Clark said after the vote. Clark noted that in 2004, Idaho lawmakers passed legislation authorizing and regulating wine-tastings at Idaho wineries and retail stores with just one no vote in the House (it had nine no votes in the Senate). That bill's Statement of Purpose said it "verifies and clarifies that wine tasting events are a very important aspect of the wine industry and have been an industry practice for many years." "These events have been extremely, extremely successful," Clark told the committee. "We authorized it in 2004, and McDonald's hasn't started doing it, and they can't start doing it either." That was a reference to a comment during House debate last year in which Rep. Russ Mathews, R-Idaho Falls, suggested Gov. Butch Otter's proposed reforms to how liquor licenses are doled out in Idaho would result in "a little nippy in there instead of a happy toy in that Happy Meal." The House defeated that bill. Clark's bill would permit only manufacturers of distilled spirits or licensed bars to hold tastings of hard liquor. Portion sizes would be limited to one ounce, as opposed to the 1-1/2 ounce limit in the wine-tasting law; and the frequency of tastings would be limited. Rep. Lynn Luker, R-Boise, wondered whether the number of samples per patron, along with the sample size, should be included in the proposed law. Clark said that could be considered when the bill comes up for a full hearing, but he said that hasn't been a problem with wine-tastings. "We haven't had any problem for over five years. I don't think there's ever been one case of somebody being intoxicated at a sampling," he told the committee. He added, "It's an economic development tool and it's not going to increase the number of people who are out there drinking. They went in there to sample and/or buy product. They'll be over 21 and all those kinds of issues." According to the Distilled Spirits Council of the United States, at least 36 states permit hard-liquor tastings in bars and restaurants, and 27 of those allow it in retail stores. The council maintains that "product tastings are a traditional, responsible marketing tool." Dyke Nally, director of the Idaho State Liquor Dispensary, said he's been watching Oregon and Pennsylvania, which have enacted laws allowing in-store samplings in state liquor stores. "Pennsylvania has done well with it, in terms of sampling upper-end products," he said. That prompts buyers to buy the more expensive products, and doesn't increase overall alcohol consumption, he said. Nally said he's held off on proposing the practice for Idaho's state liquor stores until seeing more on how it works in Oregon, which just enacted the law two years ago. "We may someday propose it," said Nally. He said he supports Clark's bill, which could be especially helpful to an eastern Idaho distillery in Rigby that attracts tourists from around the world for tours, but can't offer any samples of its potato vodka and other products on-site. "I think it's a good idea for people to be able to taste what they're buying and to support the Idaho distilleries," Nally said. This is not Clark's first liquor legislation - he sponsored the successful legislation several years ago that allowed port and sherry to be sold in Idaho grocery stores, just like wine. Previously, those products could only be found in state liquor stores.
Local journalism is essential.
Give directly to The Spokesman-Review's Northwest Passages community forums series -- which helps to offset the costs of several reporter and editor positions at the newspaper -- by using the easy options below. Gifts processed in this system are not tax deductible, but are predominately used to help meet the local financial requirements needed to receive national matching-grant funds.
Subscribe to the Coronavirus newsletter
Get the day's latest Coronavirus news delivered to your inbox by subscribing to our newsletter.
---