Sports
Rarefied heights for Eagles
Wed., Jan. 20, 2010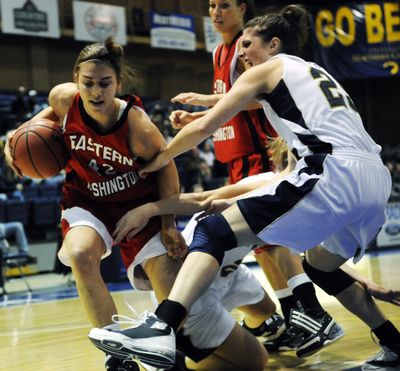 It's been so long since the Eastern Washington women's basketball team started 5-0 in conference play that it might be as hard for fans to guess what conference, let alone what year.
It was 25 years ago when the Eagles got off to a 5-0 start in the Mountain West Athletic Conference, which joined the Big Sky Conference in 1988-89.
Now Eastern is 5-0 again, alone atop the Big Sky standings, but coach Wendy Schuller said the Eagles aren't crowing.
"I don't worry they're going to slack off," Schuller said. "They somewhat have a chip on their shoulder having gone through tough times. Five games isn't even halfway through conference. They still think there are teams out there that don't worry about us."
Disrespect and chips on shoulders go hand in hand, considering it was just two seasons ago Eastern was 1-15 in conference, 4-25 overall. Last year was a nice improvement to 5-11, 10-19, setting the stage for another step.
"I think it's what I thought coming into the year, maturity," Schuller said. "We're finishing out games. A year ago we'd get to the last 5 minutes and didn't make the plays we needed to make. Now we have kids that have been through the battles.
"The kids have confidence and great chemistry. I couldn't pinpoint one kid. I don't even think I could name two. It's been the entire group. They've been through the tough times. They're battle tested."
Besides putting experienced players on the floor, Schuller has started the same five players in all 17 games and call on a bench that has been productive.
Junior Julie Piper averages 10.9 points and 7.1 rebounds, both team highs. She's the only player scoring in double figures but four other players average more than seven points, including Tatjana Sparavalo and Chene Cooper off the bench. Four players have led the Eagles in scoring in five conference games.
They've all become tough-minded defenders. The last four games have been low scoring.
"We're very, very good defensively right now," Schuller said. "I'd still like to be better on the offensive end."
The potential is there, since the first conference win at Sacramento State was 90-85.
"I'm concerned we have to play so many close games," Schuller said. "If we ever get clicking offensively, with the way we're playing defensively, they won't have to give me so many gray hairs."
The Eagles are home this weekend, against second-place Idaho State (9-9, 4-1) on Friday and Weber State (7-11, 1-4) on Saturday.
Schnibbe's last visit
It's the last basketball visit to EWU for Weber State's Tonya Schnibbe (University HS). The senior, who set the school record for career assists earlier this season, leads the Wildcats in scoring (11.3) and is second in the Big Sky in assists (6.4).
"It's definitely weird to think about (my last trip)," said Schnibbe, who tied the school record with 10 steals at Eastern as a sophomore. "I've loved coming to Eastern and playing in front of my family and friends. But this is more like a business trip. This is a must win for us."
She said the assist record surprised her.
"I never think about that stuff. I've never been a stat tracker," she said. "It is definitely something I'm proud of."
Tip-ins
FSN will televise Washington's game at Washington State a week from Friday. Tipoff is 5 p.m. … When Idaho beat Boise State in overtime on Saturday, all five starters scored in double figures, led by Yinka Olorunnife tying her career high with 25 to go with 10 rebounds. Guard Charlotte Otero played all 45 minutes without a turnover. … Montana State junior Lyndi Seidensticker (Lewis and Clark) hit a career-best five 3-pointers on her way to a career-high 19 points to help the Bobcats defeat Sacramento State 95-86 Saturday. … Junior Heidi Heintz (Central Valley), who transferred from San Francisco, had her UC Davis high with 17 points in a 79-76 win over Bakersfield Monday afternoon.
Local journalism is essential.
Give directly to The Spokesman-Review's Northwest Passages community forums series -- which helps to offset the costs of several reporter and editor positions at the newspaper -- by using the easy options below. Gifts processed in this system are not tax deductible, but are predominately used to help meet the local financial requirements needed to receive national matching-grant funds.
Subscribe to the sports newsletter
Get the day's top sports headlines and breaking news delivered to your inbox by subscribing here.
---