A&E > Food
Thai chilies and farm-fresh herbs give curry paste its flavor-packed punch
Wed., Jan. 20, 2010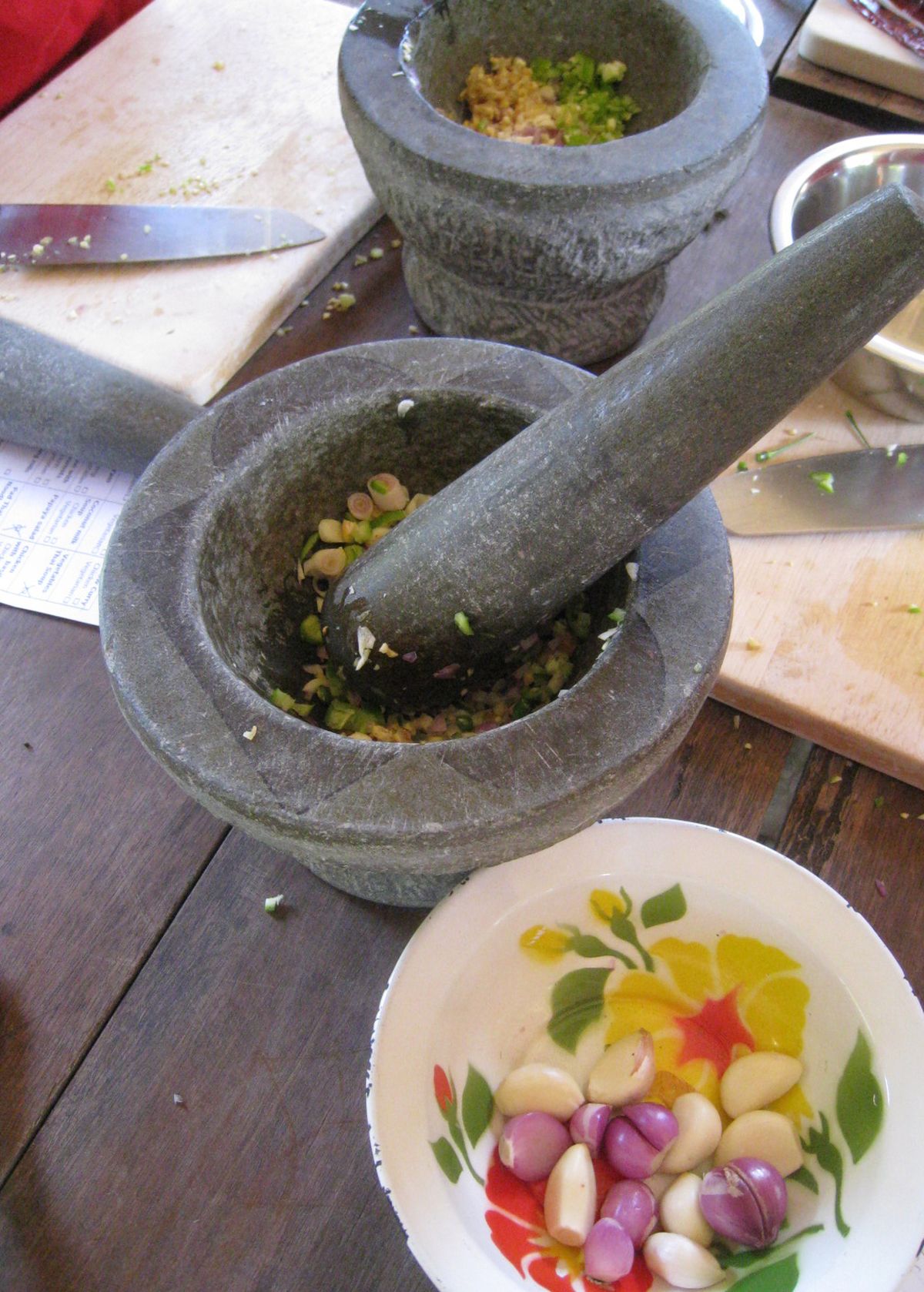 Fresh herbs and spices are ground into a smooth paste with a mortar and pestle. (Courtesy Harrington / The Spokesman-Review)
We bumped along in the back of the pickup, passing men threshing rice under the hot morning sun, roosters pecking at their bamboo cages and a water buffalo grazing near the canal, her baby tethered alongside.
The sweet scent of jasmine filled the air as we turned onto the dusty road leading to the Thai Farm Cooking School. Ten of us signed up to spend the day at an organic farm outside of Chiang Mai, Thailand, away from the traffic, pollution and noise of the city.
Since arriving in Thailand several days before, I had enjoyed sweat-inducing, flavor-packed curries at least once a day and I was eager to learn the art of preparing the centuries-old dish at home.
The bamboo cooking pavilion that served as our classroom was a peaceful retreat overlooking a lotus pond surrounded by hot pink bougainvilleas. The gardens, just steps away, were lush with mangoes, bananas, coconuts, star fruit and all of the vegetables and herbs we would need to prepare our meal.
The Thai word for curry, "kaeng," refers to a dish with lots of liquid, including soups and chili-based curries. Thai curry starts with a variety of herbs, spices and chilies ground into a smooth paste using a mortar and pestle. Unlike long-simmering Indian curries, Thai curries are relatively quick to prepare once the curry paste is made.
Start with fresh ingredients
"You can call me 'Nice,' like nice name," said our instructor Saranya Sudtha. Like most Thais we met, she had adopted a nickname that was easy for Westerners to pronounce.
In a quick trip through the garden, we collected fresh garlic, shallots, chilies, kaffir limes, lemongrass and galangal, a peppery member of the ginger family, to form the starting point for our curry paste.
"When we make the paste ourselves, it is fresher and we can make it more or less spicy," Sudtha explained. Using fresh herbs and roots, instead of dried ones, also provides the moisture necessary to make the curry paste.
Fresh turmeric root is used for yellow curry paste, and ginseng is added to red and green curries. As we walked, Sudtha pointed out the medicinal properties of ingredients in the garden: "Ginseng is good for your brain, and we make tamarind tea to ease the stomach."
Make it hot
"We use dried chilies because they have a better color and are spicier," Sudtha explained, as we stood next to the chili plants in the garden. Fresh green long chilies, or prik kieuw sod, are milder than smaller varieties and give green curry its color. Once ripe, the chilies turn red, and they are dried and used for color and spice in red curry.
Try using only one or two chilies the first time you make curry paste until you are familiar with the degree of spiciness of a particular chili. To reduce the heat, remove the seeds from the chili before using, and make sure to wash your hands after touching the chilies to avoid burning your eyes.
Prepare the curry paste
Sudtha sharpened her knife on the edge of a heavy stone mortar as we donned our aprons and took our places at the long wooden table. We began by crushing roasted coriander and cumin seeds into a fine powder with our pestles.
"To make it smooth, pound like this," Sudtha said. She pounded up and down with great force, aiming the pestle toward the bottom of the mortar, mashing the ingredients into a thick paste.
As I copied her movements, thumb-sized pieces of lemongrass, chopped galangal, kaffir lime rind and green chilies danced around in my mortar, threatening to leap out at any moment. "Cover your mortar with one hand so the chilies don't spray in your face," she said.
Good advice. I switched from aching arm to aching arm trying to pound the ingredients into a smooth curry paste. The wood table trembled with the efforts of 10 students vigorously pounding. After about 10 minutes, we had successfully pounded the ingredients into a smooth paste.
If you try this at home, place the mortar on a wooden surface or folded towel to protect your countertops. You can also prepare the paste by placing all of the ingredients in a blender or coffee grinder, but the mortar and pestle method will produce the most authentic texture. The prepared paste can be stored in a glass jar in the refrigerator for two to three months.
Coconut milk
Coconut milk is a key ingredient in many Thai dishes, and serves as a base in which to infuse the curry paste. Those unfamiliar with coconut milk might think it is the liquid contained inside the coconut shell. While young green coconuts are valued for their coconut juice, sold with a straw as a drink on the go, it is the mature brown coconuts that are used to make rich, creamy sweet coconut milk.
Coconut milk is extracted from grated coconut meat soaked in hot water, squeezed and strained to release the coconut milk. This extraction process is done by machine on the spot at many markets in Thailand, with the remaining coconut pulp used as chicken feed.
There are still many Thai cooks, however, who prefer to grate the coconuts by hand and make their own coconut milk.
Balance the flavors
"Keep stirring, keep smiling and your food will taste good," Sudtha encouraged us as we added the curry paste to a saucepan of coconut milk.
We turned up the heat and added the chicken and vegetables. The aromatic basil and kaffir lime leaves were added last to preserve their delicate flavors.
"Now taste it. How's your curry?" Sudtha asked as she walked around to inspect our progress. "Do you need more spice?"
She explained that the finished curry should taste creamy, a little bit sweet, salty and spicy and that we could adjust the seasoning with sugar, fish sauce or soy sauce. We carried our lunch to the table, and Sudtha brought jasmine and sticky rice to accompany the curry. With a glass of lemongrass tea, we enjoyed our hard-earned lunch in the shady pavilion overlooking the lush, tropical gardens.
The following recipes are courtesy of the Thai Farm Cooking School, Chiang Mai, Thailand.
Red Curry with Chicken
From the Thai Farm Cooking School. The chicken can be replaced by beef, pork or tofu.
For the curry paste:
1/4 teaspoon cumin seeds
1/4 teaspoon coriander seeds
2-3 red dried chilies (soak in cold water for about 15 minutes before using)
1 tablespoon chopped shallots
1 teaspoon chopped galangal
1 teaspoon chopped garlic
1 tablespoon chopped lemongrass
1 tablespoon chopped Thai ginseng
1/4 teaspoon salt (or 1/2 teaspoon if you plan to keep the paste for later use)
Other ingredients:
1 cup sliced eggplant (look for green, round Thai eggplant or purple Indian eggplant)
1/3 cup sliced onion
2 1/2 ounces sliced chicken
1 teaspoon sugar
1 tablespoon fish sauce or soy sauce
3 kaffir lime leaves
2 stems sweet basil – leaves only
1 cup coconut milk
1 cup water
Roast the coriander and cumin seeds in a dry pan on a low heat for 3 to 4 minutes, stirring frequently so they don't burn. Place the seeds in the mortar and grind into a powder. Add the remaining curry paste ingredients and pound until everything is thoroughly ground. You can also use a blender.
Pour the coconut milk into a medium saucepan over medium heat. Stir until coconut milk is uniform in consistency. Add the curry paste and chicken and cook over medium heat until chicken is cooked – about 5 minutes. Add the vegetables, water, sugar, fish sauce, salt and turn the heat up to a boil. Stir occasionally and cook 2-3 minutes or until vegetables are tender. Turn off heat and add lime and basil leaves. Serve with rice.
Yield: 1 to 2 servings
Papaya Salad
In Thailand, green, unripe papayas are used as a vegetable. Look for them at the Oriental Market in Spokane, or substitute cucumber, cabbage, carrot or Granny Smith apples.
1 cup shredded green papaya (Peel the papaya and rinse under water. Cut in half, remove the seeds and shred the flesh with a grater.)
1-2 Thai hot chilies
2-3 peeled cloves of garlic
1 tablespoon lemon juice
2 teaspoons sugar
1/3 cup long beans cut in 1-inch pieces
1 tomato cut into 6 pieces
2 tablespoons peanuts
1 tablespoon fish sauce or soy sauce
1/4 teaspoon salt
Put garlic, long beans and chilies in the mortar and mash with a pestle until crushed into pieces. Add lemon juice, sugar, fish sauce, tomato, peanuts, salt and mix together. Finally add the shredded papaya and mix with a spoon. Serve cold with fresh cabbage or lettuce.
Yield: 1 to 2 servings.
Thai Pumpkin in Coconut Milk
This sweet dish is eaten as a simple dessert. Use kobacha squash or other densely fleshed, sweet squash.
1/2 cup squash – peeled and cut into 1 1/2-inch squares
1 cup coconut milk
1/2 cup water
1 tablespoon sugar
Pinch of salt
Pour the coconut milk, water and squash into a pot. Bring to a boil. Add sugar and salt. Cook on low boil until squash is soft.
Yield: 1 to 2 servings
Kirsten Harrington can be reached at kharrington67@ earthlink.net or visit her Web site
www.chefonthego.net
.
Local journalism is essential.
Give directly to The Spokesman-Review's Northwest Passages community forums series -- which helps to offset the costs of several reporter and editor positions at the newspaper -- by using the easy options below. Gifts processed in this system are not tax deductible, but are predominately used to help meet the local financial requirements needed to receive national matching-grant funds.
Subscribe to the Spokane7 email newsletter
Get the day's top entertainment headlines delivered to your inbox every morning.
---