News > Features
Stone says U.S. ducks hard truth
Wed., Jan. 27, 2010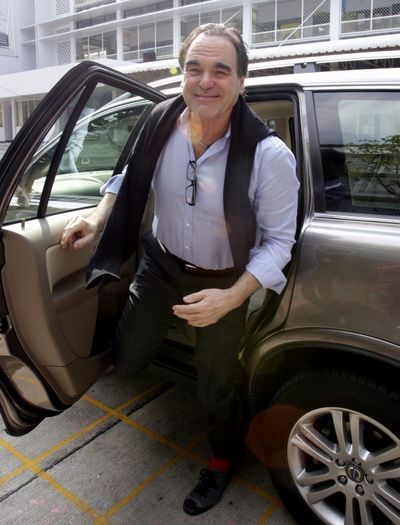 Filmmaker Oliver Stone says the United States remains in denial over the possibility that someone other than Lee Harvey Oswald could have assassinated John F. Kennedy, calling it a "national fairy tale."
Speaking to 300 high school students Monday in Bangkok, Thailand, Stone said exploring alternative theories remains too sensitive for those in the media or academia who "would be endangering their careers and their position."
Stone was in Bangkok as part of a series of talks facilitated by the Vienna-based International Peace Foundation.
His 1991 film "JFK," which he acknowledged was his most controversial, ridicules the Warren Commission conclusion that Oswald acted alone and suggests a massive conspiracy.
Stone came under fire from the historians and film reviewers who contended he had fudged facts, invented characters and elevated speculation to truth.
Speaking of speculation …
Johnny Depp is still very much alive after being the subject of an online hoax.
Internet reports of Depp's death over the weekend in France were a horrible rumor, his publicist says.
Different strokes, indeed
Actor Gary Coleman was arrested in Utah over the weekend on a warrant for failing to appear in court on domestic violence charges after police received reports of another disturbance at his home.
And comedian Andy Dick was charged with two felony counts of sexual abuse after allegedly grabbing a bouncer's crotch and groping and kissing a male patron at a West Virginia club.
The birthday bunch
Actor James Cromwell is 70. Actress Mimi Rogers is 54. TV commentator Keith Olbermann is 51. Actress Bridget Fonda is 46. Actor Alan Cumming is 45. Country singer Tracy Lawrence is 42.
Local journalism is essential.
Give directly to The Spokesman-Review's Northwest Passages community forums series -- which helps to offset the costs of several reporter and editor positions at the newspaper -- by using the easy options below. Gifts processed in this system are not tax deductible, but are predominately used to help meet the local financial requirements needed to receive national matching-grant funds.
Subscribe to the Coronavirus newsletter
Get the day's latest Coronavirus news delivered to your inbox by subscribing to our newsletter.
---