Candidate says he was assaulted
Fox says man attacked him after request for sex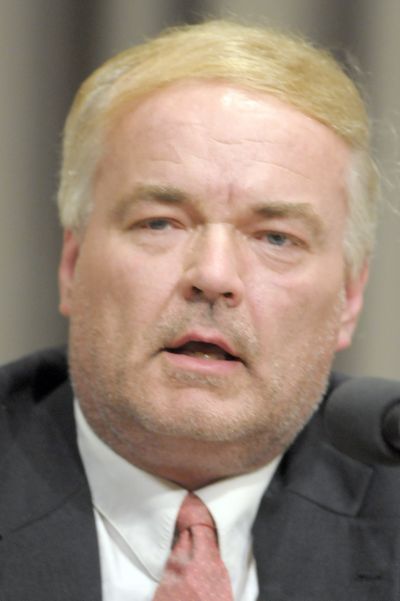 A Democratic candidate for Congress told police he was assaulted Sunday night near downtown Spokane after making sexual advances to another man.
David R. Fox, a Port Angeles attorney who moved to Spokane recently to run against Republican Rep. Cathy McMorris Rodgers, told police he wasn't injured in the altercation but he is pressing charges against his alleged assailant, Nathaniel Washington.
Washington, a 32-year-old Spokane resident, is out on $100 bond after being charged with misdemeanor assault and obstructing an officer.
Fox, 49, one of four Democrats in the Aug. 17 primary, entered the race in the final hour of filing week, and has no known campaign office or website. The phone number listed on his candidate petition and the state's online voter's guide rings at his former Port Angeles residence, where the person who answered Thursday said "I really, honestly don't know" how to contact Fox.
The cell phone Fox used at the beginning of the campaign is no longer in service, and efforts to contact him by e-mail were unsuccessful.
Local Democratic officials say they don't know Fox, and the party has endorsed Clyde Cordero.
An attorney who primarily performs pro bono work, Fox has a checkered history that includes being accused earlier this year of demanding a client expose himself during a consultation in the Clallam County Jail. Fox denied the allegations in interviews with KOMO-TV in Seattle and the Peninsula Daily News, but Clallam County Sheriff Bill Benedict told the newspaper Fox did admit masturbating in the interview room. A special investigator from the state attorney general's office concluded that no charges could be filed.
Shortly after the attorney general's conclusion was announced, Fox changed plans to run for Clallam County prosecuting attorney and filed instead for Eastern Washington's U.S. House seat, even though he didn't live in the district. Fox said he was born and raised in Othello, and while federal law doesn't require a congressional candidate to live in the district he or she represents, he said he would relocate to Spokane for the campaign.
Since arriving in the city this summer, police reports show he has been accused of skipping out on a $14 tab at a downtown bar. A Crime Check report says he tried to pay with a check but didn't have identification, and when the server asked him to wait to speak with the manager, "he used profanity and left without payment."
The same report says Fox is suspected of writing a bad check at another downtown restaurant, and was asked to leave the River Park Square mall or be cited for trespass.
Sunday night, it was Fox who called police from McDonald's on West Third Avenue to say he'd been assaulted in a nearby courtyard below the interstate. Officers arrived and questioned Fox, who identified Washington. Washington admitted hitting Fox.
When an officer asked why, Washington said it was because Fox had asked him for oral sex and "I just hit him, I went crazy."
Fox later told the officer that he and Washington had been in the park "walking around and hiding from each other." Fox said Washington was "leading him on" and when the officer asked what he meant, Fox said he had asked Washington for oral sex. At that point, Fox said, "he grabbed me in a bear hug and threw me on the ground … I don't understand. I asked him nicely."
Fox said he wanted to press charges against Washington, who scuffled with police and eventually had to be put in a neck restraint by one officer, handcuffed and taken to jail.
---