Bringing his game to town
Former CV, UI, NFL kicker teaches technique to area athletes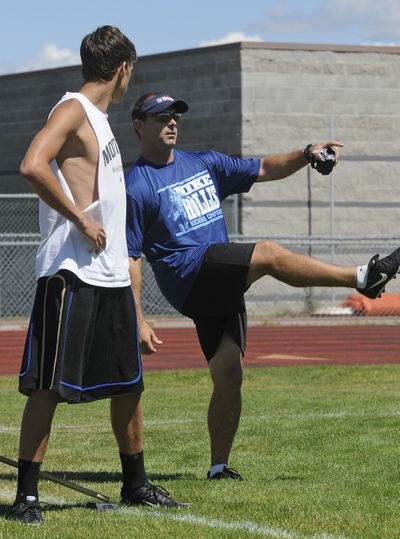 Mike Hollis calls it an academy; the ProForm Kicking Academy to be exact.
But what he really runs is a boot camp. And if anyone should be running this kind of a boot camp, it's Mike Hollis.
Hollis is, simply put, the most accomplished placekicker in Central Valley history and, with Mead's Jason Hanson, one of two Greater Spokane League alums to kick in the National Football League's Pro Bowl. The former Bear booted through 200 of 250 field goal attempts in the NFL, good for 879 points.
Each summer he brings his kicking camp to his alma mater and for two days works with area placekickers, punters and snappers, teaching the fine points of an art he honed over nine seasons in the NFL with the Jacksonville Jaguars, Buffalo Bills and New York Giants.
Hollis' Academy is based in Jacksonville, Fla., and he teaches kicking year around there, with a few summer camps added to the schedule
"It's always good to come back and reconnect with some of the coaches that worked with me when I was at CV," he said. "Coach (Rick) Giampietri was there in those days and, of course, he's now the head coach there. I enjoy it – and my family likes coming to Spokane. But we have to do it during the summer; we're too used to the weather in Jacksonville."
Hollis was at CV last week and will return to the area again next month for a camp in the Seattle area as well as some individual instruction with area kickers.
"We're teaching what I hope will eventually become the standard way of teaching and coaching kickers," Hollis said. "Golf has been at this a lot longer than we have and they've developed some pretty recognizable standards for how they teach the golf swing.
"We're doing the same thing, but we're not swinging a golf club. But our goal is the same: we want to teach kids a reliable, repeatable (leg) swing."
Hollis' camp has trained some very good local kickers, including Jake Miller, the All-GSL kicker and punter from CV who takes his game this fall to Washington State, where hopes to take over punting duties for the Cougars. He's also worked with Spokane Shock kicker Taylor Rowan as well as Massimo Scaccia, who filled in kicking this season for the Jacksonville Sharks while Paul Edinger was injured.
His technique for teaching the craft has been endorsed by the likes of longtime NFL kicker John Carney, who worked with Hollis during the 1994 preseason in San Diego, calling his kicking technique "flawless."
"One of the problems with kicking, I think, is that there aren't a lot of coaches out there who know how to kick or know how to teach kicking," Hollis said. "And there are some kicking camps out there that, I hate to say anything bad about them, but are teaching some wrong stuff."
He found that to be the case all the way to the NFL, he said. How else to explain the constant turnover in placekickers in most franchises. Hanson, who was drafted by the Lions in 1992 and is signed to kick for the team through the 2012 season, is an exception to the rule.
"I almost never got the chance to kick in the NFL," Hollis said. "In fact, I almost didn't turn out for high school football because of my size. I'm 5-feet-8 and 180 pounds and I figured I was too small to get out there and just kick for a varsity team. A friend talked me into going out and it all worked for me.
"After I graduated from the University of Idaho, Tom Coughlin of the Jaguars was interested in me. He liked my form and he liked my accuracy, but he thought I was too small. Jim Gaetano, who I've been working with since high school, called him and told him that size didn't matter – you don't have to be big to kick a football a long way. 'If you like the way he kicks, take a look at him.'
"They sent a scout to the Tri-Cities to look at me and they liked how I kicked. They brought me to Jacksonville for another tryout so Tom could look at me before they ever invited me to training camp."
Hollis' range proved to be exceptional in the NFL, erasing all doubts about his size. He booted a career-long 59-yard field goal and still ranks among the five best kickers from long range, having drilled 13 of 19 tries from beyond the 50-yard line and is among the 10 best all-time from beyond the 40, hitting 63 of 92 tries.
Hollis hears it when he talks with his students. They start explaining what they've been taught. Sometimes you have to unteach before you can really begin to teach.
"They teach kids to take a big backswing," he laughs. "It's like they're supposed to kick themselves in the butt before they kick the ball. That's a waste of motion and it's unnecessary. And they teach kids to keep their head down and that's not good, either. We teach them to stand tall and straight because that's how they generate power. We teach them to keep their eyes down on their target."
Too many kickers try to aim while executing their kick, a practice Hollis abhors.
"Your aim comes in how you set up," he insists. "Once you do that, all you have to do is kick the ball. If you did your set up correctly, the kick should be automatic."
Hollis himself got his start reading a pamphlet that came in the box with his Wilson football – a brief how-to-kick manifesto from Kansas City Chiefs great Jan Stenerud.
The soccer style of kicking a football has been around the professional only since 1964, when Pete Gogolak kicked for Buffalo in the American Football League. The New York Giants signed him and brought the style to the NFL in 1966.
Over the years kicking styles have varied widely, to varying degrees of success.
Even though he officially retired in 2003 after three back surgeries ("I think after all that surgery I'm now 5-7 instead of 5-8," he jokes) Hollis still can kick with the best of them.
"At the end of camp we like to have a little competition," he said. "After we got through (in Spokane) we started kicking from farther and farther back. Sometimes I win these things, sometimes I don't and this time I didn't win. This time I missed from beyond 50 yards, but only because I left it short.
"I pointed that out to the kids. I didn't miss because of a flaw in my technique. I just missed because my leg strength isn't what it used to be. That's what you want – a technique that works every time. You can always make yourself stronger."
---