News > Features
'Marmaduke' would appeal only to little kids
Fri., June 4, 2010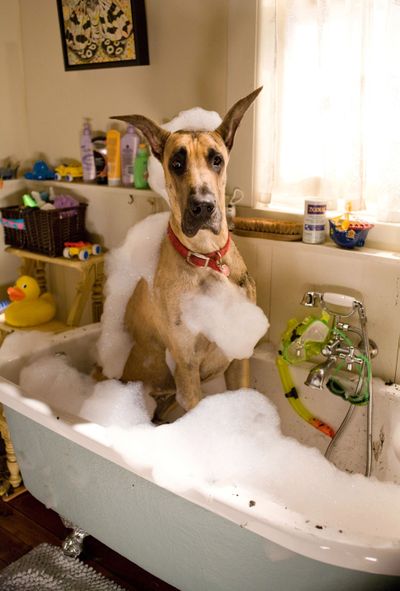 Wouldn't it be great if 7-year-olds could drive themselves to the movies? You could give them some money for Junior Mints or whatever, send them on their way and never have to trouble yourself with tripe like "Marmaduke."
Sadly, that's not the way it works, and so you're going to have to schlep to the multiplex with your 7-year-old. Because that's who the target audience is for this talking-dog extravaganza, based on the long-running comic strip, and no one else.
We know we're in trouble early when Marmaduke (voiced by Owen Wilson) climbs into bed with his owners, Phil (Lee Pace) and Debbie (Judy Greer), and promptly passes gas, prompting one of many exasperated, sitcommy cries of "Marma-DUKE!"
But somewhere in there is a clever nugget of an idea: the dog park as a canine version of high school.
Once Marmaduke and his family move from Kansas to Orange County, Calif., for Phil's new job with an organic pet-food company (William H. Macy is wasted in the role of his demanding boss), the 200-pound Great Dane must learn to make friends in a totally different environment.
Mazie, a tomboyish Australian shepherd voiced huskily by Emma Stone, becomes Marmaduke's first friend and explains the various cliques to him: the pedigrees, led by an intimidating Beauceron named Bosco (Kiefer Sutherland); the jocks, who enjoy Frisbee and the adoration of bubble-headed Afghan hounds; and the drama geeks who roll over and play dead.
Then there are the mutts, including a dachshund-cairn terrier mix named Raisin (Steve Coogan) and a skittish Chinese crested named Giuseppe (Christopher Mintz-Plasse). They're the outcasts, the rescue dogs, and the goofy, gangly Marmaduke fits in with them just fine.
But then he dares to have a crush on Jezebel (Fergie), the gorgeous collie who hangs out with the wealthy dogs and just happens to be Bosco's girlfriend.
It's "The Outsiders," with fur.
Wilson isn't a horrible choice to voice Marmaduke – he's got that laid-back thing going, which is preferable to having the dog be obnoxiously overeager – but the script has him talking nearly the entire time, either through narration or dialogue, and a little of that nasally delivery goes a long way.
This also brings us to the small problem that the talking-animal effect – which takes place throughout the movie – looks distractingly jerky and fake. Not that cats and dogs are supposed to talk in real life, but in the movie "Cats & Dogs," for example, the movement was seamless.
The 7-year-olds in the audience won't know or care. But they deserve better.
Local journalism is essential.
Give directly to The Spokesman-Review's Northwest Passages community forums series -- which helps to offset the costs of several reporter and editor positions at the newspaper -- by using the easy options below. Gifts processed in this system are not tax deductible, but are predominately used to help meet the local financial requirements needed to receive national matching-grant funds.
Subscribe to the Coronavirus newsletter
Get the day's latest Coronavirus news delivered to your inbox by subscribing to our newsletter.
---
Subscribe and log in to the Spokesman-Review to read and comment on this story