News > Idaho
Former Montana All-American killed in mine accident
Fri., June 18, 2010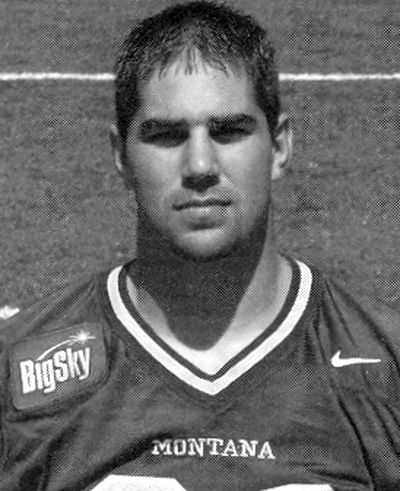 A former All-American football player at the University of Montana died Friday of internal injuries from a rock fall in a morning accident at Galena Mine near Silverton, Idaho. Timothy Allen Bush, 29, was a contract employee at the underground silver mine. He was working with his cousin when he was hit by a falling slab of rock about 8 a.m., family members said. Bush had to be carried up a ladder before he could be taken to Shoshone Medical Center, where he died. His dad, Ken Bush, who works as a trainer at the Galena Mine, was by his side. Bush was a standout wrestler and football player, earning six letters at Kellogg High School. He went on to play football with the University of Montana Grizzlies as a defensive end from 2000-03. At Montana he was an All-American and set UM career records with 34 sacks and 50 tackles for loss. Both records stand. Former University of Montana football coach Bobby Hauck called Bush an "explosive defensive lineman who can really get up the field. He's a hard worker who just goes and goes and goes," in a university news release about Montana's 2003 All-American candidates. When Bush was playing football for the Grizzlies, his extended family would caravan to Missoula to watch his games. "He got tickets from other players who didn't have family close by so that we could sit in the parents section," said his older sister, Tacey Keylon. "He was always really humble about everything he won." When the family couldn't watch his games in person, they headed to the Dugout Tavern in Post Falls to watch the Grizzlies on a big screen. Bush stood 6-foot-3-inches and weighed 245 pounds in college. He thought about teaching physical education or working in sports medicine, but he came back to the Silver Valley to be close to his family, Keylon said. He lived in Pinehurst, within a ½ mile of his parents and two of his siblings. He started working as a contract employee at the Galena Mine about two years ago. Before then, he had worked at the Stillwater Mine in Montana, commuting back and forth. "Tim never complained about anything," his sister said. "He liked to work hard." In addition, "Tim was a family man," she said. "He has a son who's going to turn 1 in July. He was going to get married Sept. 4. He was planning a wedding with his finance." Bush also came from a family with strong mining traditions. "Our dads, our grandfathers and our uncles were miners," said his aunt, Paula Bush. The family has experienced its share of tragedies through mining accidents. Bush's great-uncle was killed in the Sunshine Mine Fire in 1972. One of his uncles died in an accident at the Stillwater Mine. Next weekend, about 100 members of the extended Bush family were planning a campout along the North Fork of the Coeur d'Alene. Riding ATVS in the mountains was part of the activities. With Bush's death, the plans are up in the air, Paula Bush said. Her nephew might have wanted it to continue, she said. "He loves to ride four-wheelers and he really enjoyed being around the family," she said. Family members said funeral arrangements are pending. Bush's death is the first mining fatality in the Silver Valley since 2001, when two miners were buried in a midday rock burst at the Galena Mine. Perry N. Stack of Osburn and Wayne L. Brenner of Kingston were killed in that accident. The Galena Mine is owned by U.S. Silver Corp. Company officials said that Friday's accident was under investigation by the U.S. Mine Safety and Health Administration. They declined further comment. Family members said that Bush was employed by United Mine Services, which was doing contract work at the Galena.
Staff reporter Alison Boggs contributed to this report.
Local journalism is essential.
Give directly to The Spokesman-Review's Northwest Passages community forums series -- which helps to offset the costs of several reporter and editor positions at the newspaper -- by using the easy options below. Gifts processed in this system are not tax deductible, but are predominately used to help meet the local financial requirements needed to receive national matching-grant funds.
Subscribe now to get breaking news alerts in your email inbox
Get breaking news delivered to your inbox as it happens.
---