Steele's quiet years get suddenly noisy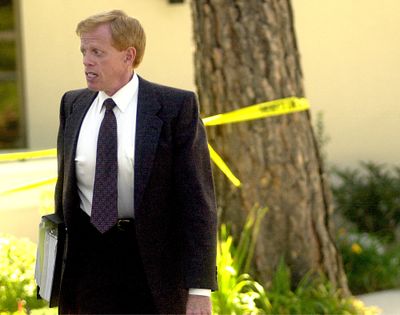 He calls himself "the attorney for the damned," has gained national attention for his work with high-profile clients and was a coveted speaker in the national racist movement for years. Now in custody at the Spokane County Jail in a North Idaho murder-for-hire plot, Edgar J. Steele's emergence into the Federal Bureau of Investigation's cross hairs comes after a somewhat quiet few years spent mostly espousing his views on his website, ConspiracyPenPal.com. "There hasn't been much going with Mr. Steele," said Christine Holbert, president of the Bonner County Human Rights Task Force, which monitors hate groups in the area. "He has not made many public statements lately." The 64-year-old's arrest is the latest twist in a life that came into the public eye little more than a decade ago. That's when Aryan Nations founder Richard Butler hired the Sandpoint attorney to defend the supremacist group from a lawsuit filed by the Southern Poverty Law Center on behalf of a woman and her son who were shot at outside Butler's Hayden Lake compound. Although Steele lost the court battle and the $6.3 million jury award bankrupted the group and shut down the compound, he quickly rose to prominence in the extremist movement. "The trial gave him a lot of clout in extremist circles because the Aryan Nations was such a revered group," said Marilyn Mayo, director of right-wing research at the Anti-Defamation League, a civil rights group that monitors anti-Semitism. "For a while, he rode on that wave." Steele, who is licensed to practice law in Idaho and Washington, became a featured speaker at extremist events, including a gathering of Holocaust deniers in 2004, and wrote a self-published book that same year called "Defensive Racism," which he sells on the Internet. But his work has been largely focused on his website; the federal raid at his home June 11 came more than year after his last major publicized speaking event. The purpose of the raid, to gather evidence regarding an allegation that Steele paid a man to murder his wife and mother-in-law, shocked groups that have tracked him for years. "He's been ranting, especially about the Jews, for some time … but to see him accused of trying to blow up his wife and mother-in-law?" said Heidi Berich, director of the Southern Poverty Law Center, a nonprofit organization that tracks extremist groups and filed the 2000 lawsuit against the Aryans. She said while Steele didn't bring his wife to speaking events, he often wrote about her as his best friend. "We were in shock here," Berich said.
Divorce petition dismissed
Edgar Steele served in the Coast Guard, got a master's degree in business and was an accountant in San Francisco before graduating from UCLA law school in 1982. He married Cyndi Kunzman in San Mateo, Calif., in 1985. The Steeles have owned a home on Talache Road, just east of Shepherd Lake, since 1996. It's currently valued at about $364,000. They have two children, ages 22 and 20, and Edgar Steele adopted his wife's 28-year-old daughter from a previous marriage. Decade-old court documents show their marriage struggled. Cyndi Steele, who operates a horse farm on the couple's property, filed for divorce in June 2000, alleging her husband "misrepresented his marital status and eligibility" in online dating profiles "with the sole intention of meeting women" in San Mateo, where he maintained a law office. But the case was dismissed two months later and the couple remained married. In July of that same year, Steele took over defense in a civil lawsuit filed against the Aryan Nations by the Southern Poverty Law Center. Though he lost the historic trial, Steele "stuck his neck out for Butler. In white supremacist circles, he's seen as a hero," Berich said. Butler founded the Aryan Nations and was one of the country's most influential racists until his death in 2004. When Steele took over the group's defense, he said it wasn't because he shared Butler's beliefs, but because he believed the case was about free speech. He sued The Spokesman-Review over an article he said implied otherwise. The Idaho Supreme Court dismissed the lawsuit in 2003. By then, Steele had made his views clear. "It was after the Aryan Nations trial that Steele really became very open with his own anti-Semitic views," said Mayo, of the Anti-Defamation League.
'I'm not ashamed'
In 2004 Steele spoke at a Holocaust denial conference in Sacramento, Calif., saying the claim that 6 million Jews died in World War II at the hands of Adolf Hitler is based on "a pattern of lies." The conference was sponsored by the National Institute for Historical Review, an anti-Semitic group. "I don't want to pull my punches anymore," Steele told the audience. "I'm not ashamed." On his website, Steele says he devotes his "colorful and lively ranting" to "politically incorrect issues" and that he devotes his law practice to "cases that test the limits of constitutional law on behalf of politically incorrect clients." Before the Aryan Nations trial, Steele worked on a controversial tabloid published just before the 1998 elections in Bonner County targeting some incumbents. He was involved with several high-profile cases after the trial, including the case of a North Idaho family, the McGuckins, who used guns and dogs to guard themselves from authorities trying to take five children from the home in 2001. He also represented an Oregon couple accused of kidnapping three of their children from social workers at gunpoint and taking them to Montana. "I have defended and provide legal advice to probably more of the politically incorrect than has any other attorney in America today," Steele said in a May 2009 essay available on his website. "Always, I have required that they be fundamentally decent people … and always they must be innocent, regardless of how things might eventually turn out in court." Steele's last major publicity came in 2005, when he appeared on national news talk shows defending two young girls in a music group called Prussian Blue, which promoted white supremacy. His last speaking engagement was at a militia and Constitution convention in Georgia called the Jekyll Island Project in May 2009, but he "was a bit of an oddball in the sense that he was the only serious racist and anti-Semite," said Berich, of the Southern Poverty Law Center. Steele's online writings say he planned to run for governor of Idaho in 2010 but was angry with the Constitution Party for rejecting him. "He sort of progressively got angrier and more anti-Semitic over time," Berich said. "I don't know if he was starting to go off the rails with all this hatred. It seems like he was on a slippery, downhill slope after losing the trial."
Murder plot unfolds
Steele's law licenses in Oregon and California have expired, according to state bar records. His last essay appeared on his website May 21; in it, he said he'd decided against running for Idaho governor. At that same time, federal agents allege he was plotting with a man to kill Cyndi Steele, 53, and her mother in a staged car accident he hoped would give him a hefty insurance payout. Employees at a Coeur d'Alene auto shop found a pipe bomb under Cyndi Steele's SUV during an oil change on Tuesday. According to court documents, Larry A. Fairfax, 49, told police he'd rigged the pipe bomb in such a way that it would malfunction; he said he was to put another pipe bomb on Edgar Steele's car that wouldn't detonate; then Steele would claim both he and his wife were targeted. It's been reported that Fairfax apparently tipped authorities to Steele's alleged plot but didn't tell them of the explosive he's already planted. Fairfax, of Sagle, is due in U.S. District Court in Coeur d'Alene on Monday for a hearing to decide if he should remain in federal custody pending trial. Steele's motive for the alleged murder plot is unclear. His mother-in-law, reached at her home in Oregon City, Ore., declined to comment other than to say, "Please keep an open mind." Steele, who described himself as "frail" and "elderly" and said he's had four surgeries in the past six months, including open heart surgery, vehemently denied the charge in his first court appearance Tuesday. He served as his own attorney and said he was worried he couldn't afford private counsel because "the United States government seized our life savings" during the raid June 10. Court documents allege Steele was to pay $25,000 for the murders, then $100,000 if an auto insurance claim paid out. FBI agents believe he already paid $400 to cover travel expenses to Oregon City. Fairfax told police he'd already staked out the area. Steele told an informant "to make sure that they were dead after the accident because Edgar Steele did not want to take care of a paraplegic" and promised to compensate the informant's family if he got caught, according to an affidavit prepared by the FBI. He's been assigned a federal public defender and is due in court again on Tuesday to decide if he should remain in custody before trial, which is currently scheduled for August. Steele unsuccessfully argued last week for his release, saying he's not a flight risk and disputing an apparent claim in sealed bail review recommendations that his writings show he would flee prosecution. He said his writings show just the opposite, that he will stand for what he believes in and respects "the American way." He called the case "a very emotional situation for me."
---