News > Features
Northern Quest steps it up with fine dining at Masselow's
Wed., March 3, 2010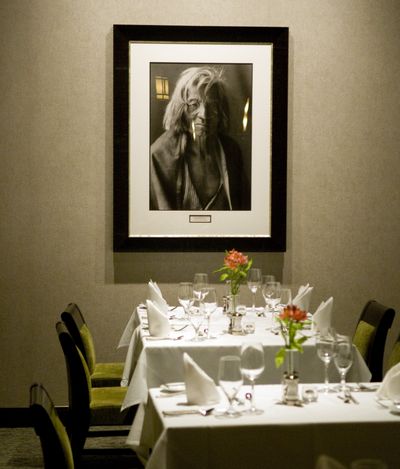 There is no shortage of ways to satisfy an appetite at the Northern Quest Casino and Resort. With the addition of Masselow's Restaurant, there are now 13 places to grab something to eat.
The new restaurant, named for the chief who led the Kalispel Tribe more than 100 years ago, is the finest dining offered. It also provides visitors with an intimate connection to the culture of the Indian tribe that owns the resort.
Tucked into the lobby of the newly opened 10-story Northern Quest Hotel, the restaurant's elegant décor confirms the economic stature the Kalispels have earned in recent years, while archive photos provide a glimpse of the tribe's past.
The tribe was near bankruptcy 11 years ago, but now employs 2,000 people and has more than $200 million invested in the casino and resort.
Diners arriving at Masselow's are greeted in Salish, the native language of the Kalispels. An image of Chief Masselow, who has been credited with keeping the remaining tribal members together as they were relocated to the main reservation near Usk, Wash., is prominently displayed.
There are other clues to the tribe's history. A series of images show Kalispels digging for camas root, drying the bulbs and a close-up view of the small bulbs, which were an important food source.
Other archive photos show tribal members at Manressa Grotto, an unusual cave on the reservation near the Pend Oreille River. The holy site is where the Kalispels welcomed Catholic missionaries in the mid-1800s. Several photos show tribal members paddling traditional bark canoes on the Pend Oreille.
There is also a Heritage Hallway with displays of Kalispel artifacts and photos connecting the hotel lobby to the casino.
Tribe members and Masselow's chefs also offer a few menu items to highlight the Kalispels' history.
Dinner patrons are given an amuse bouche of fry bread delivered in a small canoe with a huckleberry puree for dipping. Entrees featuring bison rib eye steak ($29), pheasant breast ($24) and elk sirloin ($27) are a nod to tribal history.
Other dinner selections include a kurobuta pork chop ($29), Snake River Farms filet mignon ($34), Yakutat Alaskan troll-caught King salmon ($25), Salish smoked salt and pepper "hopping" prawns ($25) and Alaskan King crab legs ($32). There is a vegetarian red pepper tagliatelle served with mushroom ragout ($17).
The restaurant also serves a changing seasonal souffle and will feature regional, seasonal ingredients as they become available.
Masselow's staff has been serving lunch to diners at the lobby bar since opening, and there are plans to eventually open the restaurant for lunch.
Soup, salads and sandwiches are featured in the bar lunch, ranging in price from $5 for a small baby spinach salad to $14 for the entrée winter cobb salad, with chicken, apples, pancetta, cheese and walnuts. The Kobe chuck burger served with shoe string fries is $9, as is the roast chicken wrap with Washington cider compote.
Breakfast specialties in the restaurant range from the Masselow's benedict and Kurobuta breakfast wrap, both $10, to the Wapato Sugar Pie Pumpkin Waffle and French toast stack ($9). (Don't let the understated description fool you; the stack includes a delicious brioche from local bakery Petit Chat, Kansas City-style bacon, cream cheese and huckleberry compote.)
They also serve a changing breakfast muffin (during a recent visit it was pear and brie) and cottage cheese pancakes from Heidi's of Coeur d'Alene.
Restaurant manager Mary Fasules and other staff members also have plans for evening wine tastings and other events to showcase the new restaurant and its cuisine.
Parking at the resort is free and a short walk brings visitors past the site where more expansion is planned. The tribe has announced plans for a second hotel tower, large atrium and even more parking.
Dine Around Spokane
Dine at one of 14 locally owned restaurants in March, April and May for a chance to win a monthly meal for two at each restaurant. The event also includes a charity drive for the Union Gospel Mission.
A collaboration called Spokane's Family of Independently Owned Restaurants is trying to raise awareness of how to support the community by spending money in locally owned restaurants.
Here's how it works: Every time a diner eats at one of the participating restaurants, they'll receive a card to enter into the drawing for the grand prize. The winner receives a monthly meal for two at a dozen of the restaurants. That's one free meal each month for a year.
Also, diners can bring in an item for the Union Gospel Mission for another chance to win. Items that are needed include: deodorant, backpacks, toothbrushes, razors, coffee, spices, ketchup, mustard and any salad dressings.
Here are the participating restaurants:
•Adelo's Take 'n' Bake Pizza, 9021 N. Indian Trail Road, (509) 464-0110
•Aloha Island Grill, 1724 N. Monroe St. and 1220 W. Francis Ave., (509) 327-4270 and (509) 413-2029
•Charley's Grill and Spirits, 801 N. Monroe St., (509) 328-8911
•Crazy G's Burgers, Phillys and Dogs, 821 N. Division St., (509) 315-8943
•Europa Restaurant and Bakery, 125 S. Wall St., (509) 455-4051
•Hill's Restaurant and Lounge, 401 W. Main Ave., (509) 747-3946
•Luigi's, 245 W. Main Ave., (509) 624-5226
•Maggie's South Hill Grill, 2808 E. 29th Ave., (509) 536-4745
•Pizza Rita, seven Spokane locations, www.pizzarita.net
•Rock City American-Italian Grill, River Park Square, 808 W. Main Ave., (509) 455-4400
•Sawtooth Grill, River Park Square, 808 W. Main Ave., (509) 363-1100
•Shan's Grill, 8801 N. Indian Trail Road, Suite B, (509) 467-4267
•The Satellite, 425 W. Sprague Ave., (509) 624-3952
•Wall Street Diner, 4428 N. Wall St., (509) 325-4730
Contact one of the restaurants above to learn more.
Dine Out to Feed Spokane
If you missed our story last month about Dine Out to Feed Spokane, don't worry. There's still time to participate.
During March, many local restaurants plan to donate a portion of their proceeds to Feed Spokane, a nonprofit that distributes restaurant-prepared meals to the hungry.
Some restaurants will contribute money from sales on one particular day. Others will donate sales from specials or featured foods offered all month.
A few restaurants have joined the cause since our story on Feb. 17. The complete list of participating restaurants is available online at www.nutritionwsda.org/GSDA, or find the story on our Web site at spokesman.com/tags/ feed-spokane.
We've updated it with these participants:
Today: Herbal Essence Café, 115 N. Washington St.
Monday-Tuesday: Casa de Oro, 4111 N. Division St., $1 donation for each dinner combination order
March 15: Northern Quest Casino and Resort, The Q and Woodlands, 100 N. Hayford Road, Airway Heights. Donations for each Smash Burger or pizza order at The Q and each dinner at Woodlands.
March 23: Longhorn Barbecue West, 7611 W. Sunset Highway and Five Mile Heights Pizza Parlor, 6409 N. Maple St.
March 24: Lindaman's, 1235 S. Grand Blvd. and Hay J's Bistro, 21706 E. Mission Ave.
These restaurants were added to the list of those featuring "Dine Out" specials all month long:
•Broadway Diner, Flying J, 6606 E. Broadway Ave., Exit 286 on Interstate 90.
•Clinkerdagger, 621 W. Mallon Ave., featured dessert March 11-27.
•Senor Froggy and Italian Express, both locations, 7326 N. Division St. and 3024 S. Regal St., Feed Spokane pasta deal.
Hale's Bar and Grill ready for business
Chris and his wife Cynthia are the Hales behind the new bar and grill at 1011 W. Broadway Ave.
Chris Hale says he worked in bars and restaurants in Miami for almost a decade and loved it. But he returned to the area and worked in his family's electronics business in Cheney for 17 years before he decided to open Hale's Bar and Grill.
He and his wife remodeled the space at 1011 W. Broadway Ave. before opening at the beginning of the year.
"One of the things we really are trying to do during the day is get people in and out in under 30 minutes and keep it at about $8," Hale says.
The menu features soups, sandwiches and burgers. Hale says popular items have been the Stromboli ($7.50), the 1/3-pound Hale Burger ($8.25) and the chicken strips ($6.99).
They also serve a Thai chicken wrap, a meatball sub, and tuna salad and grilled cheese sandwiches, along with daily specials. All come with fries, house salad or coleslaw.
Hale says he's updating the dinner menu to offer more of the popular lunchtime fare.
Hale's Bar and Grill is open from 10:30 a.m. to 2 a.m. every day. Happy hour is 4 to 7 p.m.
Reach the restaurant at (509) 473-9625.
Garland Sandwich shop opens
A new sandwich shop has opened in the Garland District.
Kristen Speller, a graduate of the Inland Northwest Culinary Academy at Spokane Community College, recently opened The Garland Sandwich Shoppe near Garland and Monroe. Speller worked on the food scene in both Spokane and Phoenix before opening her restaurant.
The shop is open 10 a.m. to 3 p.m. Monday through Saturday and offers soups, sandwiches, side dishes and locally made desserts and sweets.
Build your own sandwich or choose from nine different offerings, including the Italian Trio, with pepperoni, salami and ham; Buffalo Chicken Ranch, with grilled chicken tossed in hot sauce; or the Marinated Portobello with a mushroom cap marinated in balsamic dressing served on garlic sourdough with artichoke hearts, provolone, roasted red peppers and a basil pesto. Each sandwich is $5.50.
Side dishes include three-potato salad, pasta salad, fruit salad, green salad or chips, priced at $1.25 to $2.
Entrée salads are $5.50 or $6 and daily soup is $2 per cup or $3 for a bowl.
The Garland Sandwich Shoppe is at 3903 N. Madison St. Reach the restaurant at (509) 326-2405. The menu is online at www.garlandsandwich.com.
The Dish appears monthly in the Food section. Send news releases, tips and suggestions for restaurant items to Lorie Hutson, Features Department, The Spokesman-Review, P.O. Box 2160, Spokane, WA 99210. Call (509) 459-5446, fax to (509) 459-5098 or send an e-mail to
lorieh@spokesman.com
.
Local journalism is essential.
Give directly to The Spokesman-Review's Northwest Passages community forums series -- which helps to offset the costs of several reporter and editor positions at the newspaper -- by using the easy options below. Gifts processed in this system are not tax deductible, but are predominately used to help meet the local financial requirements needed to receive national matching-grant funds.
Subscribe to the Coronavirus newsletter
Get the day's latest Coronavirus news delivered to your inbox by subscribing to our newsletter.
---
Subscribe and log in to the Spokesman-Review to read and comment on this story