News > Spokane
Sterk mulls run for sheriff
Wed., May 5, 2010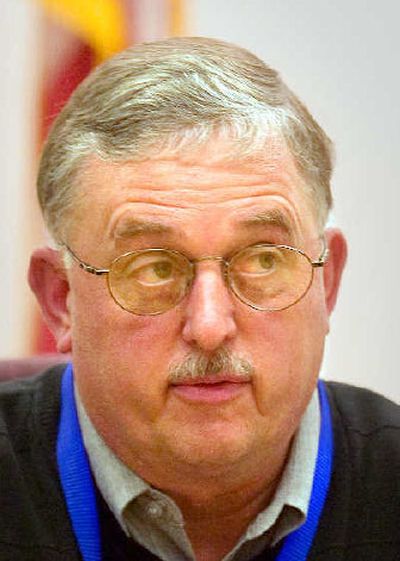 Former Spokane County Sheriff Mark Sterk may give his successor, Ozzie Knezovich, a run for his money. It's a daunting prospect, Sterk acknowledges, because state Public Disclosure Commission records show Knezovich already has raised $38,778 and spent $17,959. "That's one of the things we will look at very carefully, as to whether we can win it or not," Sterk said Wednesday after registering his potential candidacy with the state Public Disclosure Commission. Also Wednesday, Knezovich announced he will kick off his re-election campaign with a $35-a-plate breakfast at the Red Lion River Inn today at 7:30 a.m. The formal election filing period is June 7-11. Until then, Sterk said, he will confer with sheriff's officers who have urged him to run. "They can hear what I have to say in response to their concerns and they can make a decision whether they feel strongly enough about that to endorse me," Sterk said. The former sheriff has some concerns of his own: the budget-caused loss of deputies and plans to replace the Geiger Corrections Center. "I don't believe right now, during these economic times, that we ought to be looking at spending … well over $200 million" on a new jail, Sterk said. The county's latest estimates put the cost at $226.8 million to $265.7 million, and Commissioner Bonnie Mager revealed Tuesday that a sales tax increase may be needed to fund operating costs. Sterk said he wants to "take a very close look" at using the Pine Lodge Corrections Center for Women at Medical Lake. The prison will close this month, and Gov. Chris Gregoire said Tuesday that she hoped Spokane County or some other local government would use it. Knezovich toured Pine Lodge in March and declared its construction inadequate for county use. He said renovations would be cost prohibitive, but Sterk wants a more formal assessment. "I think the taxpayers of this county deserve some answers," Sterk said. The timing of the Geiger Corrections Center replacement project is based on the Spokane Airport Board's intention to cancel the county's lease in 2013. But the Spokane and Spokane County governments own the airport and appoint the airport board members. County commissioners appointed Knezovich when Sterk resigned in 2005. He was elected in 2006.
Local journalism is essential.
Give directly to The Spokesman-Review's Northwest Passages community forums series -- which helps to offset the costs of several reporter and editor positions at the newspaper -- by using the easy options below. Gifts processed in this system are not tax deductible, but are predominately used to help meet the local financial requirements needed to receive national matching-grant funds.
Subscribe to the Coronavirus newsletter
Get the day's latest Coronavirus news delivered to your inbox by subscribing to our newsletter.
---