'One-man crime wave' with 30 felonies hits Spokane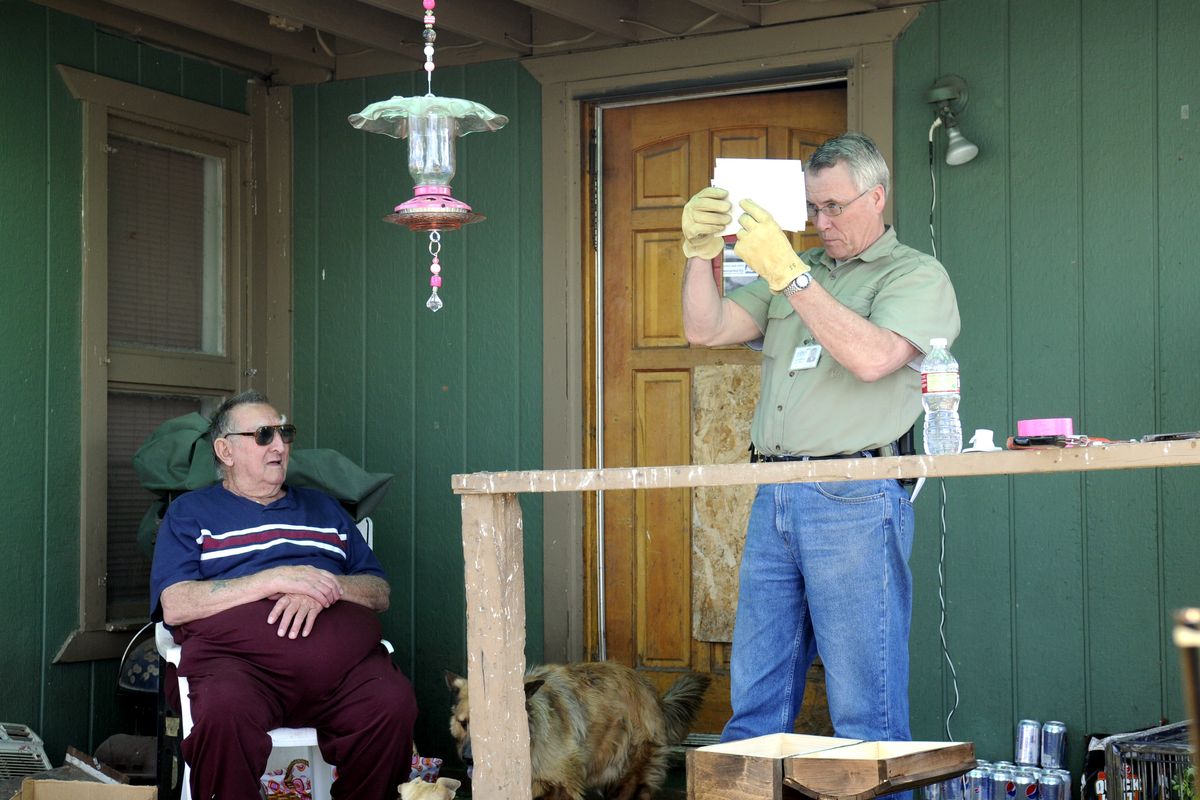 A Maryland fugitive who impersonated a federal agent in Oregon is suspected of using bad checks to bilk local businesses out of thousands of dollars.
Ricky Wayne Everett has 30 felony convictions in six states, many for passing bad checks. Now Everett, who holds a business license for a private investigation firm called Ricky's PI Service, is in Spokane County Jail after police say he paid for a Honda Accord with a fraudulent check for $13,900.
The 33-year-old convicted scam artist, described by local police as a "one-man crime wave," left federal prison in March after serving time for impersonating a U.S marshal in Oregon. Spokane investigators say he carries a Taser and has told citizens he's a police officer.
Everett's probation officer and a Portland police detective "are glad he's gone because he caused a lot of trouble. Now he's our problem, and I'd like to send a message: We know who he is and we know what he's doing," said Deputy Prosecutor George Gagnon at Everett's first Superior Court appearance on Wednesday.
Judge Ellen Kalama Clark approved Gagnon's request for an "exceptionally high" bond of $150,000 for a felony car theft charge.
Detectives believe the fraudulent check Everett gave to a Chattaroy couple in exchange for a 2007 Honda Accord is just a fraction of the fraud Everett has perpetuated, said Sgt. Dave Reagan.
Police say he's written bad checks to a barbecue restaurant for $800 and to a soda company for $4,500, but no reports have been filed.
"There may be other businesses here locally that have suffered significant losses, and we'd love to hear from them," Reagan said. "They may not know they're victims yet."
Everett has a history of responding to accident scenes as a police officer or as a paramedic, Reagan said. He also has a felony warrant for larceny and passing bad checks in Queen Anne's County, Md., Reagan said.
Everett moved to Spokane on April 5 after meeting a teenager over the Internet, police said. He then obtained a business license in Spokane for Ricky's PI Service.
But police believe the business is a front for Everett's alleged schemes.
Detectives seized Everett's property from the teenager's home at 3618 E. Queen Ave. Wednesday afternoon.
The teen's grandfather, Jim Rash, said he suspected Everett was a "phony."
His grandson, who's 18, introduced Everett as his boyfriend.
Rash was concerned when Everett said he wanted to drive the teen and his younger brother to Portland for a vacation.
He suspects Everett "tried to use my grandson."
Police arrived at Rash's home Tuesday after the Chattaroy couple discovered the $13,900 check Everett gave them Saturday was fraudulent. He was arrested after a brief police chase. Police said he admitted paying for the Honda with the check but said he called the seller back to say he'd stopped payment on the check and to come get the Honda back, according to court documents.
Everett was sentenced to 27 months in prison for impersonating a U.S marshal in a 2007 criminal case in which Everett bought a van in The Dalles, Ore., with a fraudulent check, then tried to drive across the country with a young man.
The man's mother told police that Everett said he was a U.S. marshal who could help train her son.
Everett returned to prison for eight months last fall after he left Oregon without notification, failed to complete mental health counseling and committed additional fraud, documents said.
Court documents filed by the U.S. attorney's office in Portland said there was never a dispute that Everett impersonated a U.S marshal, or that he "engaged in a serious crime spree of fraud and identity theft" in 2007.
"Perhaps the only real question in this case has been defendant's mental state, which continues to be a puzzle, to say the least," according to a document filed in U.S. District Court in Oregon on April 16, 2009.
Jail employees did not respond to a request to interview Everett.
---