News > Spokane
Neighbors alert one another to apartment fire
Flames gut North Side complex
Mon., Nov. 1, 2010
At least a couple dozen people lost their homes Sunday night when a devastating fire destroyed much of an apartment building in north Spokane.
Spokane Fire Chief Bobby Williams said all 85 residents of the 29-unit building were safe and accounted for. But much of the southern side of the I-shaped building was gutted.
"There was chaos here when we arrived," said Spokane police Cpl. Jon Strickland, who was the first officer on scene and helped evacuate residents from a burning rental unit where a mattress was in flames.
Crews were called to 607 E. Houston Ave., which is adjacent to the Fred Meyer on Francis Avenue, at about 3:30 p.m.
The Inland Northwest Chapter of the American Red Cross set up a shelter for residents at Spokane Friendship Church, 1612 W. Dalke Ave., said chapter spokeswoman Megan Snow. About 10 people were expected to stay there Sunday night.
"We're assuming the majority of the 85 will need some sort of assistance," Snow said.
Before firefighters arrived, residents tried to battle the blaze with extinguishers while others knocked on doors and alerted neighbors to the danger.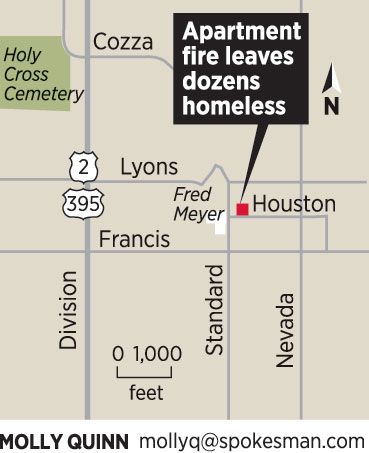 Thomas Lewis was in a friend's apartment with his girlfriend when they heard the alarm. They didn't leave immediately because they thought it might have been a prank.
"Another resident shouted, 'Get out! Get out! It's not a joke' " Lewis said.
Several residents grabbed any pets they could find from apartments where residents weren't home, Lewis said.
Retiree Karen Johnson, who has lived in the building for seven years, lost almost all of her possessions.
"I heard the alarm, got my coat and purse and went out," said Johnson, whose third-floor apartment was gutted. "As soon as I opened the door I smelled a lot of smoke."
She praised her neighbors and others on scene before fire crews arrived.
"There were people all over really helping out," she said.
The fire appeared to have started in a unit on the second floor. Williams said the woman who lives in that apartment was not home at the time of the blaze.
Williams said firefighters were able to get to that apartment, but it had already spread. "By the time they got that fire knocked down they could hear it above them," Williams said.
Eventually, firefighters were evacuated from the south side of the building as the roof began to sag, Williams said.
The three-alarm fire emptied most of the city's firehouses. Forty-six of the city's 58 firefighters eventually were at the scene, Williams said. The Spokane Valley Fire Department and Spokane County Fire District No. 9 covered some of the city's emptied stations.
Williams said units on the northern side of the building did not suffer much damage, while units in the middle likely have water and some smoke damage. The cause of the fire is under investigation.
None of the residents were allowed to stay at the complex Sunday night.
County property records say the building is owned by Dorothy and Robert Lorch of Joseph, Ore., and the Dorothy V. Farney Family Limited Partnerhip.
Resident Laura Ferris said firefighters had been unable to locate her missing cat, Anya, which is black with beige on her chest. Ferris, who said she lost another cat in a fire a few years ago, asked that anyone who locates her cat to take her to SpokAnimal.
"It would break my heart if I lost another," she said.
Photographer Colin Mulvany contributed to this report.
Local journalism is essential.
Give directly to The Spokesman-Review's Northwest Passages community forums series -- which helps to offset the costs of several reporter and editor positions at the newspaper -- by using the easy options below. Gifts processed in this system are not tax deductible, but are predominately used to help meet the local financial requirements needed to receive national matching-grant funds.
Subscribe to the Coronavirus newsletter
Get the day's latest Coronavirus news delivered to your inbox by subscribing to our newsletter.
---
Subscribe and log in to the Spokesman-Review to read and comment on this story