Sports
Seahawks haven't lost at Qwest this season
Sun., Nov. 7, 2010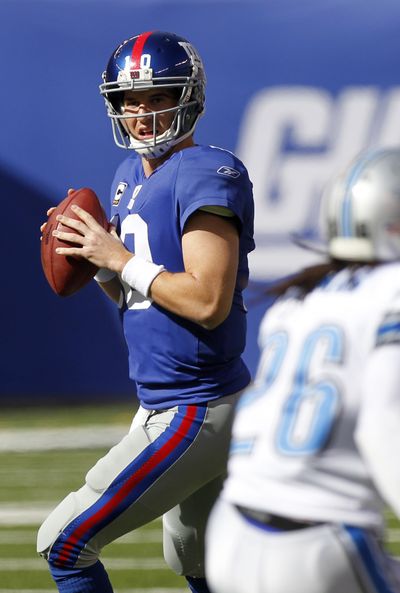 RENTON, Wash. – It's easy to look at the Seattle Seahawks, a beat-up team coming off of a 30-point loss, then look at their opponent – a New York Giants team that has won four in a row and is coming off a bye – and assume that Seattle has no chance this week.
After all, the Seahawks will be led by a backup quarterback, Charlie Whitehurst, who has never thrown a regular-season pass. He will be protected by a line missing its starting left tackle and his backup, meaning the starting left guard has to play tackle. And at least two – possibly three – starting defensive linemen are also out.
Now factor in that the Giants are 5-2 and perhaps the best and most balanced team in the NFC, and Seattle has no chance, right?
Well now, let's not get ahead of ourselves. For everything the Seahawks have going against them – and the list is long and menacing – they do have one distinct advantage.
Home.
After two straight seasons in which Seattle was pretty bad on the road and at home, the Seahawks appear to be reestablishing home dominance this season. Seattle is 3-0 at home compared to 1-3 away from Qwest Field. The Seahawks still struggle on the road, but that's a problem for next week's Seahawks to deal with. For now they'll be happy to reap the benefits of home.
In their three home games this season, the Seahawks have won by an average margin of 14.7 points while forcing 12 turnovers and sacking opposing quarterbacks eight times. That's why, despite having enough talent to be a touchdown favorite on the road, Giants coach Tom Coughlin sounded genuinely concerned about his team's trip to the Northwest.
"I see a team that plays very, very well at home," Coughlin said in a conference call. "And it's incredible, the plus-eight (turnover margin) at home, the 12 takeaways at home, the kickoff returns, the fact that they're holding the opponent to 12 points a game, scoring 27."
The Giants are much better than the three teams Seattle has beaten at home, particularly San Francisco and Arizona. The wins over the 49ers and Cardinals were both aided by opposing quarterbacks who seemed intent on making a mess of things while the win over San Diego was only made possible by a pair of kickoff return touchdowns.
Eli Manning is a heck of a lot better than San Francisco's Alex Smith or Arizona's dubious duo of Max Hall and Derek Anderson, but he's not immune to mistakes either. Manning has thrown 11 interceptions, tied for the most in the league.
While the Seahawks can't count on two touchdowns from kick returner Leon Washington, expecting big plays from special teams isn't unreasonable against the Giants, who are statistically one of the league's worst teams on special teams.
"We're looking forward to getting back home," receiver Mike Williams said. "I couldn't imagine coming off the performance we had last week and having to be on the road again. Coach Carroll has really preached about embracing our fans and embracing the energy they bring and enthusiasm they bring to the game.
"From a media standpoint, everyone is pretty much saying, 'These guys are going to get killed, they can't protect their quarterback,' and all that mess. But the scoreboard's not going to start out any way but 0-0, and going back home we feel comfortable."
At some point Seattle hopes to play better on the road, eliminating perfor- mances like it had in Oakland last week. But this week the goal is to keep showing that Seattle may again be home to one of the best home-field advantages in the league.
"This is an extraordinary environment," Seahawks coach Pete Carroll said. "We need to continue to utilize that. The championship teams that I've been around dominated at home and that's something that you have to build towards and get in your favor."
Local journalism is essential.
Give directly to The Spokesman-Review's Northwest Passages community forums series -- which helps to offset the costs of several reporter and editor positions at the newspaper -- by using the easy options below. Gifts processed in this system are not tax deductible, but are predominately used to help meet the local financial requirements needed to receive national matching-grant funds.
Subscribe to the sports newsletter
Get the day's top sports headlines and breaking news delivered to your inbox by subscribing here.
---
Subscribe and log in to the Spokesman-Review to read and comment on this story