Family's old Chinese vase sells for record $83 million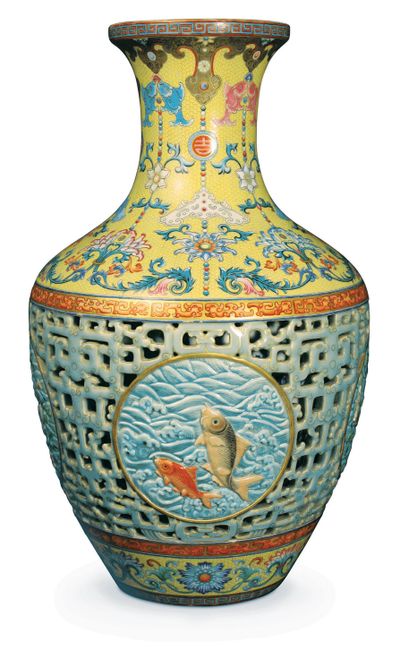 LONDON – It was just an old Chinese vase that had been tucked away unnoticed for years when the woman found it while clearing out her late sister's modest suburban London home.
It turned out to be much more.
When the intricately painted 18th-century piece went on the block at Bainbridges, a small suburban auction house, it sold for a record $83 million Thursday, scooped up by a Chinese buyer.
"How do you anticipate the Chinese market?" asked the shocked auctioneer, Peter Bainbridge. "It's totally on fire."
The sale price was more than 40 times the pre-sale estimate and a record for a Chinese work of art – an outcome Bainbridge called "a fairy tale" for the family who owned the vase.
The sellers, who wished to remain anonymous, are the sister and nephew of a deceased elderly woman in the West London suburb of Pinner. The vase had been in the family at least since the 1930s, though they don't know how it was acquired.
Many Chinese artifacts surfaced in Britain in the 19th century, having been looted from Beijing's Summer Palace when it was sacked by British and French troops at the end of the Second Opium War in 1860.
Painted sky blue and imperial yellow and adorned with medallions depicting leaping goldfish, the 16-inch vase dates from the Qing dynasty, a time when Chinese porcelain-making was at its pinnacle. Made for the personal collection of Emperor Qianlong and bearing the imperial seal, experts said it was an exceptional piece.
Still, no one expected what happened when the delicate enameled vase went on the block.
Bainbridge said the atmosphere was "electric," and when the hammer came down on the winning bid he struck it so hard the gavel broke.
"There was a silence that wrapped itself around the sale as the figure grew slowly but surely up to the sky," said Bainbridge, who specializes in house clearance sales – and whose previous record sold for $161,000.
"I'm an auctioneer, so at that point I'm just doing the professional job I'm paid to do. But once the hammer's down you do take stock slightly and think, 'Oh, wow, that's really rather a lot of money,' " said Bainbridge, whose $13.9 million buyer's premium is included in the sale price.
The vase, bought by a Chinese bidder on behalf of an undisclosed buyer, beat the previous record for Chinese art. A 45-foot-long 11th-century scroll elaborately decorated with calligraphy sold for almost $64 million in Beijing in June.
While the vase sold Thursday is not extremely old – it dates from around 1740 – it comes from a period whose works are coveted by Chinese buyers. Last month, Sotheby's sold another Qing dynasty vase in Hong Kong for $32 million.
"While European taste tends to focus on the really old stuff produced by the Chinese, Chinese collectors consider this period of porcelains the zenith of their art," said Roland Arkell, deputy editor of the Antiques Trade Gazette.
"It's a superb object. It's also a piece which chimes completely with Chinese taste. And it has to be seen in the context of a rapidly rising market."
Even he was surprised, though, by the sale price, which makes this work by anonymous artisans the 11th most expensive artwork ever sold at auction.
"It's right up there alongside the Picassos, which is unheard-of for a piece of porcelain," he said.
More record prices are sure to follow. Prices for Chinese art and antiquities are buoyant.
Art markets in the West are still feeling the effects of the economic downturn. Masterpieces set records – often acquired by Russian, Middle Eastern or Asian collectors – while midrange works languish unsold.
"It's like a creme brulee: hard at the top and a bit soft underneath," said Robert Read, a fine art expert at specialist insurer Hiscox.
In contrast, China's booming economy means wealthy new collectors are joining the market all the time, eager to repatriate treasures from their heritage.
"There's definitely a shift in the balance of power," said Read. "Things are going east these days. That's where the future is, and that's where the big collectors are going to be over the next 20 years."
---