News > Nation/World
GOP to endorse ban on earmarks
Senate leader reverses earlier spending stance
Tue., Nov. 16, 2010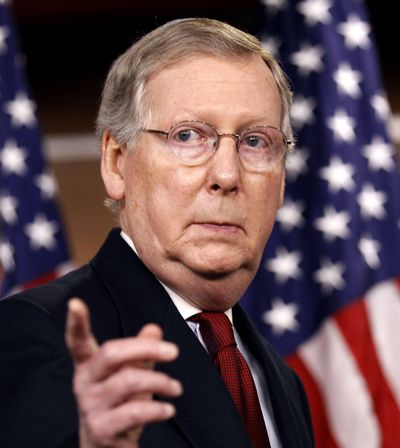 WASHINGTON – Newly invigorated Senate Republicans are expected to take a small but symbolic step today to show that they're serious about curbing spending, when they formally back a moratorium on earmarks, the thousands of local projects stuffed into legislation that add up to billions of federal dollars.
With a fresh boost Monday from GOP leader Mitch McConnell of Kentucky, who previously had been skeptical of such a ban, Senate Republicans are expected to endorse barring the practice. Republicans in the House of Representatives also plan to vote on a ban later this week.
Earmarks accounted for $15.9 billion of the federal budget in fiscal 2010. That was less than 1 percent of all federal spending and would have put barely a nick in last year's $1.29 trillion deficit.
Still, earmarks have become symbolic to many of Congress' fiscal indiscipline, and the GOP push to ban them holds political significance for that reason, especially now, two weeks after an election when voters resoundingly said they want less, and more responsible, spending.
"I welcome Sen. McConnell's decision to join me and members of both parties who support cracking down on wasteful earmark spending, which we can't afford during these tough economic times," President Barack Obama said Monday. "But we can't stop with earmarks, as they represent only part of the problem. … I look forward to working with Democrats and Republicans to not only end earmark spending, but to find other ways to bring down our deficits for our children."
Robert Bixby, the executive director of the Concord Coalition, a nonpartisan budget watchdog group, said, "It's a good-government issue more than a fiscal one."
McConnell seconded that view Monday.
"I don't apologize for them," he said in a Senate floor speech. "But there is simply no doubt that the abuse of this practice has caused Americans to view it as a symbol of the waste and the out-of-control spending that every Republican in Washington is determined to fight.
"Unless people like me show the American people that we're willing to follow through on small or even symbolic things," McConnell said, "we risk losing them on our broader efforts to cut spending and rein in government."
Senate Democratic Leader Harry Reid of Nevada disagrees.
"Sen. Reid makes no apologies for delivering for the people of Nevada. He will always fight to ensure the state's needs are met," said his spokeswoman, Regan Lachapelle.
The anti-earmark push has been led by Sen. Jim DeMint, R-S.C.
"I am proud that House and Senate Republicans have united to end the earmark favor factory," DeMint said in a statement Monday. "Earmarks have greased the skids for runaway spending and bad policy for decades. It's time for Congress to stop focusing on parochial pet projects, and instead focus on cutting spending, devolving power and decisions back to states, and working on national priorities like entitlement and tax reform."
The issue isn't lost on potential 2012 Republican presidential candidates, either. Former Massachusetts Gov. Mitt Romney on Monday urged support for the ban, saying it would "send a powerful message that we will no longer tolerate business as usual on Capitol Hill."
Steve Ellis, the vice president of Taxpayers for Common Sense, which tracks earmarks, explained their symbolic power this way:
"To voters, it's special interest spending, and spending where more powerful lawmakers get more," he said, "and they are also a tool to gain votes," since it's common for incumbents to appear in front of a bridge or a building funded by an earmark.
House Democrats are likely to discuss changes in earmark policy later this week, but are unlikely to back a ban.
However, since the GOP will control spending bills in the House next year, they will probably strike earmarks from legislation there. In the Senate, though, Democrats will retain a majority, setting up a potential showdown on the issue when the two chambers must agree on spending legislation.
Democrats have cut back on earmarks in the past. In 2007, House Democratic leaders cut the number of earmarks in half and required lawmakers to disclose any earmarks they received, as well as the beneficiary. Lawmakers also had to certify that they had no financial interest in them.
Senators agreed to the certification rule, but not the disclosure provisions.
Local journalism is essential.
Give directly to The Spokesman-Review's Northwest Passages community forums series -- which helps to offset the costs of several reporter and editor positions at the newspaper -- by using the easy options below. Gifts processed in this system are not tax deductible, but are predominately used to help meet the local financial requirements needed to receive national matching-grant funds.
Subscribe now to get breaking news alerts in your email inbox
Get breaking news delivered to your inbox as it happens.
---