News > Spokane
Verner urges residents to prepare for winter
Tue., Nov. 16, 2010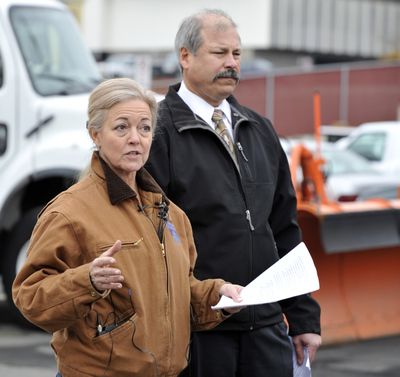 Spokane Mayor Mary Verner kicked off the Inland Northwest snow season on Monday with a plea to residents to keep their sidewalks clear and cars out of the way of plow trucks.
At the same time, National Weather Service forecasters said that the risk of snow and cold weather will increase as the week wears on.
Gusty winds overnight Monday should subside during the day today.
Snow levels are going to drop in the mountains starting on Wednesday night, with snow possible at lower elevations as early as Thursday but increasingly likely over the weekend, said forecaster Jon Fox.
The snow level drops to 2,400 feet on Thursday and then to 2,100 feet on Friday. Downtown Spokane is at 1,900 feet.
A series of storms is expected to bring precipitation at times throughout the next week.
Arctic air is forecasted to invade the region by Sunday with a low temperature on Sunday night of 14 in Spokane and 12 in Coeur d'Alene.
The forecast is consistent with a La Niña cooling of the tropical Pacific Ocean this fall.
A colder ocean in 2007-'08 and again in 2008-'09 brought heavy snowfall, including a record of 97.7 inches at Spokane International Airport in 2008-'09.
Verner said that after a mild winter a year ago, residents may have forgotten some of the basics for winter safety.
"We are asking our citizens to be prepared," the mayor said during a news conference at street department headquarters.
When 2 inches of snow falls and 4 more inches are expected, plows will launch into a stage 1 emergency to clear arterials and bus routes. Residents living on those routes will have to move their vehicles off the street or face city-ordered towing.
With 6 inches of snow, the city will go to a stage 2 emergency, which involves a citywide plowing. On residential streets, vehicles must be parked on the side with even house numbers when plows are moving through. Warnings will be issued to vehicle owners who don't follow the rules.
"We will give you a courtesy notice if you get in the way of our snowplows," Verner said at a press conference.
Sidewalks on private property must be cleared in 24 hours. The city is undertaking a greater effort to clear sidewalks on city property, she said.
The mayor also said residents should be prepared with a snow blower or shovel, sand or deicer and other emergency supplies such as a working flashlight and weather radio at home.
Vehicles should be equipped with traction tires or chains, shovel, traction sand, extra blanket or clothing, emergency food and water and flashlight. Carrying a cell phone is a good idea, too.
Local journalism is essential.
Give directly to The Spokesman-Review's Northwest Passages community forums series -- which helps to offset the costs of several reporter and editor positions at the newspaper -- by using the easy options below. Gifts processed in this system are not tax deductible, but are predominately used to help meet the local financial requirements needed to receive national matching-grant funds.
Subscribe now to get breaking news alerts in your email inbox
Get breaking news delivered to your inbox as it happens.
---