News > Spokane
Police officers who shot gunman identified
Wed., Nov. 17, 2010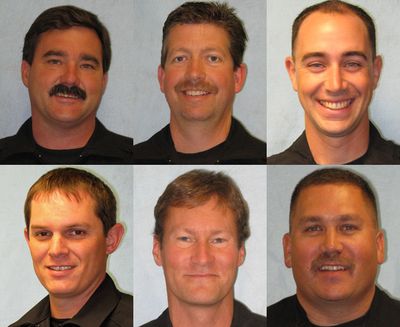 Six police officers fired a total of 26 shots at a man who refused to drop a shotgun near a busy Spokane intersection last week, investigators said Wednesday. Ethan A. Corporon, 29, died of two gunshots on the lawn of a Spokane Tribe of Indians building on West Indiana Avenue, which was riddled with bullet holes from police gunfire. The Spokane Police officers who fired at Corporon were identified Wednesday as Dan Cole, Bill Hager, Bruce Palmer, Doug Strosahl, Kyle Heuett and Mike McNab. The six men, who have a combined 86 years of police experience in Spokane, were part of "a large contingent of officers" who responded to reports of a shotgun-wielding man Friday at 1402 W. Buckeye Ave. Witnesses at the scene of the shooting said Corporon fired several shots at police and into the air. But Spokane County sheriff's Sgt. Dave Reagan said Wednesday that the officers began shooting at Corporon after he refused to drop his shotgun and appeared to be about to run into Shari's restaurant. It was unclear if investigators have corroborated witness accounts of Corporon firing at officers. Regan declined to discuss further details Wednesday. Police caught up with Corporon's Chevrolet pickup at Monroe and Indiana after he drove away from the Buckeye Avenue home, where neighbors said he'd threatened his father with a shotgun. Corporon abandoned the truck in the left-hand lane of southbound Monroe in front of Shari's, then ran west through the restaurant parking lot with the shotgun before dying of his gunshot wounds near the intersection of Madison and Indiana. Police found marijuana grow operations at the Buckeye Avenue home and at Corporon's home at 1211 E. 14th Ave. Corporon is a convicted felon with a long history of suicide attempts and mental illness, including psychosis and bipolarity. In 2008, a psychiatrist described him as "volatile and explosive" and said he was likely to reoffend. It's unclear when he last sought mental health treatment. Though the report from an Eastern State Hospital doctor, included in Corporon's criminal file in Benton County Superior Court, said he'd been treated there at least six times, staff this week said privacy laws prohibit them from confirming if he's even been there. The sheriff's office is investigating Corporon's fatal shooting with detectives from the Washington State Patrol and Spokane Police Department. The police officers involved in the shooting remain on leave. Cole was hired by the Spokane Police Department in March 1986; Hager in January 1991; Palmer in February 1997; Strosahl in February 1998; Heuett in January 2001; and McNab in August 2001. McNab, a corporal, is a member of the Inland Northwest's chapter of Honor Flight, which flies World War II veterans to Washington, D.C., for a tour of memorials. Stroshal has managed the Explorer Program and was the training coordinator for the Reserve Program. He earned the department's "top gun" award in 1998, according to news archives. Cole earned a life-saving award in March 2000 for pulling a fleeing handcuffed burglary suspect from the Spokane River.
Local journalism is essential.
Give directly to The Spokesman-Review's Northwest Passages community forums series -- which helps to offset the costs of several reporter and editor positions at the newspaper -- by using the easy options below. Gifts processed in this system are not tax deductible, but are predominately used to help meet the local financial requirements needed to receive national matching-grant funds.
Subscribe now to get breaking news alerts in your email inbox
Get breaking news delivered to your inbox as it happens.
---