News > Features
Interplayers revives its country 'revusical'
Thu., Nov. 25, 2010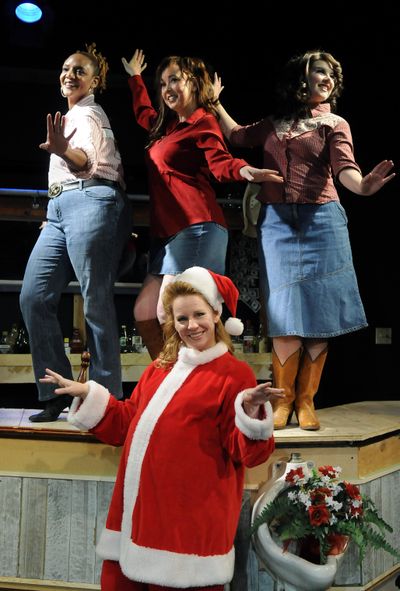 Those familiar with last year's "Honky Tonk Angels" at Interplayers already know what to expect with "Honky Tonk Angels Holiday Spectacular":
A whole bunch of familiar country songs, strung together by the thinnest of plots, sung by an enthusiastic cast of local divas.
That country "revusical" formula certainly worked for Interplayers last year, when "Honky Tonk Angels" packed 'em in.
The original trio of "angels" is back: Jennifer Jacobs, Emily Cleveland and Marina Kalani. This time, a fourth angel joins the cast, Patrice Thompson.
The other big change: They'll be backed by a live band. Carolyn Jess directs a combo consisting of fiddle, guitar, drums and keyboards.
Director Reed McColm said the live band makes a big difference in sound and spontaneity.
"It will be difficult not to have a good time," said McColm.
The song list features some holiday classics including, of course, "Grandma Got Run Over by a Reindeer." There's also the "redneck" version of "The Twelve Days of Christmas" ("five flannel shirts," etc.).
And there are some songs you might not expect, such as "Peppermint Twist," "My Favorite Things" and "What a Wonderful World."
"Not the immediately obvious choices, but welcome choices," said McColm.
Other Christmas songs include "Silent Night" and "Feliz Navidad." You'll have a chance to sing along with some of those – and maybe even join a "Feliz Navidad" conga line, if you're so moved.
The angels will also sing the beloved "Joy to the World," but probably not the one you're expecting. Hint: It involves a bullfrog.
If the original was any indication, the Ted Swindley-written storyline will barely be worth the word "plot."
Here it is, in a nutshell: The three country gals who found stardom as the Honky Tonk Angels have reunited for a Christmas show at the Hillbilly Heaven Club in Nashville.
One of them, Angela, is absent at the beginning of the show. Nobody knows why. We'll find out when she walks onstage.
"It's one of the greatest surprises in all of theater," said McColm, deadpan.
Local journalism is essential.
Give directly to The Spokesman-Review's Northwest Passages community forums series -- which helps to offset the costs of several reporter and editor positions at the newspaper -- by using the easy options below. Gifts processed in this system are not tax deductible, but are predominately used to help meet the local financial requirements needed to receive national matching-grant funds.
Subscribe to the Coronavirus newsletter
Get the day's latest Coronavirus news delivered to your inbox by subscribing to our newsletter.
---
Subscribe and log in to the Spokesman-Review to read and comment on this story