News > Nation/World
Haitian musician a potential spoiler in presidential election
Fri., Nov. 26, 2010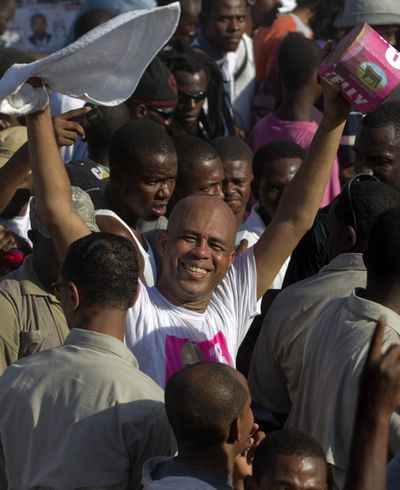 CARREFOUR, Haiti – Wrapped in the Haitian flag, the rude boy of konpa music sashays across the stage as thousands of fans wave posters. The self-appointed president of a konpa nation then reaches back a dozen years for "A Little Moral."
"Corn and rice are luxury items in a country while the people are idle and wilting," he sings, the pink- and white-clad crowd begging for more. "Let's rise up and see if we can change life. You need to know what you want and where you want to go."
A popular musician whose candidacy in Sunday's presidential elections was initially considered a joke, he is gaining momentum as he steps out of his Sweet Micky alter-ego and introduces Haitians to Michel Joseph Martelly.
The stoic, French-speaking Martelly is also getting attention from the international community as he lays out his vision, telling Haitians that he's "not a politician" but a worker for social change.
His vision and his strong showing during a recent televised debate against more well-educated rivals, say observers, has made the 49-year-old Martelly a potential spoiler in a tight race. If none of the 19 candidates get more than 50 percent of the vote, the top two finishers will compete in a Jan. 16 runoff.
"He has shown himself to be a smart communicator and campaigner … despite his lack of experience," said Robert Maguire, a Haiti expert at Trinity University in Washington, D.C.
Jean-Junior Joseph, a Haitian politics blogger, said Martelly's strong support among the working and middle class cannot be discounted.
They identify, he said, with his background as someone who grew up in Carrefour, a sprawling low- and middle-income suburb of Port-au-Prince, attended one of Haiti's most prestigious schools, Saint-Louis de Gonzague, and achieved his dream of living in the rich hills of Petionville.
"Martelly is a pure middle-class icon," Joseph said.
Martelly's name has consistently been mentioned in the top tier of various presidential polls, even as he dismisses them. A poll by his own U.S.-based campaign consultants shows him virtually tied with President Rene Preval's pick, Jude Celestin, and opposition leader Mirlande Manigat far outpacing both of them.
That has made Manigat his focus.
"Can you trust her?" Martelly said, pointing out that she betrayed voters when she pulled out of a Senate runoff in 2006 in protest over her husband, former President Leslie Manigat's loss to Preval. "She is everything that the public is not. I am everything that they are."
Manigat said that while she's not a fan of Sweet Micky's vulgar-laced lyrics, she has been impressed with Martelly, who has lived part time in South Florida.
Still, questions remain about Martelly: Can someone whose life has been on the musical stage make a successful leap to managing a country in crisis?
And will Haitians want someone best known as an entertainer to lead them through the present morass?
"Martelly is asking Haitians to make a very large leap of faith," Maguire said.
While Sweet Micky is known for mooning audiences in a pink thong while dressed in drag, Martelly is the smooth-talking, Hugo Boss-wearing married father of four with a social conscience.
Sometimes, the two meet, such as on a Friday afternoon when thousands waved pink posters featuring a photo of a suit-clad Martelly while peering onto the stage at the T-shirt-wearing candidate.
As Sweet Micky, the musician has been in public life for 22 years, putting konpa music back on the map. But as Martelly, he drums home that he's one of the few candidates not associated with any government.
Local journalism is essential.
Give directly to The Spokesman-Review's Northwest Passages community forums series -- which helps to offset the costs of several reporter and editor positions at the newspaper -- by using the easy options below. Gifts processed in this system are not tax deductible, but are predominately used to help meet the local financial requirements needed to receive national matching-grant funds.
Subscribe to the Coronavirus newsletter
Get the day's latest Coronavirus news delivered to your inbox by subscribing to our newsletter.
---
Subscribe and log in to the Spokesman-Review to read and comment on this story