Sports
Upon further review officials did Cougars no favors
WSU football notebook
Sat., Oct. 2, 2010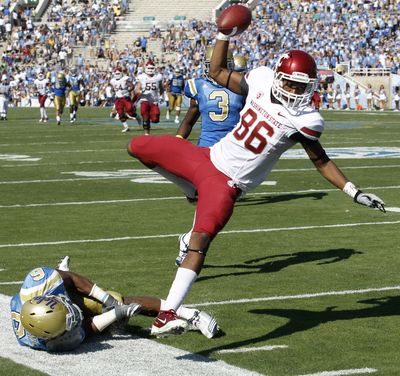 PASADENA, Calif. – Instant replay has become an integral part of college football, as integrated into the fabric of the game as blocking, tackling, running and throwing. In UCLA's 42-28 Pac-10 Conference victory over visiting Washington State University on Saturday, it seemed even more obtrusive. The Cougars' go-ahead fourth-quarter score was taken away after the extra-point attempt, something not allowed by the rules. "The official came over and told me they got buzzed right before they kicked the extra point," said UCLA coach Rick Neuheisel. But no official reacted, running in to stop the attempt or even blowing a whistle. In fact, until referee Larry Farina came to the Cougar sidelines to talk with the officials upstairs, no one on the WSU sideline knew there was any question about Jeff Tuel's 1-yard score. The replay showed Tuel was down short of the end zone and Washington State had to regroup and score again. It didn't. But if replay had been called on four plays earlier, the Cougars might have scored anyhow. Marquess Wilson, who caught five passes for 118 yards, tying Phillip Bobo for the most 100-yard games as a freshman, gathered in a drag route from Tuel at about the 35-yard line and raced down the left sideline for the end zone. Safety Tony Dye battled through blocks and threw himself at Wilson inside the 5. Wilson stuck the ball out as he was flying out-of-bounds, with replays seemingly showing it crossing the plane before Wilson's right foot came down about a foot out-of-bounds. "I honestly did think I got it in," Wilson said. But the played was not reviewed. Earlier a pass interference penalty on UCLA near the goal line was reviewed, though penalties are not supposed to be covered by the replay rule. Conjecture centered on whether the ball was tipped, but it clearly had not been. The call was not overturned. Getting the time With the Cougars now running a spread set on nearly every down, the pressure is on the offensive line and running back to protect Tuel. The sophomore was sacked five times Saturday, including the last two WSU offensive plays. Up until then, however, Tuel, who finished 20 of 37 for 311 yards, with two touchdowns and no interceptions, had time on most of his throws. "For the most part, the O-line did a really good job protecting," Wulff said. "They've put a lot of pressure on people with their pass rush. Overall I think we did a pretty darn good job." Tackling the numbers With UCLA running 89 plays for 565 yards of total offense, there were plenty of opportunities for tackles. Safety Chima Nwachukwu and linebacker Alex Hoffman-Ellis led Washington State with 11 apiece, with 10 of Nwachukwu's of the solo variety. Freshman cornerback Damante Horton, getting his most extended action, and Mike Ledgerwood each had eight. Dye led UCLA with eight, but it was tackle David Carter who gave WSU the most trouble. Three of his five tackles were sacks. In fact, until Sean Westgate and Akeem Ayers came up with sacks on the last two plays, Carter was about the only Bruin to supply pressure. Ayers' sack caused Tuel to fumble, the Cougars' only turnover. Beck benched at start Linebacker Myron Beck was late for a team meeting and didn't start. "It won't happen again," the senior said. Freshman Jamal Atofau started in his place, was victimized on a run fake on UCLA's first play and hit Morrel Presley late out of bounds, earning a 15-yard penalty. Spitz out for season Dan Spitz's eventful season is over before it even began. The redshirt sophomore from Mead High had surgery on the labrum in his right shoulder last week and should be back for spring football. In the last 10 months, Spitz failed an NCAA-mandated drug test and was suspended for a year (a suspension that will end in November), switched positions from defensive to offensive tackle, and hurt his shoulder early in fall camp. The injury seemed to be healing until a couple weeks ago, when the 6-foot-6, 279-pound Spitz tweaked it again. This time surgery was called for and he should be ready to begin spring drills. Angry Wulff Wulff was obviously miffed by a couple of penalties that were called and a couple more that weren't, animatedly charging toward an official at one point and jumping up and down at another. "I've got to fight for this team," he said. "They're young, they need help. I've got to fight for them and they've got to fight for themselves." WSU was cited for a season-high eight penalties for 90 yards, including one kick-catching interference call that was marked off at 16 yards. UCLA had 10 for 103 yards. Recruiting news The Cougars has not won much in the last two-plus seasons, but that doesn't seem to be hurting their recruiting. Cougfan.com reported Thursday Washington State's 16th non-binding oral commitment. Linebacker Tana Pritchard, a 6-4, 206-pound linebacker from Clover Park High (Lakewood, Wash.) gave the WSU staff notice he'll accept their scholarship offer. Pritchard is the nephew of former Cougar great Jack Thompson, and though the next generation currently plays quarterback like Thompson did, he projects a linebacker at WSU.
Local journalism is essential.
Give directly to The Spokesman-Review's Northwest Passages community forums series -- which helps to offset the costs of several reporter and editor positions at the newspaper -- by using the easy options below. Gifts processed in this system are not tax deductible, but are predominately used to help meet the local financial requirements needed to receive national matching-grant funds.
Subscribe to the sports newsletter
Get the day's top sports headlines and breaking news delivered to your inbox by subscribing here.
---
Subscribe and log in to the Spokesman-Review to read and comment on this story