Sports
Pac-10's super punters give conference leg up
Conference boasts four of country's top 14 in rankings, with ASU's Hankins leading the way
Wed., Oct. 6, 2010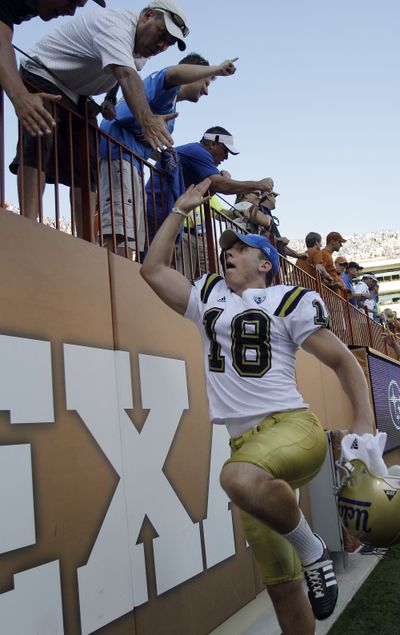 PULLMAN – It's not the most glamorous job in college football, but its importance can't be overstated.
And, right now, no FBS conference in America has a better collection of punters than the Pac-10.
Four of the top 14 punters in the NCAA statistics kick in the conference. Arizona State's Trevor Hankins, who is averaging a hard-to-believe 50.74 yards for each of his 19 punts, is more than 2 yards ahead of anyone else in the nation.
"He's been special for us," Arizona State coach Dennis Erickson said Tuesday. "He's changed field position in our first five ballgames a lot. Not only does he have a strong leg, but he kicks it high so we're able to go down and cover pretty well."
The NCAA statistics don't even count California's Bryan Anger, last year's first-team all-conference selection. Though Anger is averaging 44.1 per kick, he hasn't punted enough (14 times in four games) to reach the NCAA threshold of 3.6 punts per game.
So why such a cluster of good punters? None of the coaches asked Tuesday had a good answer.
"The Pac-10 has a lot of good everything," posited UCLA's Rick Neuheisel, and that seems as good an explanation as any.
Neuheisel's punter, Jeff Locke, was second-team all-conference last season as a freshman.
"Jeff Locke is hugely important to us," Neuheisel said. "As we try to find ourselves on both sides of the ball, one of the things we really try to create is an advantage in field position. And the way you do that is by having great special teams.
"Jeff has been fantastic, not only as a punter but also as a kickoff guy.
Locke, who averaged 44.1 yards per punt last season, is up to 45.8 this one, 10th in the nation and second in the conference.
Washington looked to be in trouble earlier this season when veteran Will Mahan tore his ACL and MCL in practice following the season opener. In stepped walk-on Kiel Rasp, a junior from Seattle who had never punted in a college game before.
"Your biggest concern, initially, is that he goes out there and catches the ball," UW coach Steve Sarkisian said.
He has done that and he's averaged 45.3 yards per attempt in three games.
"He's done a nice job for us," Sarkisian said. "He's not only punted the ball well, but we're a big directional punting team and he's put the ball where it needs to go."
Washington State senior Reid Forrest is having his best season, averaging 44.9 yards per punt, with 10 covering more than 50 yards, second only to Hankins (12) in the conference. But Forrest's career-best average is only good enough for fifth in the conference stats.
Erickson has a theory about the punting – and kicking – explosion of excellence.
"What's changed is you have all these camps and all these kicking people out there, all these punters and kickers go to when they're young," Erickson said. "To me, I see the punters and the kickers getting better all over the country."
But no place better than the Pac-10.
Around the conference
UCLA's Neuheisel was asked a question that's been on every Cougar fan's tongue this year. Is Washington State any better this season? "I thought they were a good football team, at least this last Saturday," the veteran coach said, singling out Jeff Tuel and the WSU passing game for praise. "They are better than last year, no question about it." … Washington linebacker Mason Foster leads the Pac-10 in tackles, averaging 12 a game. … California ran into the pistol offense once this season. It didn't go well. The Bears were run over 52-31 by Nevada. Now they face UCLA, which just rushed for 437 yards against WSU. "UCLA is gaining a lot of momentum with it," coach Jeff Tedford said. "I don't know if you're going to stop it because there is just too many moving parts to it. If we could limit it, that would be nice."
Local journalism is essential.
Give directly to The Spokesman-Review's Northwest Passages community forums series -- which helps to offset the costs of several reporter and editor positions at the newspaper -- by using the easy options below. Gifts processed in this system are not tax deductible, but are predominately used to help meet the local financial requirements needed to receive national matching-grant funds.
Subscribe to the sports newsletter
Get the day's top sports headlines and breaking news delivered to your inbox by subscribing here.
---