Sports > Outdoors
Dog hooked on fly-fishing flies
Dog's interest in all fly types just a passing concern
Sun., Oct. 10, 2010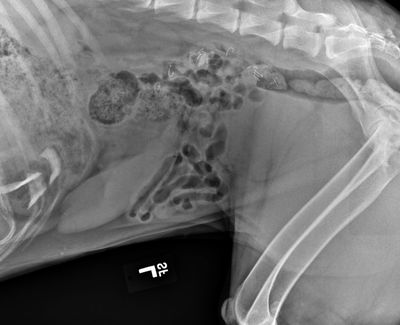 Deborah Carlson's German shepherd, Frieda, is obsessed by bugs, so much so that she recently swallowed more than a dozen fishing flies.
"She has been eating bugs in the backyard all summer. She is almost manic about it," said Carlson of Pullman. "She will go around and jump against the fence and grab bugs."
So it may not be surprising the dog would be highly interested in imitation bugs designed to fool trout. But that was far from Carlson's mind when she came home one evening recently to feed the dog and drop off some supplies she'd picked up for a fishing trip before heading back to work.
When she returned four hours later, Carlson found Frieda had knocked her fishing supplies off the counter. As she cleaned up the mess she noticed a container of dry flies was empty.
"I had 16 brand-new flies. I had not had time to crimp the barbs yet so they were barbed," she said. "I took a pencil and sifted through all the chewed-up paper on the floor and could not find any of the flies."
What to do? Carlson said the dog is a money pit. She suffers from epilepsy and is on medication and has had a few other health problems.
"I love her but I'm not operating," she said to herself. "She is either going to live or die. Plus, I was leaving town in a day."
Carlson works at Washington State University so she e-mailed a friend at the school's College of Veterinary Medicine asking advice. She was told she should bring the dog in for X-rays so they would know what Frieda's chances were.
The scans showed 15 flies had made it through the dog's throat, stomach and intestines and were "on the home stretch." The 16th fly was never found.
Frieda ended up passing all 15 flies without problem.
"It's just amazing none got stuck in her stomach or throat, and these were barbed," Carlson said. "It's just one more thing to go in her little scrapbook."
Local journalism is essential.
Give directly to The Spokesman-Review's Northwest Passages community forums series -- which helps to offset the costs of several reporter and editor positions at the newspaper -- by using the easy options below. Gifts processed in this system are not tax deductible, but are predominately used to help meet the local financial requirements needed to receive national matching-grant funds.
Subscribe to the sports newsletter
Get the day's top sports headlines and breaking news delivered to your inbox by subscribing here.
---