Sports
Hunter denies taking money from ex-agent
Former Coug believes Luchs did pay some
Thu., Oct. 14, 2010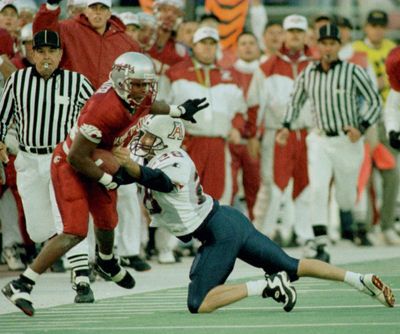 Torey Hunter is convinced some of his Washington State University teammates took money from former sports agent Josh Luchs in the early 1990s – just like Luchs claimed in the first-person account of his career as an agent that appeared in the Oct. 18 edition of Sports Illustrated.
But the Cougars' former standout defensive back, who is now an assistant on Beau Baldwin's staff at Eastern Washington University, insisted Wednesday afternoon that he wasn't one of them. And Hunter is not sure why Luchs mentioned him as one of five WSU players he paid in an effort to get them to sign with him.
"I'm sure some people did take the money, because Josh said they did, and he's not a liar," the 38-year-old Hunter said of Luchs, who told SI he paid more than 30 college players – including Hunter and former WSU players Ryan Leaf, Singor Mobley, John Rushing and the late Leon Bender – from 1990-96.
"I'm just not sure why I was lumped in with the guys that were receiving benefit, though. Maybe it was because most of us were always hanging out together. But I never took any money from Josh."
Mobley, who admitted to SI that he had accepted money or extra benefits from Luchs while still in college, and Rushing, who declined to comment on Luchs' claim, played in the same defensive backfield with Hunter at WSU from 1991-94.
Hunter remembers Luchs being on the WSU campus during those years and talking to several of his teammates.
"I know for a fact some players were getting paid," Hunter said, without naming names, "because I was offered money – money, among other things – by a few agents who wanted me to sign with them.
"But I wasn't lacking for money back then, and I wasn't asking for anything. I was just out there playing ball and going to college."
Hunter ended up hiring the late Harold (Doc) Daniels – whom Luchs mentioned as one of his early mentors in his SI story – as his agent shortly after helping the Cougars to a 10-3 win over Baylor in the 1994 Alamo Bowl. Hunter was selected by Houston in the third round of the 1995 NFL draft, playing in 12 games for the Oilers that fall.
He spent one season in the NFL but went on to play professionally overseas and in Canada for seven more years.
Hunter said he chose Daniels, who died in 2001 following a long illness, because of the way he treated his clients.
"Right before the (Alamo) Bowl, I knew I was going to sign with Doc," Hunter said, "because he was more than just an agent. He was a teacher as well. He basically had a lot of minority clients, and he was willing to teach us so we could one day, maybe, represent ourselves, or someone else, if we wanted to.
"That's why I was attracted to him."
Hunter, who ended up negotiating his last two professional contracts as a player, did confess to receiving at least one benefit from Daniels that might have qualified as shady under NCAA rules.
"I know I am guilty of receiving a (video) copy of the movie "Friday" before in came out in theatres," he said of the film that was released in 1995. "Doc – RIP, I do miss him – gave me that, I have to admit."
As a coach, Hunter said he is constantly monitoring his players' relationships in an effort to help ward off any illegal contacts from agents.
"The rules are there for a reason, but I'm not stupid," he said. "I know they get broken. So, I do look for it, and if we have guys who might have the opportunity (to play professionally), I want to make sure their friendships and the people they're hanging out with don't change too drastically."
As for all the hoopla created by Luchs' story, Hunter added, "Let's deal with it and move forward.
"The NCAA's stance is going to stay the same, but there's always going to be loopholes where agents try to get ahead, because these kids are worth too much money."
Local journalism is essential.
Give directly to The Spokesman-Review's Northwest Passages community forums series -- which helps to offset the costs of several reporter and editor positions at the newspaper -- by using the easy options below. Gifts processed in this system are not tax deductible, but are predominately used to help meet the local financial requirements needed to receive national matching-grant funds.
Subscribe to the sports newsletter
Get the day's top sports headlines and breaking news delivered to your inbox by subscribing here.
---