Sports
Branch's departure opens door for Seahawks receiver
Thu., Oct. 14, 2010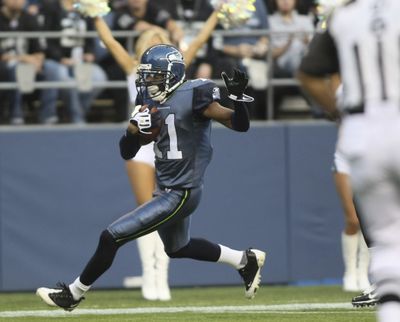 RENTON, Wash. – As time progressed and teammates started moving on to other places, Seattle wide receiver Deon Butler noticed position meetings becoming quieter and quieter.
It's the fallout of seeing three strong, vocal personalities – Nate Burleson, T.J. Houshmandzadeh and Deion Branch – leaving Seattle for new teams.
"Our meetings got quieter person by person. First it was Nate, then when T.J. left it got quieter and Deion stepped up and now Deion is gone and now we have like a bunch of mutes in our wideout room," Butler joked on Wednesday.
With the trade of Branch to New England earlier this week, the top three wide receivers from a year ago for Seattle are all in different locations. Branch is back with the Patriots; Houshmandzadeh is in Baltimore; and Burleson is with Detroit.
Coach Pete Carroll made it clear from the start he doesn't mind giving young, inexperienced guys a shot. That will happen again as Butler will start in Branch's old position on Sunday at Chicago.
It won't be entirely on Butler as fifth-year receiver Ben Obomanu – mostly a special teams contributor in the past – and recently signed veteran Brandon Stokley will also help fill the void.
But Butler will get the first shot at taking on the task – against one of the better defenses in the league.
"That feels good that all that hard work in practice and preseason they have seen enough in me to feel comfortable to slide me into the starting lineup," Butler said. "A guy like Deion Branch is a good player. Just being able to replace him is just something I'm definitely excited for and looking forward to the opportunity."
The end of Branch's time in Seattle seemed to be on the horizon when Stokley was signed in late September and ended up being the leading receiver just a few days later in Seattle's 20-3 loss to St. Louis. Coupled with the Patriots trading Randy Moss to Minnesota, Branch's familiarity with New England and the large salary Branch was due next season – $5.95 million that is likely to be restructured now – making a move with the veteran who never reached his potential in Seattle made too much sense.
The Seahawks received a fourth-round pick in exchange for Branch.
"Without Brandon Stokley coming here we never would have thought about it. But (Stokley) came in here and showed his ability just right off the bat and the background he had with (offensive coordinator) Jeremy (Bates) and his ability to prove it to us really made it an opportunity for us," Carroll said. "It gives us a pick we didn't have and gives us some ability in free agency that we didn't have and will help us down the road."
Local journalism is essential.
Give directly to The Spokesman-Review's Northwest Passages community forums series -- which helps to offset the costs of several reporter and editor positions at the newspaper -- by using the easy options below. Gifts processed in this system are not tax deductible, but are predominately used to help meet the local financial requirements needed to receive national matching-grant funds.
Subscribe to the sports newsletter
Get the day's top sports headlines and breaking news delivered to your inbox by subscribing here.
---
Subscribe and log in to the Spokesman-Review to read and comment on this story