Sports
Cougs reach halfway with new hope
Small but distinct signs show WSU turnaround
Fri., Oct. 15, 2010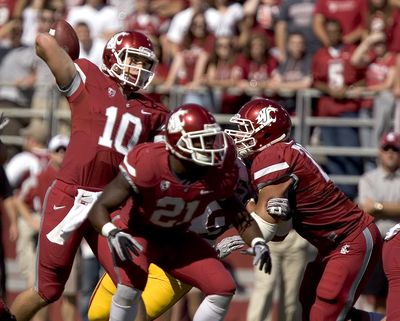 PULLMAN – The record is the same. The statistical benchmarks are similar. But there's seems to be something different about this Washington State University football team as it prepares to enter the second half of the season.
Maybe it's because there is hope on offense. Or it just might be the afterglow of the Cougars' most competitive Pac-10 game in a year. Or it might be something deeper.
"I think this is the third year (WSU coach) Paul (Wulff) has been there, and this if far and away his best team," said Mike Stoops, coach of No. 17 Arizona, Saturday's opponent. "One through 22, with his starters, (this is) the best group of players he's had, the most skill he's had, the most physical presence on the offensive line he's had.
"You can see them start to turn the corner; I don't think there is any question."
But what's around that corner? Of the Cougars' final six games, half of them come against teams that have been ranked at some time this season. Breaking a 12-game Pac-10 losing streak won't be easy.
And, as can be expected in a 1-5 season (0-3 in Pac-10 play), the play the first half has been inconsistent at best. Let's look back.
Offense
The first three weeks of the season seemed to be an extension of last year, when the Cougars finished 119th – out of 120 – in total offense among FBS teams.
"The first three games, we didn't open things up as much as we have since the Pac-10 started," Wulff said. "And that's really more on me than anything.
"(I was) very cautious, wanted to have a balanced attack to let all the new linemen and receivers playing for the first time work ourselves into it. We didn't want to throw all these guys to the wolves."
But, starting against USC, Washington State spread the field, used four wideouts on almost every play and put the game in sophomore quarterback Jeff Tuel's hands.
"We're established," Tuel said of the difference. "I don't know if established is the best word. I think we know our identity. We know what we're good at and what we need to do to be in ballgames and win them."
Since the change, WSU has averaged 348 yards a game in total offense, most of it through the air. And Tuel, who has made 11 career starts, has been sharp, completing 69 of 114 passes for 778 yards.
"In a league with some really good quarterbacks, I don't think he gets the publicity, the notoriety of some guys," Oregon coach Chip Kelly said. "He's really good."
Tuel was 25 of 40 for 245 yards and a touchdown in last Saturday's 43-23 loss to Kelly's Ducks.
In nine Pac-10 games last season, WSU scored 80 points. In three this year, the Cougars have put up 67.
"I think we're in a better place right now than we were six weeks ago," offensive coordinator Todd Sturdy said. "That's hopefully pretty obvious to the normal eye."
Defense
For much of the season, the Cougars struggled in one crucial area. They couldn't tackle.
"We've gotten a lot better in our tackling," sophomore defensive end Travis Long said. "That was one thing that was really obvious the first five games, probably. Our tackling was poor. Which is why so many big plays were going against us."
Better last week, yes, but the early problems have put the Cougars in a hole. WSU is last nationally in total defense and run defense, about where it finished last season.
But, like the offense, the defense seems to have established an identity.
"We're more fundamentally sound and more physical," Long said. "We're so close. We're just taking so many baby steps. We wish we could take a big leap and just win a game."
"We're playing a lot of young guys," Wulff said. "They're getting better, we've moved people around, we've gotten more speed on the field as we've done that, and it's become evident we're better."
Special teams
The Cougars have improved under first-year special teams coordinator Dave Ungerer, ranking among the nation's leaders in kickoff coverage and punting. They have also improved, though incrementally, their kickoff returns.
But some high profile mistakes, from punt blocks to miscues on extra points to punt returns, have muddled the overall picture.
"Overall, we've been really good," Wulff said. "Our coverage on kickoff, our coverage on punt, except one time, have been very good. So I've been encouraged.
"The mistakes that have been made truly have been youthful mistakes. … We just have to continue to eliminate the big play."
Overall
Though the numbers may not show it, the first half of 2010 has been different than in 2008 or 2009.
But with injuries starting to mount – four starters will miss this week's game – and five more games before a bye week, the second half could be a torturous march, especially for the defense.
"I've said that all along, this team could get better and better as the season goes along," Wulff said. "That's what's happening. That being said, we are still razor-thin in all of our positions. If we take too many injuries at the wrong time, at the wrong positions, that could hinder our growth."
"We've moved from being a noncompetitive a year ago, near the end especially when we lost everybody, to now, I think we've positioned ourselves where, the last couple weeks, we've been a competitive team, we've been in football games, we've had opportunities," Sturdy said. "The kids know where the bar is."
The signs of change have started to be visible, at least to those folks who have to face WSU.
"The first place you see it, sometimes, is in just narrowing the playing field," Stoops said. "You can see that happening, tightening the gap with each team. It probably took them a year longer than they would have liked, but you can see the separation isn't what it was."
Local journalism is essential.
Give directly to The Spokesman-Review's Northwest Passages community forums series -- which helps to offset the costs of several reporter and editor positions at the newspaper -- by using the easy options below. Gifts processed in this system are not tax deductible, but are predominately used to help meet the local financial requirements needed to receive national matching-grant funds.
Subscribe to the sports newsletter
Get the day's top sports headlines and breaking news delivered to your inbox by subscribing here.
---