News > Spokane
Palouse's wheat farmers harvest the year's near-perfect mix
Weather, prices, subsidies combine for best crop in decade
Sun., Oct. 17, 2010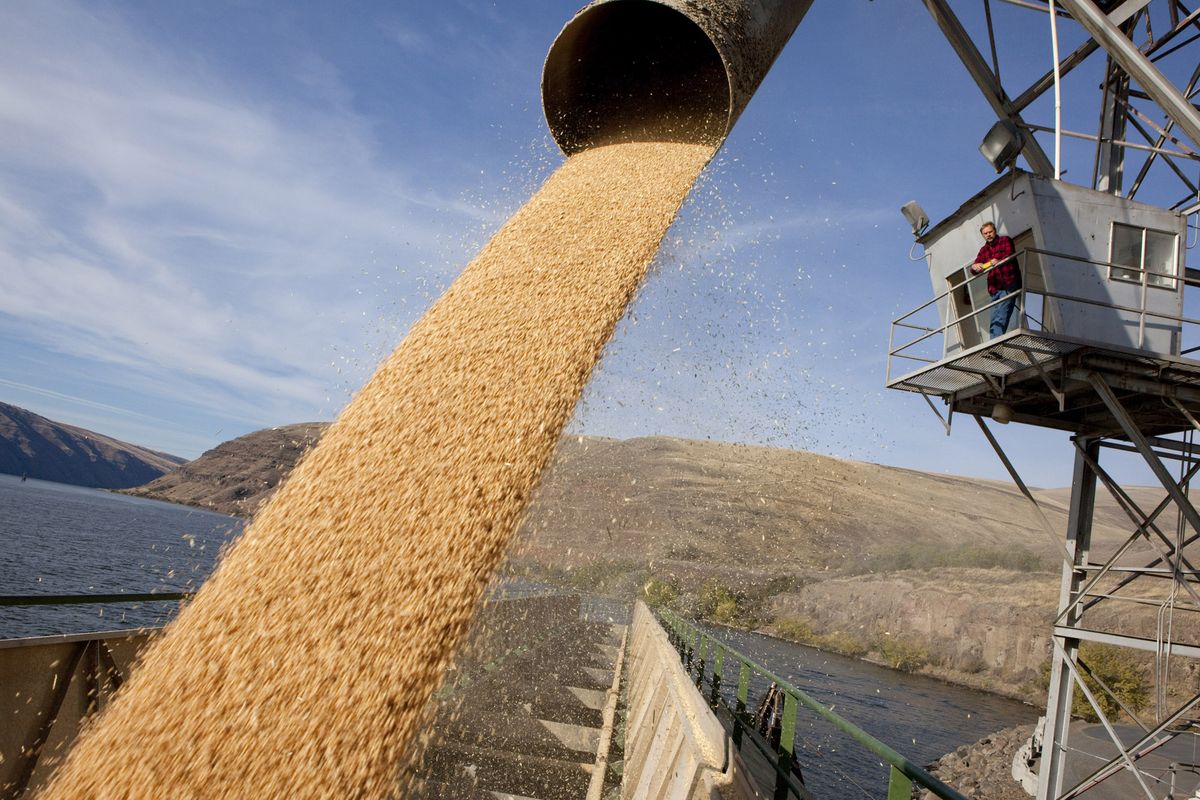 Warehouseman Ron Dennison, of Colfax, loads Palouse wheat onto a barge bound for Portland on Oct. 12 at the Almota Elevator Co.'s grain elevator on the Snake River near Colfax. Farmers harvested a bumper crop this season with big yields, good quality and good prices. (TYLER TJOMSLAND)
ALMOTA – Wheat farmers across the Inland Northwest are collecting on a trifecta this year: a bumper crop, solid grain prices and continued government subsidies.
The wheat crop is the best in a decade; preliminary numbers show 147.8 million bushels were harvested, up from 123 million bushels last year.
Most of the wheat was cut and much of it sold just as grain prices surged.
"I think a lot of us are feeling pretty good right now," said Ritzville, Wash., farmer Curtis Hennings.
He watched it rain day after day in May and June, a good sign for a wheat farmer.
"For a while there I thought 'hot damn,' this is going to be really good," Hennings said. "In the end it wasn't what I thought, but I'm happy to take it."
And so are international buyers.
Exports are on the rise after huge wildfires in Russia this summer sent a good deal of that country's wheat crop up in smoke, burned through villages and scorched the outskirts of Moscow.
Russia had to protect the remainder of its domestic food supply and banned the sale of its wheat to other nations, through December.
Washington farmers were ready to respond, said Tom Mick, chief executive of the Washington Grain Alliance. The proof is in ports along the Snake River south of Colfax. At the Almota Elevator Co.'s facility, warehouseman Ron Dennison oversees a huge chute that pours wheat into a waiting barge.
"It's been a busy year," he said last week. "Good to see the farmers doing well."
Grain companies have been loading wheat at a rapid clip as the barges navigate the Snake and Columbia rivers to large grain terminals at Portland and Longview. Ocean freighters are then loaded with 85 percent of the region's total crop and set course for flour mills in Japan, South Korea, the Philippines, Indonesia, Egypt, Yemen, Thailand and elsewhere.
The river traffic has been heavy this fall because of the upcoming three-month closure of the locks that allow ships to pass through the series of dams to get to Portland. The U.S. Army Corps of Engineers will complete the project from December through March, bringing river traffic to a standstill during the upgrades.
Ripple effect
The strong export market and bumper crop are a welcome development in wheat country, where tough economics have continued to cull the ranks of farmers. There are about 3,000 wheat farms left in Washington state – about half the number 15 years ago.
But the wheat harvest affects more than just farmers and farm towns; this year's good payday will be shared by many. Studies and government reports have shown that merchants in Spokane and in cities and towns stretching from Pasco all the way up to Bonners Ferry, Idaho, get a bounce from a strong year for wheat.
In addition, many farmers are cultivating rented land and share their profits with city-dwelling landlords in Seattle, Olympia, Spokane and elsewhere, Mick said.
It's a scenario that sends an economic ripple through every corner of the state. And this year the value of Washington's wheat crop should shoot past $750 million.
That's not a record; wheat farmers had a big 2007, when feared global grain shortages led to record-high prices. That year the value of Washington's wheat harvest hit a whopping $949 million, according to Dave Knopf, state statistician with the National Agricultural Statistics Service.
Still, "We're very happy with the crop," Mick said. "We had good numbers and good quality."
Yields were high – actually, among the best ever.
Glen Squires, vice president of the grain alliance, said the yield for winter wheat topped 69 bushels per acre, while the spring crop yielded an average of 52 bushels, for a combined average of 64 bushels of wheat to the acre. In the past decade, average yields have been as low as 53 bushels per acre. Last year's average was 55.
The Northwest produces a much better crop than other wheat-growing regions, such as the grain belt of Kansas and Oklahoma. The deep soils and ample rainfall have made the Palouse world-renowned for high yields without using irrigation.
Subsidies vital
The last piece making 2010 a winner for wheat farmers is an estimated $70 million in federal subsidies. The money is a direct payment to farmers based upon historical acreage and yields.
While the 2010 figures haven't been released, the subsidy payments are expected to mirror the $71 million awarded last year, said Chris Bieker, a Farm Service Agency spokeswoman. Other federal programs pay farmers for land conservation.
Subsidy payments have been controversial. Critics argue that they speed consolidation of farming operations, stifle innovation and favor corporate mega-farms and the wealthy.
In the Northwest, wheat farmers are the largest recipients of federal aid. Most farms, however, remain in the hands of family operators and can't achieve the economies of scale of some of their corporate-owned competitors, so subsidies are vital.
"We don't have big corporate wheat farms here," Mick said.
While Mick tempered the good news with the cautionary note that farmers "are still faced with high fuel and fertilizer costs … and other uncertainties," the good prices over the past few years should help them upgrade equipment, repay lenders and sock some cash away for retirement.
Perhaps most important of all, a few good years might persuade a grown son or daughter to move back and take over a family farm, Mick said. For decades, farmers have been sending their children off to college, where they earn degrees and move to cities to find jobs, marry and raise families.
"The farmers who are left are pretty savvy businessmen, but most of them are around age 60 and want their farms to stay in the family," Mick said.
"We need years like this one," he said. "Turned out pretty well."
Local journalism is essential.
Give directly to The Spokesman-Review's Northwest Passages community forums series -- which helps to offset the costs of several reporter and editor positions at the newspaper -- by using the easy options below. Gifts processed in this system are not tax deductible, but are predominately used to help meet the local financial requirements needed to receive national matching-grant funds.
Subscribe now to get breaking news alerts in your email inbox
Get breaking news delivered to your inbox as it happens.
---