Minnick proves 'quietly effective' with legislation
Record outpaces recent Idahoans in first term
Sun., Oct. 17, 2010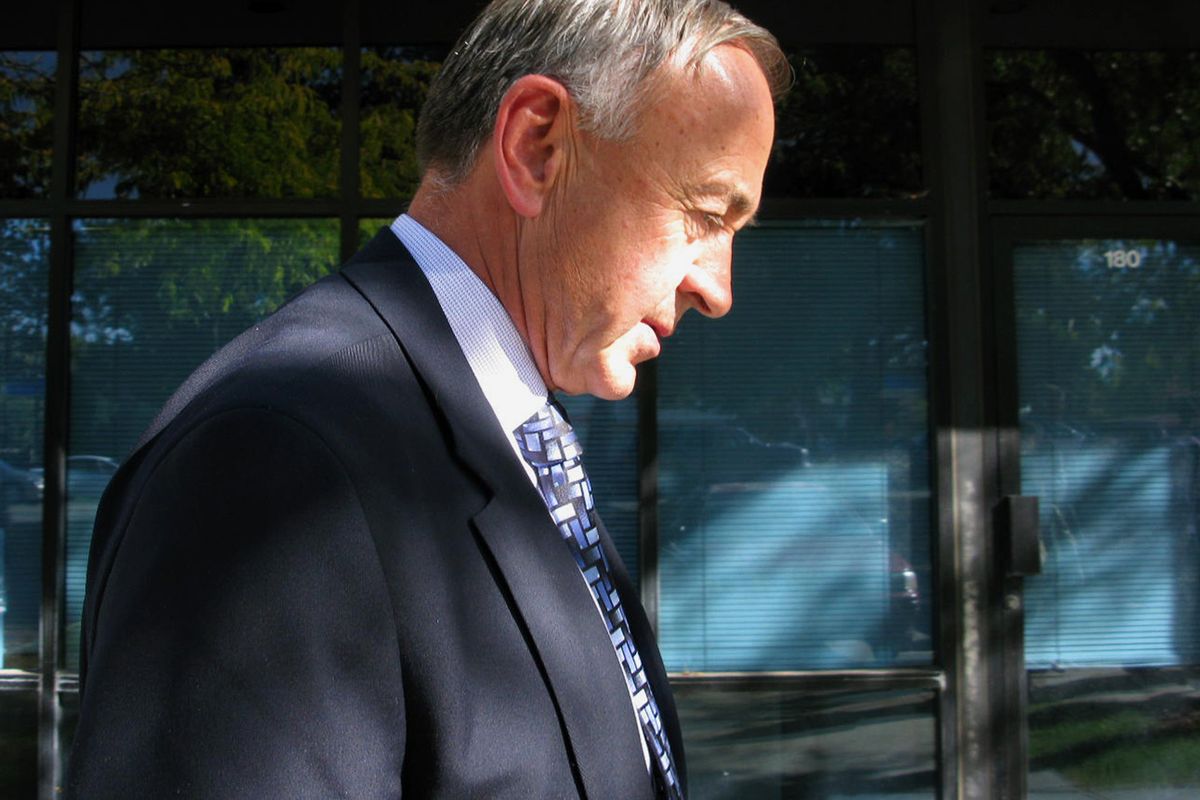 Walt Minnick walks outside his campaign headquarters in Boise last week. (Betsy Russell)
BOISE – Freshman Rep. Walt Minnick has sponsored more legislation, and seen more of it pass, than any other first-term U.S. House member from Idaho in the past two decades.
A Spokesman-Review analysis shows that Minnick has sponsored 27 bills or amendments in his two years in Congress, and 10 passed. Three more bills are lined up for possible passage when Congress reconvenes in November.
"I think I have demonstrated I can be effective in making the system work," Minnick said. "I work at it – I take my legislative responsibilities very seriously."
Minnick's measures range from successful tweaks to major Democratic legislation, like financial reform, to his own smaller version of a stimulus bill. He sponsored a resolution in 2009 calling for the release from prison of the Chinese democracy activist who just last week won the Nobel Peace Prize.
He's championed expanding job-training programs, banning earmarks, increasing veterans' benefits and reforming the commercial credit market.
A dozen of the bills Minnick sponsored were co-sponsored by Idaho GOP congressman Mike Simpson.
By comparison, in his freshman term in Congress in 1999-2000, Simpson sponsored nine bills and one amendment; one bill passed.
Minnick's predecessor in the Idaho 1st Congressional District, Republican Bill Sali, sponsored 16 bills and four amendments in his two years in office; one bill and two amendments passed.
Minnick's tally, both for sponsoring and passing legislation, also exceeds the first-term numbers for former Idaho 1st District Reps. Butch Otter, Helen Chenoweth and Larry LaRocco, the last Democrat to hold the seat.
"I think you could argue it's a pretty good legislative record," said Steve Shaw, political scientist at Northwest Nazarene University. "It stacks up well with what his predecessors have done in that seat."
Minnick's GOP challenger, Raul Labrador, said, "I think the real question is how many jobs did these bills bring to Idaho? … Congress with Minnick's assistance continues to spend too much money, over-regulate and tax us more."
Shaw noted that Minnick hasn't made much of his legislative accomplishments in his current re-election campaign; the matchup between Minnick and Labrador has focused most recently on sniping over negative campaign ads.
" 'Quietly effective' wouldn't be a bad campaign slogan for him," Shaw said.
Minnick, Shaw noted, may have been more able to pass bills because his Democratic Party controls both the Congress and the presidency. But, he said, "The numbers tell you something. … He is not a charismatic person, he's not a great one-liner. … I think he's just a guy who takes his job very seriously and … is trying to identify certain areas where he can make a difference, even as a first-term congressman from a Republican district in a small state."
Minnick was 66 when he went to Congress, a former timber products CEO with a long business career behind him, Harvard business and law degrees and long-ago experience working as an aide in the Nixon White House. He's now 68 and has expressed no interest in higher office beyond his current position.
Some of Minnick's successful bills have been easy sells – two were measures lauding Boise State University for winning the 2010 Fiesta Bowl and commending the University of Idaho for winning the 2009 Humanitarian Bowl.
Such measures are common in Congress; Sali's sole successful bill was a measure commending Idaho's successful bid to host a major Special Olympics competition.
But others have been complex proposals like Minnick's AMERICA Works Act, a job-training bill that passed the House on Sept. 29 on a 412-10 vote. The measure, now awaiting Senate consideration, revamps work force training rules to allow community colleges and employers to apply for funding and start training programs in anticipation of job skills needed in their region, without having to wait for a major layoff first.
The bipartisan bill – Minnick has 10 co-sponsors including Simpson – has won support from manufacturers, labor unions and community colleges.
"You don't run and build a company … without understanding how to deal with people that disagree with you, whether it be landlords or employees or vendors," Minnick said.
"You find out what you can agree on, what you can compromise and what you've got to postpone for later consideration. That's the same process you go through in trying to achieve consensus on a bill."
Local journalism is essential.
Give directly to The Spokesman-Review's Northwest Passages community forums series -- which helps to offset the costs of several reporter and editor positions at the newspaper -- by using the easy options below. Gifts processed in this system are not tax deductible, but are predominately used to help meet the local financial requirements needed to receive national matching-grant funds.
Subscribe now to get breaking news alerts in your email inbox
Get breaking news delivered to your inbox as it happens.
---