News > Idaho
Candidates fight over same label
Minnick, Labrador both tout conservative views
Sat., Oct. 23, 2010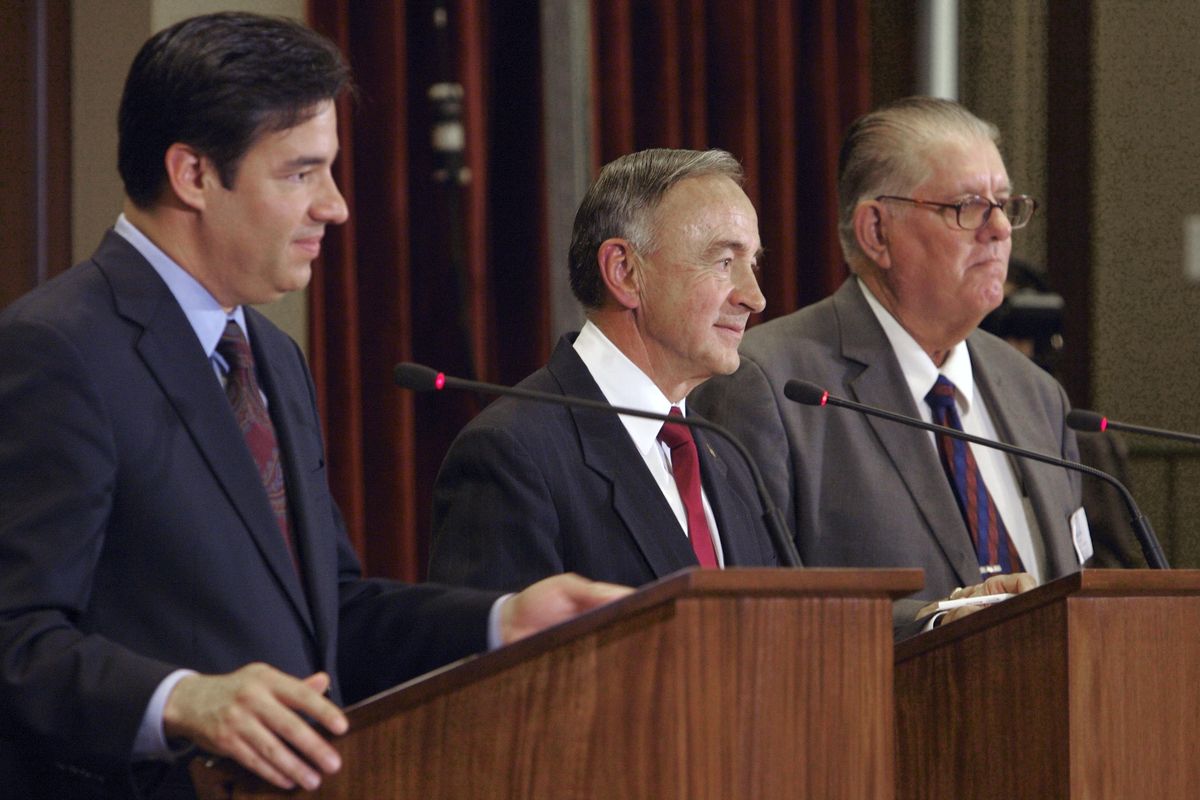 Minnick
BOISE – Freshman congressman Walt Minnick is a new kind of Idaho Democrat – one who votes more often with Republicans than with his own party, one who attracts business support that usually goes to GOP candidates, and one who crusades against earmarks, refusing to request any even if it means his district loses out on pricey projects.
Still, in conservative Idaho, where the 1st Congressional District voted just 35 percent for Barack Obama for president in 2008 and Minnick is the first Democrat to hold the seat since 1994, Minnick's re-election isn't assured.
The Harvard-educated former timber products CEO beat unpopular GOP Rep. Bill Sali by just 4,211 votes two years ago. This year, he faces an ardent but underfunded rising conservative star from the Idaho Statehouse, Raul Labrador.
Labrador, 42, has sought to paint Minnick, 68, as a lockstep follower of House Speaker Nancy Pelosi, though that's hardly his record, since his come-from-behind win in the primary. In that race, Labrador defeated the better-funded, Sarah Palin-endorsed party favorite, Iraq war veteran Vaughn Ward.
"The Democratic Party is destroying our nation," Labrador said at a recent debate with Minnick at the Meridian Chamber of Commerce. "Sending back Walt Minnick will be the worst thing that we can do for the state of Idaho."
Minnick, by contrast, touted his 30-year business career, "helping build two substantial companies, creating jobs, meeting payroll, paying off our debts and battling government bureaucrats and regulators." He said, "I think I have the skill set to go back and work with my colleagues across the aisle to do a businesslike job of pruning the federal government and cutting its role back."
The next day, the Meridian Chamber endorsed Minnick.
It's not alone. Minnick has piled up endorsements from business interests that normally back Republicans, from the Idaho Associated General Contractors to the National Federation of Independent Business. This year he was named a "Taxpayer Hero" by the Council for Citizens Against Government Waste, won the endorsement of the U.S. Chamber of Commerce, and was the only Democrat endorsed by the national Tea Party Express group – an endorsement he later rejected after the group's leader made racially charged statements. The group has now endorsed Labrador.
Labrador's reaction to some of those endorsements – he said the U.S. Chamber has a "big-government tilt" and called the contractors tax-raisers for backing Minnick – didn't endear him to Idaho's GOP establishment.
But that's not his base. Labrador was endorsed by Tea Party Boise, the American Conservative Union, and a slew of his fellow conservatives in the Idaho House, who've made that chamber so anti-spending that it blocked a Republican governor's own transportation initiative.
Labrador played a key role in that, debating passionately in the House in 2009 against any kind of tax increase during a recession.
Labrador has sparred with other House conservatives on how best to fashion hard-hitting legislation targeting illegal immigration. That prompted Sen. Mike Jorgenson, R-Hayden Lake, to call on Labrador to withdraw from the congressional race the day he entered it, saying his work as an immigration lawyer made him the wrong choice. Labrador countered that his experience in the field made him just the candidate who could address a "broken" immigration system.
It's an angle Minnick picked up on in harsh TV ads this fall, suggesting that Labrador has profited from illegal immigration because of his profession. Those ads backfired when many Democrats denounced them as racially charged; Labrador is Hispanic and was born in Puerto Rico. But Minnick continued to defend them, saying they showed his opponent's current tough immigration stand was inconsistent with his past record.
Labrador, who initially bemoaned the degeneration of what he said he'd hoped would be a high-minded and civil campaign, punched back with his own ads, picturing Minnick next to Obama and Pelosi and painting him as a liberal tax-raiser.
Minnick used to be a Republican; long ago, he was an aide in the Nixon White House. His conversion to Democrat went public when he ran against Idaho Sen. Larry Craig in 1996, but even then, he entered the race calling himself an independent who was more conservative than Craig.
When Minnick announced his candidacy against Sali two years ago, Idaho Democratic icon Cecil Andrus stood at his side and called him "a man that can win in the fall."
At that time, every member of Idaho's congressional delegation was Republican, as was every statewide officeholder.
Given Minnick's stress on his conservatism and independence, he was pressed this fall to say why he's a Democrat. His answer: He's a fiscal conservative, but a social moderate, one who believes in funding education "even in tough times," "real conservation where we get together as Idahoans and solve our land-use problems so the federal government doesn't do it for us," and a strong backer of protecting civil liberties.
"I'm the most independent-voting member of either party," he said. In a closely divided Congress, Minnick said, it's centrists like him who will hold the power to reach for bipartisan solutions.
Labrador counters that he's a "true conservative."
Also running are Dave Olson, an independent candidate and retired Air Force master sergeant from St. Maries, and Libertarian candidate Mike Washburn, who hasn't actively campaigned.
Local journalism is essential.
Give directly to The Spokesman-Review's Northwest Passages community forums series -- which helps to offset the costs of several reporter and editor positions at the newspaper -- by using the easy options below. Gifts processed in this system are not tax deductible, but are predominately used to help meet the local financial requirements needed to receive national matching-grant funds.
Subscribe now to get breaking news alerts in your email inbox
Get breaking news delivered to your inbox as it happens.
---