Sports
Seahawks rookie faces wily Arizona receiver
Sun., Oct. 24, 2010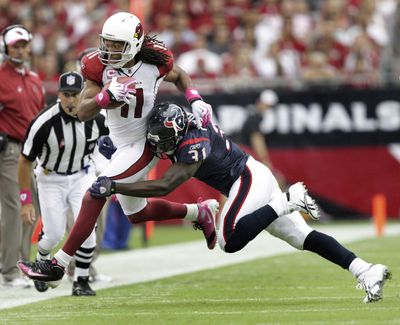 RENTON, Wash. – The introduction will be courteous.
At least that's what rookie cornerback Walter Thurmond has been told to expect if he finds himself facing Arizona's Larry Fitzgerald.
Thurmond has been warned that the 6-foot-3 receiver is big on small talk.
"He's going to try to lull you to sleep," Thurmond said. "He's going to talk to you. Ask you how your mom or your wife is doing, your kids and stuff."
Kill you with kindness, then catch anything thrown his way. That's the M.O. for the receiver whose two-handed gift of grab has played a pivotal role in shifting the balance of power in the NFC West from Seattle down to Arizona the past two years.
"He is the elite," Seattle coach Pete Carroll said. "He's (among) the half dozen guys or a dozen guys that you play in a game, that you know he's out there and every play you have to know where he is."
And even then, that doesn't always help because Fitzgerald is so sure-handed, so aggressive at the moment of truth that he'll just go up and get the ball in a crowd.
The Cardinals come into this game with plenty of statistics stacked against them. Arizona's offense averages the second-fewest yards in the league, its defense allows the fourth-most points and quarterback Max Hall – an undrafted rookie from BYU – will be starting his first road game in a stadium renowned for being tough on opposing offenses.
In terms of Arizona's advantages, Fitzgerald might be it for the Cardinals' offense.
"He has incredible catching ability," Carroll said. "I don't know if anybody can catch the ball better than him or if anybody ever has."
He doesn't need to remind anyone in Seattle of that fact.
The Cardinals have won back-to-back division titles and beaten Seattle four consecutive times. Fitzgerald has surpassed 100 yards in three of those four games and totaled four touchdowns.
There isn't a more dominant offensive player in this division, and the Seahawks may be without Kelly Jennings, the team's starting right cornerback, this week. Jennings left last Sunday's game in Chicago with a sore hamstring and has not practiced this week.
That puts Thurmond on the front line, a rookie from Oregon who is just 12 months removed from reconstructive knee surgery. A fourth-round draft pick, Thurmond has seen time as a backup at both the left and right cornerback spots. In Week 3, he stepped in for Marcus Trufant after a sprained ankle. Last week in Chicago, he filled in for Jennings and drew rave reviews.
"Not only did he come in and play well, he had to stand up in a couple of third-down situations," Seattle's defensive coordinator Gus Bradley said. "He doesn't play like it's too big for him. He doesn't get nervous."
Starting against Arizona would be a different assignment altogether. Jennings and Trufant have given Thurmond a scouting report right down to what he can expect to hear from Fitzgerald, which will inevitably be polite.
"Almost reverse talking trash," Thurmond said.
But so far this season, Thurmond's play at cornerback has spoken for itself. "I've seen his aggressiveness, and Walt, he has no fear," Trufant said. "He's a good player. He's just going to go out there and play football. It doesn't matter who he's going against."
Local journalism is essential.
Give directly to The Spokesman-Review's Northwest Passages community forums series -- which helps to offset the costs of several reporter and editor positions at the newspaper -- by using the easy options below. Gifts processed in this system are not tax deductible, but are predominately used to help meet the local financial requirements needed to receive national matching-grant funds.
Subscribe to the sports newsletter
Get the day's top sports headlines and breaking news delivered to your inbox by subscribing here.
---
Subscribe and log in to the Spokesman-Review to read and comment on this story